The JSE closed weaker on Thursday after erasing earlier gains as the negative trade war sentiment and stronger rand dragged the local bourse.
The All-Share index managed to open firmer as it tried to take a leaf from the stronger close in Asia but this momentum quickly faded. Asian counters inched higher despite a softer close in US indices overnight.
The rand gained over a 1.5% against the greenback to peak at a session high of R13.28/$. This was despite the US dollar extending its gains against a basket of major currencies. At 17.00 CAT, the rand was 1.75% firmer to trade at R13.32/$.
The stronger rand resulted in rand hedges trading softer which saw stocks such as Sappi [JSE:SAP] shedding 1.74% to close at R90.01 per share, while Richemont [JSE:CFR] lost 1.8% to close at R111.02. Aspen [JSE:APN] lost 2.61% to close at R260.91, and Life Healthcare [JSE:LHC] closed at R24.34 after dropping 2.41%. Index heavyweight BHP Billiton [JSE:BIL] and Anglo American PLC [JSE:AGL] closed 1.5% and 1.57% weaker respectively.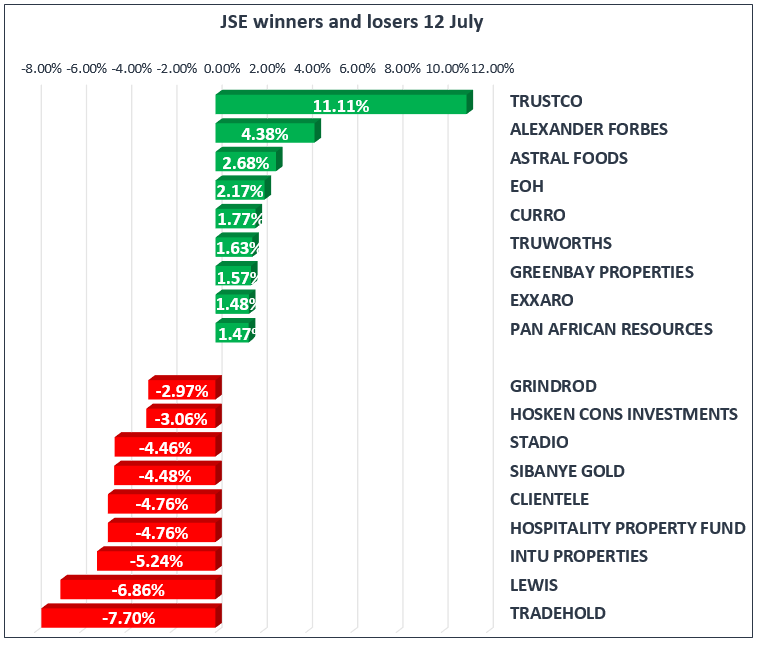 More significant losses were recorded for Lewis [JSE:LEW] which slipped by 6.86% to end the day at R31.10 per share. Hospitality Property Fund B [JSE:HPB] pulled back to R10.00 per share after dropping 4.76%, while its sector peer Intu Properties [JSE:ITU] lost 5.24% to close at R31.30.
On the gainers, Steinhoff International [JSE:SNH] continued to claw its way back up after jumping 27.43% to close at R2.88. Alexander Forbes [JSE:AFH] added 4.38% to close at R5.00, while Pan African Resources [JSE:PAN] closed at R1.38 after gaining 1.47%.
Gains were fairly modest on the blue-chip index with Truworths [JSE:TRU] adding 1.63% to close at R75.52 per share while Mr Price [JSE:MRP] closed at R220.33 after adding 1.38%. Sanlam [JSE:SLM] and Mediclinic [JSE:MEI] added 1.1% and 0.21% respectively.
The JSE Top-40 index eventually closed 0.73% weaker, while the JSE All-Share Index lost 0.67%. The Resources index came under significant pressure to end the day down 1.45%. The Industrials and Financials indices lost 0.42% and 0.37% respectively.
Brent crude slipped dramatically overnight due to concerns over possible supply constraints which might result because of the trade war. In today's session it slipped to a session low of $73.35/barrel before rebounding slightly to trade at $73.55/barrel just after the JSE close.
Gold traded marginally firmer on the day and at 17.00 CAT it was trading 0.42% firmer at $1247.21/Oz. Platinum was 1.93% firmer at $844.00/Oz and Palladium was 1.12% at $950.08/Oz.
At 17.00 CAT, Bitcoin was trading 2.85% weaker at $6176.90/coin whilst Ethereum was down 2.45% at $429.57/coin.