The local bourse recorded gains despite weakness being recorded across all the major Asian equity benchmarks, as well as the bulk of European equity indices. The local unit did open marginally firmer and even turned red at some point, but it eventually found some traction and recorded strong gains thereafter. Stocks in the USA managed to open firmer despite the announcement by Donald Trump that the opening of the US economy could be delayed up until the end of April.
Given the downgrade of South Africa's sovereign rating to junk by Moody's, it was no surprise that the rand breached R18/$ as it peaked at a session low of R18.07/$. The downgrade means South Africa's Treasury bonds will now be excluded from World Government Bond Index which will result in substantial outflows as fund managers rebalance their portfolios to comply with the ratings requirement. The rand pulled back marginally as it was recorded trading 1.88% weaker at R17.96/$ at 17.00 CAT.
GT247, South Africa's Top Online Stockbroker, as voted by Intellidex, will continue to operate their powerful MT5 trading platform during the COVID-19 lockdown period. The trading team has assembled their workstations at home and are operational remotely. Clients may experience slight delays in support queries but trading online will resume as normal. Please use our FAQ self-help portal or email supportdesk@gt247.com if you require assistance.
On the JSE, Sappi [JSE:SAP] closed amongst the day's biggest gainers after it surged 17.76% to close at R22.88 after the company released a statement on the impact of Covid-19 to its business, as well as other debt covenants that it has in place. Diversified mining giants recorded decent gains on the day which saw BHP Group [JSE:BHP] gain 4.61% to close at R270.00, while Anglo American PLC [JSE:AGL] advanced 2.91% to close at R293.50. DRD Gold [JSE:DRD] rallied 6.13% to close at R11.25, while fellow gold miner Gold Fields [JSE:GFI] closed at R99.88 after gaining 3.48%. Index heavyweight Naspers [JSE:NPN] rose 2.89% to close at R2508.88, while Prosus [JSE:PRX] added 4.56% to close at R1225.75. Significant gains on the day were also recorded for British American Tobacco [JSE:BTI] which gained 5.1% to close at R582.76, Mondi PLC [JSE:MNP] which added 5.4% to close at R294.50, as well as Ninety One PLC [JSE:N91] which closed at R36.93 after dropping 6.73%.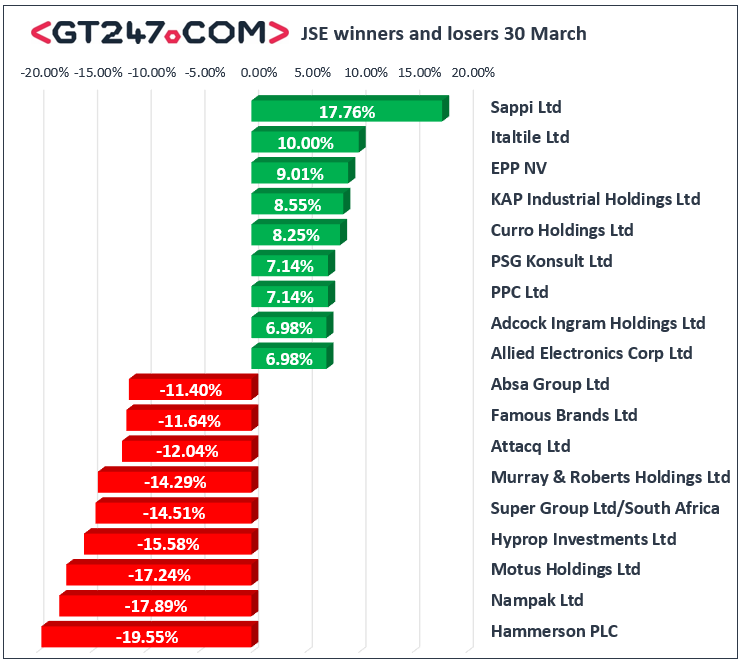 Hammerson PLC [JSE:HMN] came under considerable pressure as it tumbled 19.55% to close at R14.69, Hyprop Investments [JSE:HYP] lost 15.58% to close at R18.04, while Fortress REIT [JSE:FFB] slipped 10.93% to close at R1.63. Rand sensitives traded mostly softer because of the weaker rand. Weakness was recorded for Truworths [JSE:TRU] which lost 10.14% to close at R24.90, as well as The Foschini Group [JSE:TFG] which fell 5.97% to close at R65.82. Financials were not spared as declines were recorded for Absa Group [JSE:ABG] which dropped 11.4% to close at R63.78, as well as Old Mutual [JSE:OMU] which closed at R11.05 after losing 6.75%. Significant weakness was also recorded for Motus Holdings [JSE:MTH] which fell 17.24% to close at R28.80, as well as Aspen Pharmacare [JSE:APN] which closed at R90.00 after dropping 5.14%.
The JSE All-Share index eventually closed 1.56% firmer while the blue-chip JSE Top-40 index surged 2.02%. The Financials index plummeted 2.49%, while the Industrials and Resources indices gained 1.87% and 3.59% respectively.
At 17.00 CAT, Palladium was 0.2% softer at $2261.98/Oz, Gold was down 0.64% at $1620.79/Oz, while Platinum had lost 2.41% to trade at $724.13/Oz.
Brent crude had plummeted 8.59% to trade at $25.55/barrel just after the JSE close.
---
Disclaimer:
Any opinions, news, research, reports, analyses, prices, or other information contained within this research is provided by GT247.com at GT247 (Pty) Ltd t/a GT247.com ("GT247.com") as general market commentary, and does not constitute investment advice for the purposes of the Financial Advisory and Intermediary Services Act, 2002. GT247.com does not warrant the correctness, accuracy, timeliness, reliability or completeness of any information which we receive from third party data providers. You must rely solely upon your own judgment in all aspects of your trading decisions and all trades are made at your own risk. GT247.com and any of its employees will not accept any liability for any direct or indirect loss or damage, including without limitation, any loss of profit, which may arise directly or indirectly from use of or reliance on the market commentary. The content contained within is subject to change at any time without notice.