Stocks paused on Tuesday as investors struck a cautious tone ahead of the start of the next round of trade talks between China and the USA on Wednesday.
In China and Hong Kong equity indices closed weaker, and this sentiment fed onto Europe where most of the major indices traded mostly weaker. Markets are also looking forward to the Fed's FOMC meeting minutes slated for release on Wednesday for more information on the Fed's dovish tone.
The JSE opened slightly firmer in today's session but it relinquished all of its gains to eventually close weaker. A couple earnings releases took the spotlight on the day. Kumba Iron Ore [JSE:KIO] retreated to close 2.64% weaker at R376.30 mainly on the back of the release of its full-year results. The results highlighted a decrease in profitability and earnings per share, but investors will be happy with the dividend payout remaining stable. EOH Holdings [JSE:EOH] was one of the day's biggest losers after the stock slumped 16.37% to close at R14.61 as the company issued a cautionary statement. Accelerate Property Fund [JSE:APF] dropped 8.55% to close at R3.53, while AVI Limited [JSE:AVI] ended the day 3.26% weaker at R89.00. Imperial Logistics [JSE:IPL] shed 2.9% to close at R67.97, while Massmart [JSE:MSM] lost 3.26% to close at R89.00.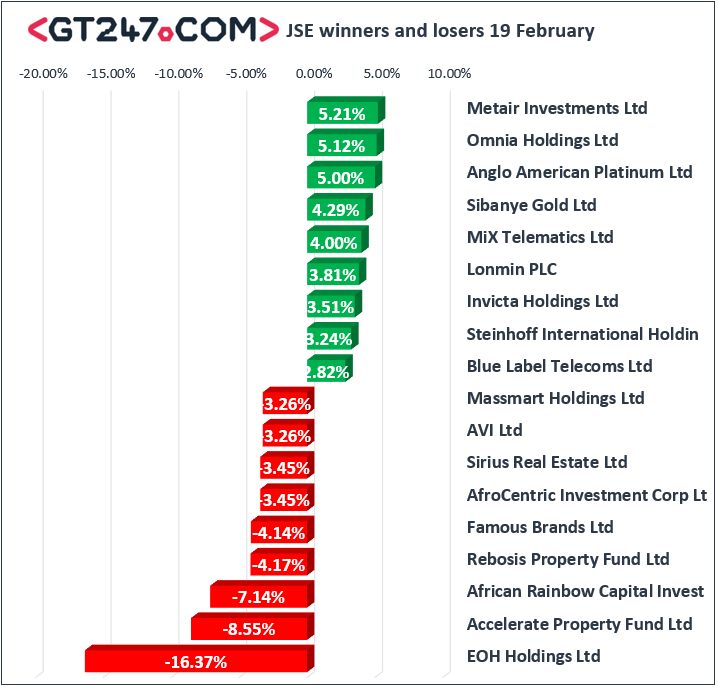 BHP Group [JSE:BHP] released its half-year results which indicated a decent increase in earnings compared to the corresponding prior period. The stock ended the day up 0.8% to close at R329.90. AngloGold Ashanti [JSE:ANG] indicated a significant improvement in its free cash flow and a healthy increase in earnings in its half-year results. This saw the stock gain 1% to end the day at R198.78. Anglo American Platinum [JSE:AMS] continued on its surge as it gained another 5% to close at R735.00, while Sibanye Stillwater [JSE:SGL] edged higher to close 4.29% firmer at R15.80.
The JSE All-Share index eventually closed 0.3% weaker while the JSE Top-40 index shed 0.13%. The Resources index was the only major index to record gains as it added 0.87%. The Industrials and Financials indices shed 0.27% and 1.02% respectively.
The rand traded marginally softer against the greenback for most of the day's session. At 17.00 CAT, it was trading 0.18% weaker at R14.14/$.
Brent crude took a breather from its rally which has been fueled by pledges of deeper output cuts by OPEC. The commodity was trading 0.84% weaker at $65.94/barrel just after the JSE close.
At 17.00 CAT, Palladium was up 1.41% to trade at $1478.16/Oz, Gold was 0.6% firmer at $1334.87/Oz, and Platinum was up 1.29% to trade at $816.84/Oz.
Bitcoin was up 3.52% at $4039.10/coin, and Ethereum had gained 2.07% to trade at $150.56/coin.