The JSE had a seesaw session on Thursday as it swung between gains and losses before closing firmer on the day.
Gains across most global markets strengthened in the afternoon session as the US Fed announced a series of steps to inject a further $US2.3 trillion in additional aid to cushion the impact of the coronavirus. Local stocks opened mildly softer as they struggled for direction, but the news of the US Fed stimulus saw momentum build up in the afternoon session.
The news of increased stimulus resulted in the US dollar slipping further as investors looked for more riskier assets. The rand strengthened back below R18/$ as it reached a session high of R17.85/$ and looked set to strengthen further ahead of the Easter holiday. At 17.00 CAT, the rand was trading 1.6% firmer at R17.88/$.
GT247, South Africa's Top Online Stockbroker, as voted by Intellidex, will continue to operate their powerful MT5 trading platform during the COVID-19 lockdown period. The trading team has assembled their workstations at home and are operational remotely. Clients may experience slight delays in support queries but trading online will resume as normal. Please use our FAQ self-help portal or email supportdesk@gt247.com if you require assistance.
On the JSE, KAP Industrial Holdings [JSE:KAP] was one of the day's biggest movers after the share rallied 23.53% to close at R2.10, while Motus Holdings [JSE:MTH] surged 15.12% to close at R36.93. Listed property stocks found some momentum on the day as significant gains were recorded for Redefine Properties [JSE:RDF] which gained 23.04% to close at R2.67, Growthpoint Properties [JSE:GRT] which surged 11.34% to close at R13.75, and Resilient [JSE:RES] which closed at R38.10 after adding 11.47%. Retailers were buoyed by the firmer rand which saw Truworths [JSE:TRU] gain 12.47% to close at R31.21, while The Foschini Group [JSE:TFG] added 11.02% to close at R81.80. Financials also tracked higher as Nedbank [JSE:NED] climbed 9.63% to close at R111.00, while Old Mutual [JSE:OMU] gained 1.38% to close at R11.77. Gains were also recorded for Barloworld [JSE:BAW] which rose 12.28% to close at R69.10, as well as African Rainbow Minerals [JSE:ARI] which advanced 8.65% to close at R121.80.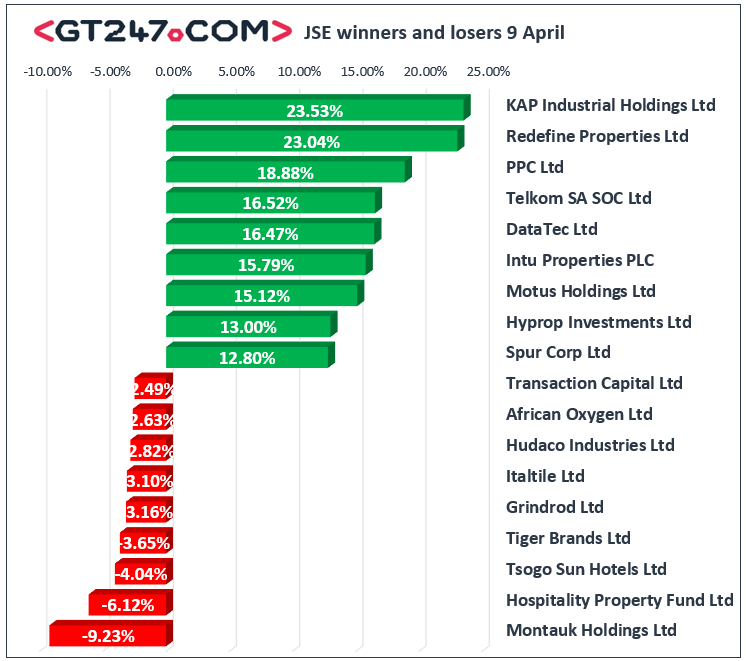 A handful of stocks recorded big declines on the day. Construction firm, Raubex [JSE:RBX] fell 1.3% to close at R19.00, while Transaction Capital [JSE:TCP] weakened by 2.49% to close at R15.30. Tiger Brands [JSE:TBS] dropped 3.65% as it closed at R171.15, AB InBev [JSE:ANH] retreated 1.29% to close at R853.30. Relatively modest losses were recorded for Naspers [JSE:NPN] which shed 0.12% to close at R2588.60, as well as Richemont [JSE:CFR] which closed 0.81% softer at R100.83. Sibanye Stillwater [JSE:SSW] slipped 0.44% to close at R29.10, while Reinet [JSE:RNI] closed at R276.86 after losing 0.41%.
The JSE Top-40 index eventually closed 2.49% higher while the broader JSE All-Share index gained 2.83%. The Financials index jumped 5.83%, while the Industrials and Resources indices gained 1.32% and 3.54% respectively.
Brent crude continues to ride the wave of optimism which is currently engulfing the stock markets. The commodity was trading 3.47% firmer at $33.95/barrel just after the JSE close.
At 17.00 CAT, Gold was up 2.34% at $1683.51/Oz, Platinum had gained 1.55% to trade at $744.86/Oz, and Palladium was 0.8% weaker at $2166.43/Oz.
---
Disclaimer:
Any opinions, news, research, reports, analyses, prices, or other information contained within this research is provided by GT247.com at GT247 (Pty) Ltd t/a GT247.com ("GT247.com") as general market commentary, and does not constitute investment advice for the purposes of the Financial Advisory and Intermediary Services Act, 2002. GT247.com does not warrant the correctness, accuracy, timeliness, reliability or completeness of any information which we receive from third party data providers. You must rely solely upon your own judgment in all aspects of your trading decisions and all trades are made at your own risk. GT247.com and any of its employees will not accept any liability for any direct or indirect loss or damage, including without limitation, any loss of profit, which may arise directly or indirectly from use of or reliance on the market commentary. The content contained within is subject to change at any time without notice.