The local bourse extended its declines on Wednesday as global markets awaited the interest rate decision from the Fed.
The Fed which has had to intervene in the US money markets via the injection of liquidity on Tuesday and Wednesday, has become the focus of investors globally. More focus will be on the press conference following the interest rate decision for more clues on how the Fed plans to help spur economic growth given that the ECB has already taken on quantitative easing. The Fed's rate decision is expected at 20.00 CAT on Wednesday.
Locally, Statistics SA released South Africa's inflation numbers for the month of August. CPI YoY climbed to 4.3% from a prior recording of 4%, while CPI MoM slowed down to 0.3% from a prior recording of 0.4%. Stats SA also released retail sales data for the month of July. South African retail sales YoY slowed down to 2.0% from a prior recording of 2.4%, while MoM retail sales only advanced 0.2% compared to a prior recording of 0.7%.
The rand managed to find some momentum on the back of this data as it surged to a session high of R14.60/$. At 17.00 CAT, it was recorded trading 0.45% firmer at R14.63/$.
Rand hedges struggled on the back of the firmer rand which saw losses being recorded for Richemont [JSE:CFR] which fell 5.95% to close at R109.44, Sappi [JSE:SAP] which lost 4.11% to close at R42.00, and Mondi PLC [JSE:MNP] which closed 2.02% lower at R293.00. Naspers [JSE:NPN] fell 3.36% as it closed at R2404.84, while Mediclinic [JSE:MEI] closed at R63.46 after losing 3.31%. Insurer, Discovery Ltd [JSE:DSY] came under pressure eventually closing the day 2.38% weaker at R125.36, while pharmaceutical giant Aspen Pharmacare [JSE:APN] lost 1.62% to close at R96.00.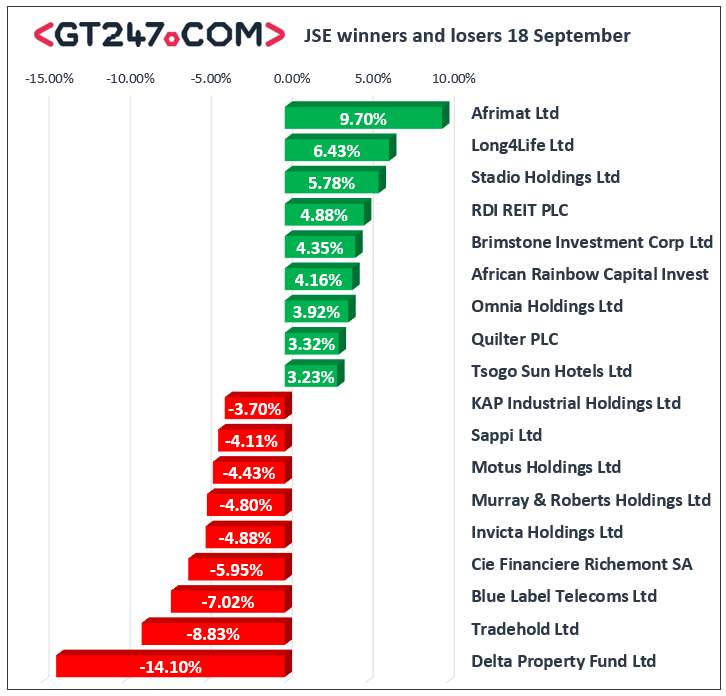 Blue chip stocks recorded rather modest gains in today's session. Bid Corporation [JSE:BID] gained 1.87% to close at R326.74, while Kumba Iron Ore [JSE:KIO] managed to post gains of 1.15% to close at R415.00. Retailers were bolstered by the firmer rand which saw gains being recorded for Shoprite [JSE:SHP] which gained 2.485 to close at R128.49, while Truworths [JSE:TRU] advanced 1.24% to end the day at R57.09. Other significant gains on the day were recorded for Afrimat [JSE:AFT] which rallied 9.7% to close at R32.79 following the release of a positive trading statement, as well as Quilter [JSE:QLT] which advanced 3.32% to close at R25.83.
The blue-chip JSE Top-40 index eventually 1.45% weaker while the broader JSE All-Share index gained 1.21%. The Financials index was the only major index to record gains as it closed 0.23% firmer. The Industrials and Resources lost 2.3% and 0.44% respectively.
At 17.00 CAT, Gold was 0.41% to trade at $1507.58/Oz, Platinum was down 0.83% at $933.40/Oz, and Palladium was 0.82% softer at $1586.55/Oz.
Brent crude swung between gains and losses as traders tried to gauge news out of Saudi Arabia given the recent attack on its pipeline. The commodity was trading 0.51% lower at $64.19/barrel just after the JSE close.
---
Disclaimer:
Any opinions, news, research, reports, analyses, prices, or other information contained within this research is provided by GT247.com at GT247 (Pty) Ltd t/a GT247.com ("GT247.com") as general market commentary, and does not constitute investment advice for the purposes of the Financial Advisory and Intermediary Services Act, 2002. GT247.com does not warrant the correctness, accuracy, timeliness, reliability or completeness of any information which we receive from third party data providers. You must rely solely upon your own judgment in all aspects of your trading decisions and all trades are made at your own risk. GT247.com and any of its employees will not accept any liability for any direct or indirect loss or damage, including without limitation, any loss of profit, which may arise directly or indirectly from use of or reliance on the market commentary. The content contained within is subject to change at any time without notice.