The local bourse closed weaker for a second consecutive session as global markets remained subdued due to weak economic data.
Weaker services PMI data was recorded across most of the European countries which released the data with notable declines for the United Kingdom and Germany. Given the recent weakness in manufacturing PMI data from the USA, investors now shifted their attention to the release of the ISM non-manufacturing PMI which came in significantly weaker at 52.6 compared to a forecast of 55.1. US factory orders contracted by 0.1% which mildly beat the forecast of -0.5%.
The rand advanced against the greenback in today's session R15.12 before it was recorded trading 0.82% firmer at R15.16/$ at 17.00 CAT.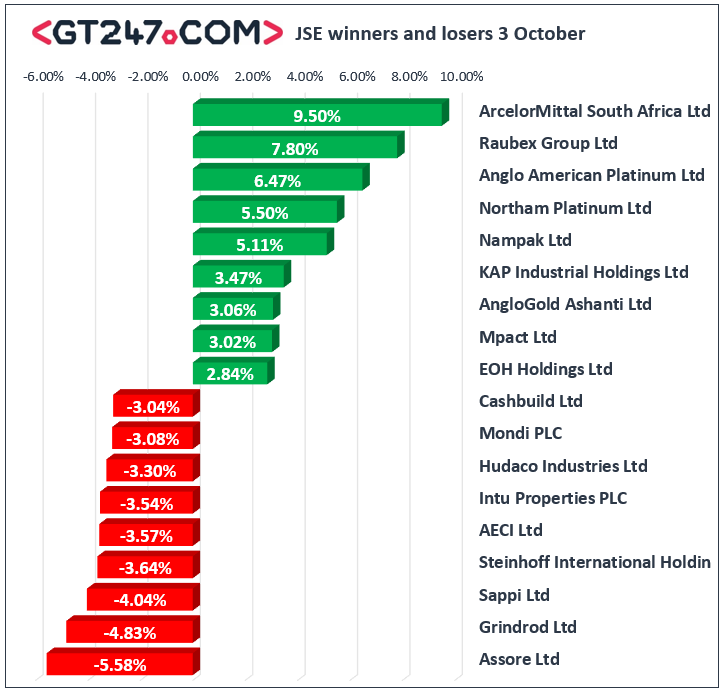 On the JSE, Assore [JSE:ASR] closed amongst the day's biggest losers as it lost 5.58% to close at R246.92 despite thin volumes exchanging hands. Rand hedges struggled on the day with losses being recorded for Sappi [JSE:SAP] which lost 4.04% to close at R36.60, Mondi PLC [JSE:MNP] which lost 3.08% to close at R281.50, and British American Tobacco [JSE:BTI] which closed at R523.77 after losing 2.25%. Luxury goods retailer Richemont [JSE:CFR] weakened by 1.99% as it closed at R104.50, and oil producer Sasol [JSE:SOL] lost 2% to close at R251.02. Other significant losers on the day included Anglo American PLC [JSE:AGL] which closed 1.92% lower at R332.60, and Investec PLC [JSE:INP] which closed at R75.50 after losing 1.95%.
Platinum miners led gains on the local bourse with gains being recorded for Anglo American Platinum [JSE:AMS] which surged 6.47% to close at R1057.50, Northam Platinum [JSE:NHM] which climbed 5.5% to close at R90.52, and Impala Platinum [JSE:IMP] which advanced 2.51% to close at R102.41. Nampak [JSE:NPK] gained 5.11% to close at R9.25, while KAP Industrials Holdings [JSE:KAP] added 3.47% at R4.47. Retailers found some traction on the day with gains being recorded for the Foschini Group [JSE:TFG] which advanced 0.84% to close at R163.92, and Massmart [JSE:MSM] which closed at R43.80 after adding 1.15%.
The JSE Top-40 index eventually closed 0.54% weaker while the broader JSE All-Share index lost 0.6%. All the major indices closed softer on the day. Financials shed 0.26%, Resources lost 0.69% and Industrials closed 0.73% lower.
Brent crude fell even more following the release of the weaker US economic data. It was recorded trading 1.66% lower at $56.77/barrel just after the JSE close.
At 17.00 CAT, Palladium was down 1.65% at $1660.25/Oz, Platinum was up 0.75% at $894.50/Oz, and Gold had gained 0.91% to trade at $1513.52/Oz.
---
Disclaimer:
Any opinions, news, research, reports, analyses, prices, or other information contained within this research is provided by GT247.com at GT247 (Pty) Ltd t/a GT247.com ("GT247.com") as general market commentary, and does not constitute investment advice for the purposes of the Financial Advisory and Intermediary Services Act, 2002. GT247.com does not warrant the correctness, accuracy, timeliness, reliability or completeness of any information which we receive from third party data providers. You must rely solely upon your own judgment in all aspects of your trading decisions and all trades are made at your own risk. GT247.com and any of its employees will not accept any liability for any direct or indirect loss or damage, including without limitation, any loss of profit, which may arise directly or indirectly from use of or reliance on the market commentary. The content contained within is subject to change at any time without notice.