Global stocks including the JSE advanced on Friday despite the US economy recording its highest number of job losses ever in April.
Stocks from Asia to the USA rose unabated on Friday despite forecasts indicating that April jobs data would be the worst one on record. The surge is attributed to investors focusing on the planned reopening of most global economies, as well as the job losses reported being less than what was initially forecasted. There was also positive news that China and the USA had a constructive phone call on trade, with different verbal resolutions being agreed on.
The rand strengthened against the greenback as it peaked at a session high of R18.30 before it was recorded trading 1.41% firmer at R18.32/$ at 17.00 CAT.
GT247, South Africa's Top Online Stockbroker, as voted by Intellidex, will continue to operate their powerful MT5 trading platform during the COVID-19 lockdown period. The trading team has assembled their workstations at home and are operational remotely. Clients may experience slight delays in support queries but trading online will resume as normal. Please use our FAQ self-help portal or email supportdesk@gt247.com if you require assistance.
On the JSE, Sappi [JSE:SAP] recorded a another session of strong gains as the share surged 14.17% to close at R27.56. Imperial Logistics [JSE:IPL] rallied 10.18% to close at R42.43, while Mondi PLC [JSE:MNP] gained 3.75% to close at R320.83. Resilient [JSE:RES] was buoyed by the release of a business update which saw the share gain 5.49% to close at R37.65. Retailers had some momentum mainly due to the firmer rand which saw gains being recorded for Truworths [JSE:TRU] which gained 4.71% to close at R29.56, as well as Mr Price [JSE:MRP] which advanced 3.47% to close at R133.53. Significant gains were recorded for Harmony Gold [JSE:HAR] which surged 7.41% to close at R65.94, and Gold Fields [JSE:GFI] which added 4.62% to close at R152.23.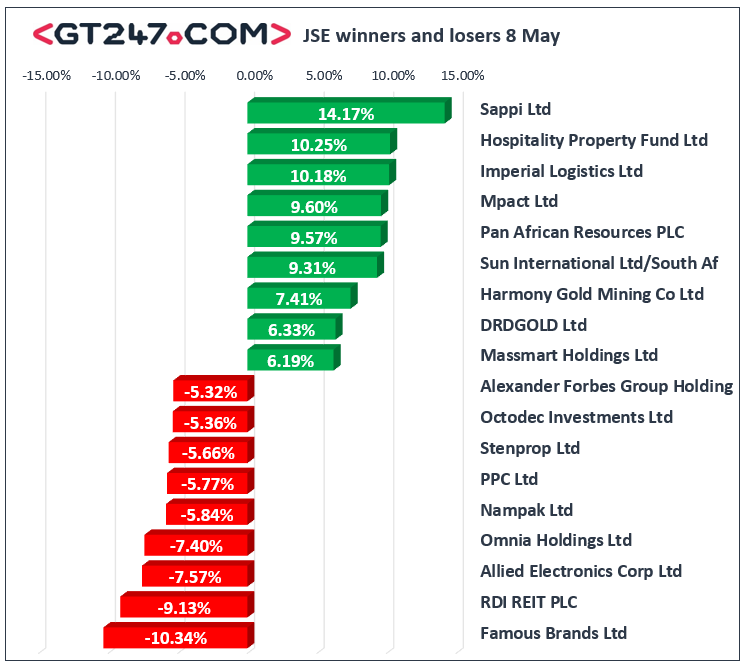 Famous Brands [JSE:FBR] struggled as it tumbled 10.34% to close at R35.12. Some of the blue0chip stocks to record weakness on the day included Anglo American Platinum [JSE:AMS] which fell 2.84% to close at R976.70, Aspen Pharmacare [JSE:APN] which tumbled 2.75% to close at R129.70, and Sasol [JSE:SOL] which closed at R82.89 after falling 2.37%. Nampak [JSE:NPK] slipped 5.84% to close at R1.45, while cement maker PPC Ltd [JSE:PPC] lost 5.77% to close at R0.98. Losses were also recorded for Telkom [JSE:TKG] which dropped 5.03% to close at R18.11, and for Brait [JSE:BAT] which lost 3.56% to close at R3.25.
The JSE All-Share index eventually closed 1.97% firmer while the blue-chip JSE Top-40 index gained 2.09%. All the major indices managed to record gains on the day. Industrials rose 1.73%, Financials gained 1.78% and Resources advanced 2.57%.
At 17.00 CAT, Gold was unchanged at $1716.34/Oz, Platinum was 0.88% firmer at $772.94/Oz, and Palladium had surged 1.19% to trade at $1886.55/Oz.
Brent crude was up 1.6% at $29.93/barrel just after the JSE close.
---
Disclaimer:
Any opinions, news, research, reports, analyses, prices, or other information contained within this research is provided by GT247.com at GT247 (Pty) Ltd t/a GT247.com ("GT247.com") as general market commentary, and does not constitute investment advice for the purposes of the Financial Advisory and Intermediary Services Act, 2002. GT247.com does not warrant the correctness, accuracy, timeliness, reliability or completeness of any information which we receive from third party data providers. You must rely solely upon your own judgment in all aspects of your trading decisions and all trades are made at your own risk. GT247.com and any of its employees will not accept any liability for any direct or indirect loss or damage, including without limitation, any loss of profit, which may arise directly or indirectly from use of or reliance on the market commentary. The content contained within is subject to change at any time without notice.