The JSE got off to a firmer start this week as it tracked other global stocks higher, after the USA signaled progress in the trade talks with China.
Concerns about a recession took a backseat as investors sort after riskier assets on the back of this positive news. In Hong Kong the Hang Seng surged 2.17% while in mainland China the Shanghai Composite Index also gained 2.17%. In Japan, the Nikkei gained 0.71%. Counters in Europe all tracked higher while in the USA all the major indices rallied by more than 1% after the open.
On the currency market, the rand slipped against the greenback despite the latter tried mostly flat on the day against a basket of major currencies. After having peaked at a session high of R15.20/$ earlier, the local currency retreated to a session low of R15.44/$ before it was recorded trading 0.81% weaker at R15.41/$ at 17.00 CAT.
A couple of blue-chips helped propel the JSE higher on the day. Mining giant Anglo American PLC [JSE:AGL] recorded gains of 3.07% as it closed at R323.84, while luxury retailer Richemont [JSE:CFR] gained 2.3% to close at R117.90. Rand hedge Mondi PLC [JSE:MNP] rose 2.48% as it closed at R290.65, while diversified miner South32 [JSE:S32] managed to add 3.85% to close at R29.43. Grindrod [JSE:GND] closed as one of the day's biggest gainers after it rallied 12.24% to close at R5.50, while Brait [JSE:BAT] climbed 6.77% to close at R14.04. Oil and gas producer Sasol [JSE:SOL] continues to claw back from last week's lows, and in today's session it managed to gain another 3.29% to close at R273.71.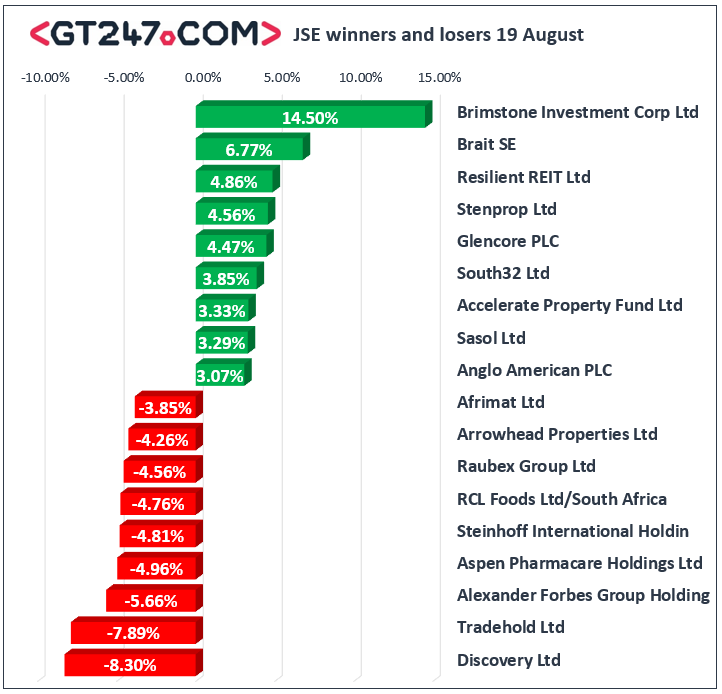 Discovery Ltd [JSE:DSY] quickly erased most of Friday's gains as it fell 8.3% to end the day at R101.47, while pharmaceutical giant Aspen [JSE:APN] lost 4.96% to close at R65.91. Steinhoff International [JSE:SNH] reached a new all-time low of R0.97 before it closed 4.81% weaker at R0.99. Blue Label Telecoms [JSE:BLU] came under pressure after the company released a weaker trading statement for its full financial year, and it also announced a delay in the release of its financial results. The stock eventually closed 3.51% weaker at R3.30. Other significant losers on the day included Bidvest [JSE:BVT] which dropped 2.785 to close at R174.00, Massmart [JSE:MSM] which fell 1.49% to R44.23, and MTN Group [JSE:MTN] which closed at R103.55 after dropping 1.39%.
The JSE Top-40 index eventually closed 1.11% higher while the broader JSE All-Share index gained 1.02%. All the major indices advanced in today's session with the biggest being the Resources index which rallied 2.11%. The Industrials and Financials indices added 0.96% and 0.22% respectively.
At 17.00 CAT, Gold was 0.84% weaker at $1501.03/Oz, Palladium had rallied 1.97% to trade at $1480.60/Oz, and Platinum was up 0.9% at $856.45/Oz.
Brent crude traded mostly firmer on the day, and it was recorded trading 1.07% firmer at $59.24/barrel just after the JSE close.
---
Disclaimer:
Any opinions, news, research, reports, analyses, prices, or other information contained within this research is provided by GT247.com at GT247 (Pty) Ltd t/a GT247.com ("GT247.com") as general market commentary, and does not constitute investment advice for the purposes of the Financial Advisory and Intermediary Services Act, 2002. GT247.com does not warrant the correctness, accuracy, timeliness, reliability or completeness of any information which we receive from third party data providers. You must rely solely upon your own judgment in all aspects of your trading decisions and all trades are made at your own risk. GT247.com and any of its employees will not accept any liability for any direct or indirect loss or damage, including without limitation, any loss of profit, which may arise directly or indirectly from use of or reliance on the market commentary. The content contained within is subject to change at any time without notice.