The JSE firmed on Thursday along with other major global markets as focus shifted from the Sino-USA trade war.
Locally, the market was anticipating the interest rate decision by the South African Reserve Bank which was released this afternoon. The Monetary Policy Committee (MPC) voted to keep the repo rate unchanged at 6.5% however, it did highlight concerns about the deteriorating inflation outlook mainly being driven by supply-side factors.
The rand extended its gains against the US dollar as the greenback continued to trade under pressure against a basket of major of currencies. The local currency peaked at a session high of R14.37/$, and at the JSE close it was recorded at R14.42/$.
MTN Group [JSE:MTN] continued on its rebound as it gained 6.53% to end the day at R78.17 per share. Aspen [JSE:APN] which has also been trading under significant pressure lately managed to add 2.33% to close at R177.27 per share. Bid Corporation [JSE:BID] rose to R313.12 after adding 1.66%, while Bidvest [JSE:BVT] firmed by 1.44% to close at R191.62 per share.
On the broader index, Impala Platinum [JSE:IMP] recorded a significant jump as the stock gained 14.87% to close at R22.63 per share. Fellow platinum miner Lonmin [JSE:LON], also firmed significantly to end the day 4.57% higher at R8.46, while Sibanye Stillwater [JSE:SGL] rose to R9.40 after adding 3.75%.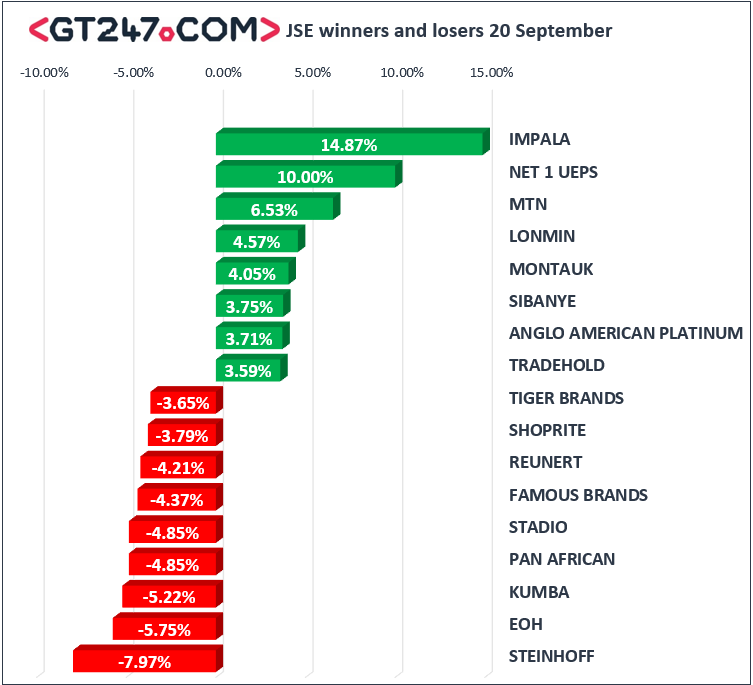 Some of the retailers retreated despite the firmer rand. Shoprite [JSE:SHP] lost 3.79% to close at R187.67, Mr Price [JSE:MRP] shed 1.85% to R219.10, and Spar Group [JSE:SPP] weakened by 1.09% to close at R188.56 per share. Remgro [JSE:REM] released a relatively decent of FY18 earnings results on Wednesday, however the stock pulled back in today's session to close at R209.00 after shedding 1.89%.
More pronounced losses were recorded for stocks on the broader index were Steinhoff International [JSE:SNH] fell by 7.97% to close at R2.54, while EOH Holdings [JSE:EOH] lost 5.75% to close at R34.07 per share. Kumba Iron Ore [JSE:KIO] traded under pressure as it fell to R271.41 after dropping 5.22%, and Famous Brands [JSE:FBR] lost 4.37% to close at R92.76 per share.
The broader JSE All-Share index closed 0.18% firmer, while the JSE Top-40 index managed to add 0.25%. The Resources index closed flat after it shed 0.05%, however the Industrials and Financials indices firmed by 0.23% and 0.35% respectively.
Brent crude was trading flat earlier however it subsequently fell in the afternoon to a session low of $78.51/barrel. It was trading at $78.65/barrel just after the JSE close.
Gold was mostly unchanged and at 17.00 CAT, it was flat to trade at $1204.67/Oz. Platinum was up 0.71% to trade at $829.92/Oz, and Palladium was 1.57% firmer to fetch $1054.09/Oz.
At 17.00 CAT, Bitcoin was up 0.89% to trade at $6417.00/coin, while Ethereum had firmed by 0.34% to trade at $211.80/coin.