The JSE extended its gains on Wednesday on the back of strong gains in earlier trading from Asian markets.
The rise was linear for all the major indices particularly for US equity benchmarks which whipsawed between gains and losses. Extensive gains were recorded for the Nikkei which rocketed 8.04%, while the Hang Seng and Shanghai Composite Index added 3.81% and 2.69% respectively. Stocks in Europe where mixed as the DAX and Euro Stoxx 50 came under pressure while the FTSE 100 and CAC 40 advanced. The Dow Jones recorded solid advances after the announcement that Congress had agreed to a $US2 trillion stimulus bill, while the S&P 500 struggled to hold on to the gains.
GT247, South Africa's Top Online Stockbroker, as voted by Intellidex, will continue to operate their powerful MT5 trading platform during the COVID-19 lockdown period. The trading team has assembled their workstations at home and are operational remotely. Clients may experience slight delays in support queries but trading online will resume as normal.
The rand also extended its gains against the greenback as it peaked at a session high of R17.25/$. At 17.00 CAT, it was trading 0.23% firmer at $17.46/$.
On the JSE, listed property stocks had some momentum on the day as they traded mostly firmer. MAS Real Estate [JSE:MSP] rallied 26.87% to close at R8.50, Redefine Properties [JSE:RDF] climbed 23.27% to close at R1.96, while Vukile Property Fund [JSE:VKE] closed at R7.20 after surging 15.02%. Platinum miner Anglo American Platinum [JSE:AMS] rallied 22.57% to close at R750.18, while Impala Platinum [JSE:IMP] surged 17.44% to close at R78.52. Investec PLC [JSE:INP] gained 18.66% as it closed at R33.11, while Old Mutual [JSE:OMU] climbed 10.4% to close at R11.25. Significant gains were also recorded for Anglo American PLC [JSE:AGL] which added 7.69% to close at R273.74, as well as for Discovery [JSE:DSY] which closed at R68.41 after adding 10.7%.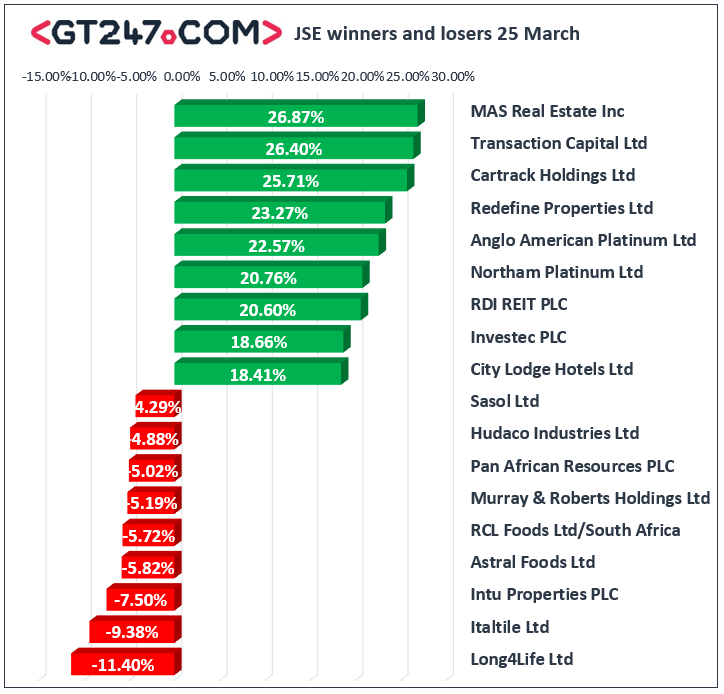 Long4Life [JSE:L4L] came under significant pressure as it lost 11.4% to close at R2.72, while tile maker Italtile [JSE:ITE] fell 9.38% to close at R9.95. Intu Properties [JSE:ITU] came under pressure as it tumbled 7.5% to close at R0.74. Other significant losses on the day were recorded for Astral Foods [JSE:ARL] which lost 5.82% to close at R178.94, Sasol [JSE:SOL] retreated 4.29% to close at R23.22, as well as British American Tobacco [JSE:BTI] which closed at R508.10 after losing 2.22%.
The JSE All-Share index eventually closed 5.17% higher while the JSE Top-40 index also rallied 5.17%. The Resources index recorded gains of 7.94%, while the Industrials and Financials indices added 3.24% and 6.27% respectively.
Brent crude slipped in today's session as it was recorded trading 1.4% weaker at $26.73/barrel just after the JSE close.
At 17.00 CAT, Palladium had climbed a steep 17.23% to trade at $2259.42/Oz, Platinum was up 1.66% at $724.47/Oz, while Gold was 0.41% softer at $1610.13/Oz.
---
Disclaimer:
Any opinions, news, research, reports, analyses, prices, or other information contained within this research is provided by GT247.com at GT247 (Pty) Ltd t/a GT247.com ("GT247.com") as general market commentary, and does not constitute investment advice for the purposes of the Financial Advisory and Intermediary Services Act, 2002. GT247.com does not warrant the correctness, accuracy, timeliness, reliability or completeness of any information which we receive from third party data providers. You must rely solely upon your own judgment in all aspects of your trading decisions and all trades are made at your own risk. GT247.com and any of its employees will not accept any liability for any direct or indirect loss or damage, including without limitation, any loss of profit, which may arise directly or indirectly from use of or reliance on the market commentary. The content contained within is subject to change at any time without notice.