The JSE rebounded to close firmer on Thursday following Wednesday's sharp sell-off.
Most of the blue-chip stocks which closed sharply lower on Wednesday recouped some of their losses to end the day firmer on Thursday. A significant shift was recorded in JSE listed miners which rose on the back of firmer metal commodity prices. Risks are still prevalent because of the Turkish crisis however, there was positive sentiment in the market today due to the potential meeting between China and the USA which could bring clarity on the trade disputes.
On the JSE, Exxaro Resources [JSE:EXX] was one of the day's biggest gainers after the company released its half-year earnings results. Revenue and HEPS for the reported period recorded healthy increases and resultantly the stock jumped 7.99% to close at R140.00 per share. Metair's [JSE:MTA] half-year results were also positive and subsequently the stock rose 13.38% to close at R15.93 per share.
ABSA Group [JSE:ABG] added 2.55% to close at R161.00 per share. Standard Bank [JSE:SBK] released its half-year results which indicated decent increases in earnings as well as an increase in its dividend. The stock eventually closed the day up 1.59% at R187.18 per share. Naspers [JSE:NPN] pulled back to close the day up 2.79% at R3146.14 per share following Wednesday's slump. Sanlam [JSE:SLM] firmed to R73.97 after adding 3.74%, while Old Mutual [JSE:OML] managed to gain 3.08% to close at R28.93 per share.
Tiger Brands [JSE:TBS] was the day's biggest casualty following the release of its trading statement which highlighted a decrease in the business's profitability as well as difficult trading conditions. The stock lost 8.94% to close at R298.33 per share. Sector peer, Pioneer Foods [JSE:PFG] lost 5.01% to close at R105.00, while Steinhoff International [JSE:SNH] slipped below R2 to close at R1.97 per share.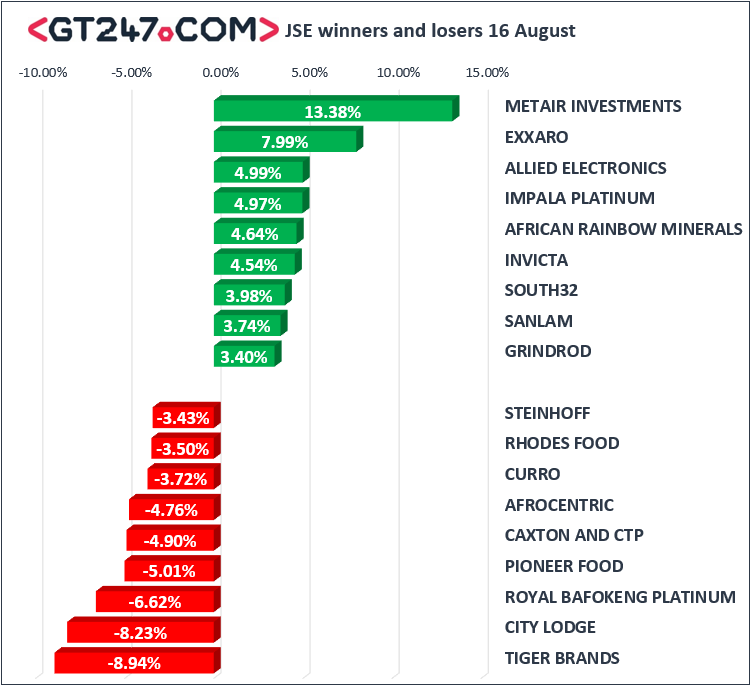 Gold miner Harmony Gold [JSE:HAR] struggled to gain any momentum as it lost 2.66% to close at R22.33 per share. Greenbay Properties [JSE:GRP] weakened by 0.74% to close at R1.33, while Zeder Investments [JSE:ZED] closed at R5.03 after shedding 1.95%.
The JSE All-Share eventually ended the day up 1.65%, while the JSE Top-40 index climbed 1.8%. The Financials index posted gains of 2.29% to lead gains amongst the major indices. The Industrials and Resources indices gained 1.49% and 1.73% respectively.
The rand managed to strengthen to a session high of R14.32 against the US dollar. However, the currency erased those gains to trade 0.2% weaker at R14.58/$ at 17.00 CAT.
Brent crude barely held on to its gains which saw it trading 0.03% firmer at $70.80/barrel just after the JSE close.
Gold slipped earlier to a session low of $1160.39/Oz as the US dollar extended its gains. The metal recovered to eventually trade 0.48% firmer at $1180.64/Oz at 17.00 CAT. Platinum recovered by 3.24% to trade at $7793.23/Oz, while Palladium jumped 6.27% to trade at $897.23/Oz.
Bitcoin erased earlier gains to trade 1.92% weaker at $6350.50/coin at 17.00 CAT, whilst Ethereum was down 1.91% to trade at $290.51/coin.
READ LATEST TECHNICALS ON CRYPTO HERE