The JSE fell on Tuesday following heavy losses in Asia which were mainly attributed to worries about a deadly virus in China.
The JSE fell on Tuesday following heavy losses in Asia which were mainly attributed to worries about a deadly virus in China.
The Hang Seng slumped 2.81% while the Shanghai Composite Index fell 1.71%. The Japanese Nikkei lost a more respectable 0.91%. The trend carried on to Europe where all the major benchmarks came under pressure, while US equity futures also slipped ahead of the cash market open following a holiday on Monday. Safe-haven assets attracted most of the inflows on the day as investors sort some safety given the current uncertainty on the extent of the virus.
The rand opened trading marginally softer as it weakened to a session low of R14.59/$. The local unit advanced in the afternoon session as the US dollar weakened against a basket of major currencies. At 17.00 CAT, the rand was trading 0.02% firmer at R14.48/$.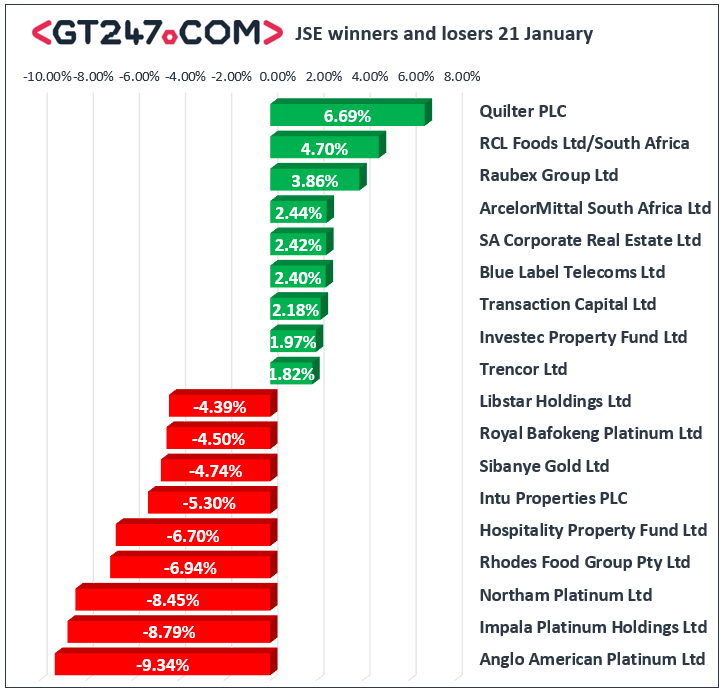 The local bourse was not spared from heavy losses led by major declines on the resources index. Platinum and PGM metals producers recorded significant losses led by Anglo American Platinum [JSE:AMS] which fell 9.34% to close at R1254.31, Northam Platinum [JSE:NHM] which lost 8.45% to close at R131.02, and Impala Platinum [JSE:IMP] which closed at R144.63 after losing 8.79%. Rhodes Food Group [JSE:RFG] also struggled on the day as it lost 6.94% to close at R15.55, while Astral Foods [JSE:ARL] fell 2.49% to close at R202.82. Index heavyweight Naspers [JSE:NPN] lost 1.96% to close at R2470.66, while mining giant Anglo American PLC [JSE:AGL] fell 1.89% to close at R417.25. Losses were also recorded for Sibanye Gold [JSE:SGL] which lost 4.74% to close at R39.15, Old Mutual [JSE:OMU] which retreated 3.14% to close at R18.80, and Aspen Pharmacare [JSE:APN] which closed at R118.27 after losing 1.68%.
Gains were modest and particularly limited amongst blue-chip stocks. Construction firm, Raubex Group [JSE:RBX] rallied 3.86% to close at R24.20, while Murray and Roberts [JSE:MUR] gained 1.63% to close at R11.20. Transaction Capital [JSE:TCP] advanced 2.18% to close at R23.40, while PPC Ltd [JSE:PPC] rose 1.67% to close at R2.44. Rand sensitives such as some of the banks managed to record gains on the day. FirstRand [JSE:FSR] gained 0.62% to close at R60.12, Standard Bank [JSE:SBK] added 0.43% to close at R164.70, and ABSA Group [JSE:ABG] closed at R140.69 after dropping 0.88%. Gains were also recorded for Investec Property Fund [JSE:IPF] which gained 1.97% to close at R13.95, and Telkom [JSE:TKG] which inched up 0.63% to close at R34.87.
The JSE Top-40 index closed 1.52% lower while the broader JSE All-Share index lost 1.48%. All the major indices closed softer with the Financials index losing the small gains it had right before the close, as it lost 0.22% on the day. The Industrials and Resources indices fell 1.42% and 2.53% respectively.
Brent crude was trading mostly softer on the day and it was recorded trading 0.78% weaker at $64.69/barrel just after the JSE close.
At 17.00 CAT, Palladium was down 3.35% at $2415.35/Oz, Platinum had slipped 1.87% to trade at $996.48/Oz, and Gold was 0.58% weaker at $1551.27/Oz.
---
Disclaimer:
Any opinions, news, research, reports, analyses, prices, or other information contained within this research is provided by GT247.com at GT247 (Pty) Ltd t/a GT247.com ("GT247.com") as general market commentary, and does not constitute investment advice for the purposes of the Financial Advisory and Intermediary Services Act, 2002. GT247.com does not warrant the correctness, accuracy, timeliness, reliability or completeness of any information which we receive from third party data providers. You must rely solely upon your own judgment in all aspects of your trading decisions and all trades are made at your own risk. GT247.com and any of its employees will not accept any liability for any direct or indirect loss or damage, including without limitation, any loss of profit, which may arise directly or indirectly from use of or reliance on the market commentary. The content contained within is subject to change at any time without notice.