The JSE traded mostly flat on Thursday before it closed softer as stocks struggled for direction.
Today was mostly a data driven trading session starting off with weaker than expected economic data out of China and Japan. Japan released its preliminary GDP QoQ reading which fell shy of expectations at 0.2% as it was recorded at 0.1%. Jitters were triggered by Industrial Production data out of China which came in at 4.7% YoY, missing estimates of 5.5%. Chinese retail sales YoY were recorded at 7.2% which missed forecasts of 7.2%.
In Europe, the German economy barely missed going into a technical recession as GDP QoQ expanded by 0.1% from a prior recording of -0.1%. European Union GDP numbers came in line with expectations at 0.2%, however the data from Asia had already done enough to induce fears.
Locally, Statistics SA released slightly improved mining production numbers for the month of September. Mining production YoY expanded by 0.2% from a prior contraction of -3.0%, while mining production MoM expanded by 1.5% easily beating the forecast of 0.6%.
On the JSE, the sell-off in Telkom [JSE:TKG] deepened as the telecoms provider fell 8.28% to close at R57.40. African Rainbow Capital [JSE:AIL] also struggled as it fell 3.89% to close at R4.20, while Tsogo Sun Hotels [JSE:TGO] dropped 5.41% to close at R3.50. Kumba Iron Ore [JSE:KIO] weakened by 3.14% as it closed at R370.33, Exxaro Resources [JSE:EXX] fell 1.61% to close at R127.91, and Anglo American Platinum [JSE:AMS] closed at R1194.92 after losing 2.06%. Rand hedge, Bid Corporation [JSE:BID] lost 1.5% to close at R341.36, while British American Tobacco [JSE:BTI] dropped 1.33% to end the day at R553.37. Other significant losses on the day were recorded for Pick n Pay [JSE:PIK] which dropped 2.01% to close at R68.40, and Anglo American PLC [JSE:AGL] which retreated 1.16% to R386.59.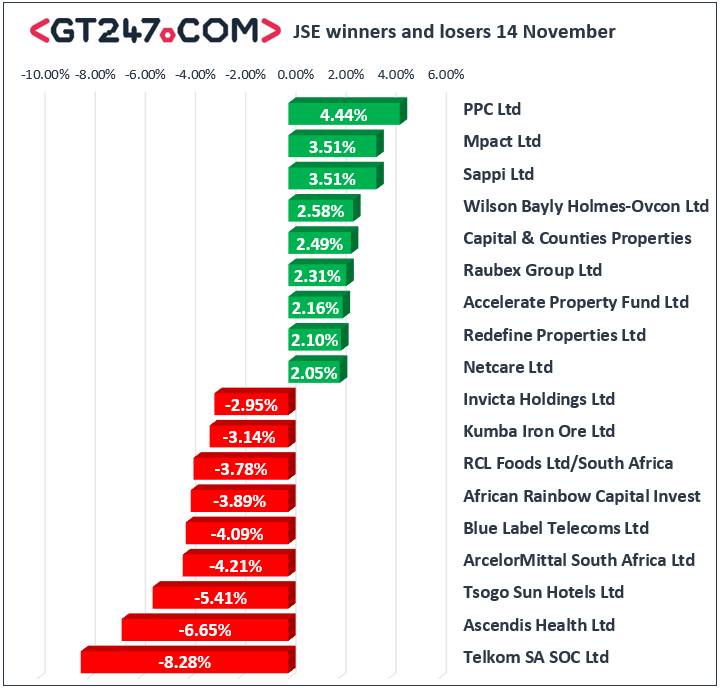 Cement maker, PPC Limited [JSE:PPC] found some momentum in today's session as it rallied 4.44% to close at R3.53 to finish amongst the day's biggest advancers. Sappi [JSE:SAP] shrugged off a weak set of quarterly results as it surged 3.51% to close at R37.46. Netcare [JSE:NTC] was buoyed by the release of a full-year trading statement which highlighted that it is expecting a significant increase in headline earnings. The stock closed 2.05% firmer at R17.45. Other gainers on the day included Capital & Counties [JSE:CCO] which rose 2.49% to close at R49.43, Gold Fields [JSE:GFI] which gained 2.04% to close at R80.64, and Aspen Pharmacare [JSE:APN] which closed at R121.14 after climbing 1.25%.
The JSE Top-40 index eventually closed 0.21% softer while the JSE All-Share index shed 0.27%. Financials barely closed firmer as they advanced 0.07%, however the Resources and Industrials indices lost 0.65% and 0.03% respectively.
The rand traded mostly firmer in today's session as it advanced to peak at a session high of R14.78/$. At 17.00 CAT, the rand was trading 0.54% firmer at $14.82/$.
Brent crude was buoyed by news that OPEC sees a smaller oil surplus in the coming year. The commodity was trading 1.01% firmer at $63.00/barrel just after the JSE close.
---
Disclaimer:
Any opinions, news, research, reports, analyses, prices, or other information contained within this research is provided by GT247.com at GT247 (Pty) Ltd t/a GT247.com ("GT247.com") as general market commentary, and does not constitute investment advice for the purposes of the Financial Advisory and Intermediary Services Act, 2002. GT247.com does not warrant the correctness, accuracy, timeliness, reliability or completeness of any information which we receive from third party data providers. You must rely solely upon your own judgment in all aspects of your trading decisions and all trades are made at your own risk. GT247.com and any of its employees will not accept any liability for any direct or indirect loss or damage, including without limitation, any loss of profit, which may arise directly or indirectly from use of or reliance on the market commentary. The content contained within is subject to change at any time without notice.