Global stocks sunk even further on Thursday as trade concerns grew following the arrest of a top executive from Huawei in Canada for extradition to the USA.
Investors are weighing the possibility of this arrest flaring up the already fragile Sino-US trade war which has been the main catalyst for the downtrend in stocks this year. Stocks fell in Asia as the Chinese mainland benchmark fell 2.16% while the Hang Seng dropped 2.47%. In Japan, the Nikkei lost 1.91%.
The US dollar rebounded in today's session following a couple of sessions of weakness due to falling US Treasury yields. The stronger US dollar weighed on the rand as the local currency broke above R14/$ to a session low of R14.11/$. At 17.00 CAT, the local currency was 2.21% weaker to trade at R14.15/$.
On the JSE, stocks opened significantly weaker and traded in the red for the entirety of today's session. Steinhoff International [JSE:SNH] came under pressure following the release of an update on the progress of the forensic investigation being undertaken by PWC. The report indicated that the final report on the investigation would be available in February 2019 which could pave way for the release of restated financial statements in April. The stock closed 10.11% weaker at R1.60.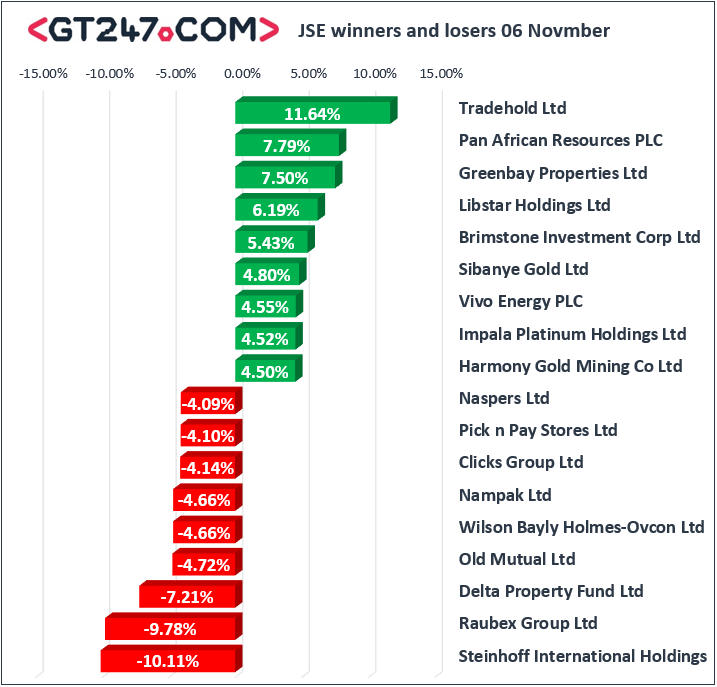 Index heavyweight, Naspers [JSE:NPN] also came under pressure after Tencent Holdings slumped 5.23% on the Hang Seng in earlier trading. Naspers dropped 4.09% to end the day at R2755.00. Bidvest [JSE:BVT] struggled as it lost 4.02% to end the day at R201.50, while Rand Merchant Investment Holdings [JSE:RMI] lost 3.89% to close at R35.06. The weaker rand weighed down retailers and financials as they traded softer on the day. Pick n Pay [JSE:PIK] fell 4.1% to close at R71.35, while Woolworths [JSE:WHL] lost 2.44% to close at R56.64. Standard Bank [JSE:SBK] closed at R172.80 after dropping 3.29%, and ABSA Group [JSE:ABG] lost 3.36% to close at R154.14.
Miners recorded the biggest gains on the day mainly due to higher rand-denominated metal commodity prices. Sibanye Stillwater [JSE:SGL] rallied to close 4.8% higher at R9.38, AngloGold Ashanti [JSE:ANG] closed 3.54% firmer at R152.68, while Anglo American Platinum [JSE:AMS] gained 3.99% to close at R485.00. Grindrod [JSE:GND] managed to post gains of 3.92% to close at R6.89, while Reinet Investments [JSE:RNI] picked up 2.85% to end the day at R213.13.
The JSE Top-40 index closed 2.29% weaker, while the JSE All-Share index dropped 2.06%. The Financials and Industrials indices dropped 2.84% and 2.38% respectively, while the Resources index lost 1.19%.
At 17.00 CAT, Gold was up 0.38% to trade at $1242.01/Oz, however Platinum had lost 1.19% to trade at $790.64/Oz and Palladium was down 2.13% at $1216.10/Oz.
Bitcoin was down 5.42% at $3688.60/coin, Ethereum was 9.08% weaker at $98.11/coin.