The JSE closed firmer on Wednesday mainly on the back of a mild rally in financials and gold miners.
Sentiment across global markets was rather tentative ahead of the US Fed rate decision which is slated for announcement at 2100 CAT on Wednesday. Asian equities traded fairly mixed with the Hang Seng managing to record minor gains while the Nikkei and Shanghai Composite Index dipped. In Europe, equity benchmarks gained momentum during the course of the day after a flat start. US equity futures were also trading firmer before the cash market opened which pointed to a firmer open on the 3 major indices.
The greenback was softer against a basket of major currencies which gave room for the rand to strengthen to a session high of R14.11/$. However, some volatility is expected when the Fed announces its rate decision which could likely lead to US dollar strength should there be a rate hike. At 17.00 CAT, the rand was up 1.43% to trade at R14.13/$.
In Johannesburg, miners featured amongst the day's biggest gainers on the local bourse as stocks such as Royal Bafokeng Platinum [JSE:RBP] gained 5.37% to close at R25.50, while Harmony Gold [JSE:HAR] added 8.1% to close at R25.90. Tongaat Hulett [JSE:TON] rebounded from the previous session's slump as it climbed 5.94% to end the day at R59.43. Telecoms provider, Vodacom [JSE:VOD] was buoyant as it posted gains of 4.47% to close at R129.44. Nedbank [JSE:NED] closed at R267.44 after adding 3.03%, ABSA Group [JSE:ABG] gained 3.31% to R159.31, while Standard Bank [JSE:SBK] closed 3.98% higher at R177.60.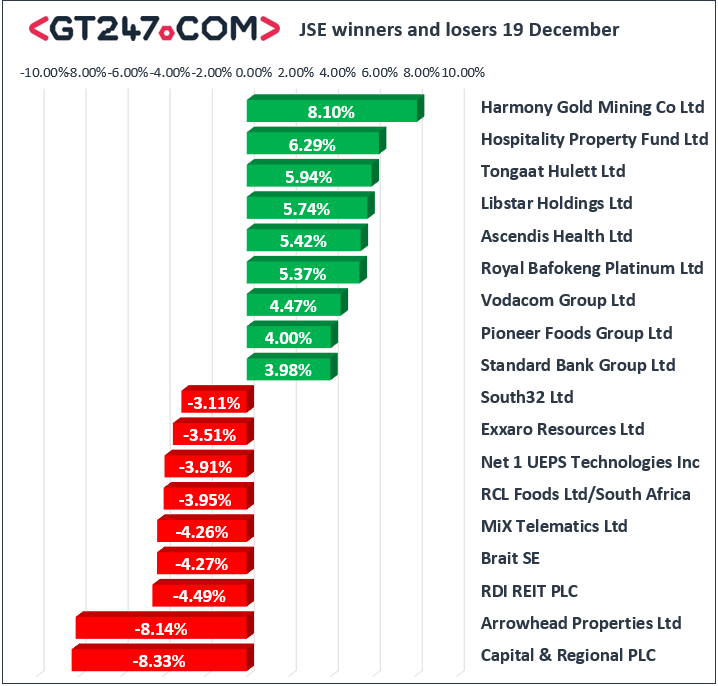 Listed property stocks constituted the bulk of the day's biggest losers. Arrowhead Properties [JSE:AWA] fell 8.14% to R3.95, RDI REIT [JSE:RPL] dropped 4.49% to R5.10, and Vukile Property Fund [JSE:VKE] closed 1.17% weaker at R19.50. Coal miner, Exxaro Resources [JSE:EXX] also struggled as it shed 3.51% to end the day at R134.31, while Brait [JSE:BAT] weakened to R29.56 after shedding 4.27%. British American Tobacco [JSE:BTI] lost another 2.21% to end the day at R460.50, while luxury goods retailer, Richemont [JSE:CFR] closed 1.17% weaker at R90.30.
The JSE Top-40 index held to its gains to close 0.63% higher, while the broader JSE All-Share index firmed by 0.61%. The Industrials index rallied towards the close to end the day 0.21% firmer, while the Financials and Resources indices rose 1.94% and 0.33% respectively.
A volatile session ensued for brent crude as it swung between gains and losses. After falling to a session low of $56.04/barrel, the commodity was trading 1.3% firmer at $56.99/barrel just after the JSE close.
At 17.00 CAT, Gold was up 0.52% at $1255.89/Oz, Platinum had risen 0.7% to $796.40/Oz, and Palladium was trading 0.5% firmer at $1257.51/Oz.
Bitcoin continued to claw back and at 17.00 CAT it was up 6.98% at $3925.00/coin, while Ethereum had risen 9.21% to $107.55/coin.