The JSE extended its gains on Thursday as it was buoyed by the positive sentiment across most global stocks.
Stocks surged following news that the USA and China had agreed to hold high-level talks next month which could potentially see an ease in trade tensions between the two global powers. Equity markets were already buoyant before the announcement starting with Asian counters were the Japanese Nikkei rallied 2.12%, while the Shanghai Composite Index gained 1.01%. In Europe, the FTSE 100 was the only major index to trade softer while the other counties such as the CAC 40 and DAX rose by more than 1%. In the USA, the Dow Jones opened more than 300 points higher while the Nasdaq and S&P500 also rallied by more than 1%.
The rand managed to peak at a session high of R14.73/$ before it retreated to be recording trading 0.36% weaker at R14.84/$ at 17.00 CAT.
On the JSE, MAS Real Estate [JSE:MSP] led the day's gainers following the release of its financial statements which indicated significant increases in distributable earnings and net rental income. The stock rallied to close 20.79% higher at R19.00. Capitec Bank Holdings [JSE:CPI] surged following the release of a positive trading statement which saw the stock gain 4.68% to close at R1168.00. Massmart [JSE:MSM] extended its gains as it surged 6.34% to close at R46.29, while Shoprite [JSE:SHP] gained 3.34% to close at R115.50. Construction group, WBHO [JSE:WBO] rallied 11.43% to end the day at R122.11, while Discovery Ltd [JSE:DSY] closed at R119.73 after gaining 119.73. Other significant gainers on the day included Anglo American PLC [JSE:AGL] which gained 1.72% to close at R332.92, and Richemont [JSE:CFR] which added 1.21% to close at R116.29.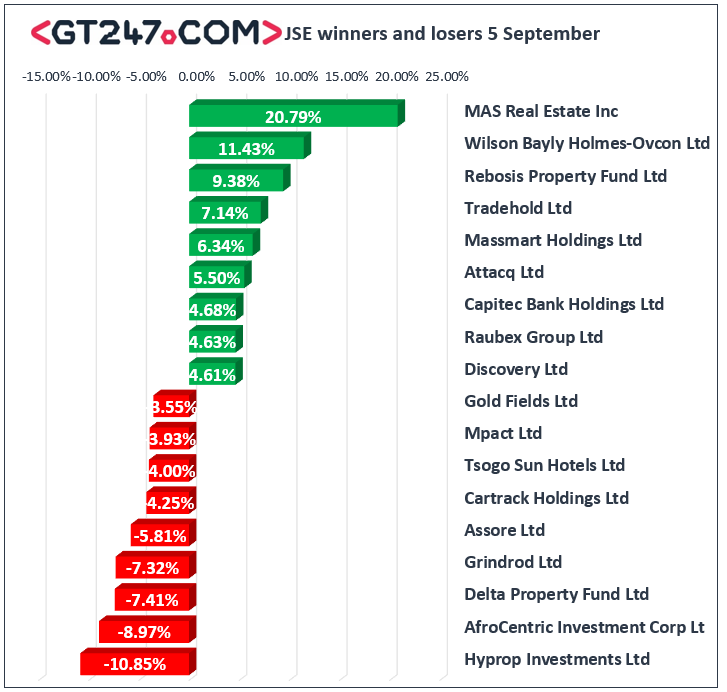 Losses on the day were mainly dominated by miners which fell on the back of weaker metal commodity prices. DRD Gold [JSE:DRD] fell 7.83% to close at R6.36, Harmony Gold [JSE:HAR] lost 3.5% to end the day at R52.06 and Northam Platinum [JSE:NHM] which dropped 2.31% to close at R76.20. Hyprop Investments [JSE:HYP] fell on the back of weaker full-year results which saw the stock fall to R59.96 after falling 10.85%. Assore [JSE:ASR] fell 5.81% to close at R300.00 as it flagged declining production volumes. Other significant losses were recorded for Grindrod [JSE:GND] which lost 7.83% to close at R4.43, and Intu Properties [JSE:ITU] which fell 3.1% to close at R6.25.
The JSE All-Share index closed 1.41% firmer while the JSE Top-40 index added 1.11%. All the major indices advanced on the day with the biggest gainer being the Financials index which gained 2.29%. The Industrials and Resources indices gained 1.05% and 1.04% respectively.
Brent crude surged even further in today's session and it was recorded trading 2.36% firmer at $62.13/barrel just after the JSE close.
At 17.00 CAT, Gold was down 2.55% to trade at $1513.21/Oz, Platinum had lost 3.74% to trade at $949.75/Oz, and Palladium was only down 0.11% to trade at $1556.70/Oz.
---
Disclaimer:
Any opinions, news, research, reports, analyses, prices, or other information contained within this research is provided by GT247.com at GT247 (Pty) Ltd t/a GT247.com ("GT247.com") as general market commentary, and does not constitute investment advice for the purposes of the Financial Advisory and Intermediary Services Act, 2002. GT247.com does not warrant the correctness, accuracy, timeliness, reliability or completeness of any information which we receive from third party data providers. You must rely solely upon your own judgment in all aspects of your trading decisions and all trades are made at your own risk. GT247.com and any of its employees will not accept any liability for any direct or indirect loss or damage, including without limitation, any loss of profit, which may arise directly or indirectly from use of or reliance on the market commentary. The content contained within is subject to change at any time without notice.