The JSE tracked other global markets higher on the back of optimism that the resumption of trade talks between the USA and China would result in a promising deal.
With concerns of a slowing global economy shrouding most of the investor sentiment, a solid trade deal would give hope that the two biggest economies in the world can get back on track and both expand. Recent releases of manufacturing data from Europe and the USA came in weaker than expected which increased concerns growth concerns. In Europe, markets shrugged off weaker readings of UK GDP and manufacturing production as the wave of optimism swept across the region.
There were also weaker readings in South African mining and manufacturing production data which was released on Thursday. Mining production YoY for the month of August contracted by 3.2% from a prior recording of 1.4%, while mining production MoM only expanded by 0.3% from a prior contraction of 4.9%. Manufacturing production YoY contracted by 1.8% which is worse than the prior recoding of -0.7%, while manufacturing production MoM expanded by 1.3% easily beating the forecast of 0.3%.
The rand strengthened against the greenback as it was mainly buoyed by a weaker US dollar. Although risks associated with the Turkish lira continue to be a risk for emerging market currencies, the rand managed to peak at a session high of R15.02/$. At 17.00 CAT, the rand was trading 0.61% firmer at R15.07/$.
On the JSE, PPC Limited [JSE:PPC] surged 6.15% to close at R3.80 as the company announced that its CFO was stepping down. Anglo American PLC [JSE:AGL] which is currently embarking on a share buyback program rallied 4.5% to close at R357.72. Oil and gas producer Sasol [JSE:SOL] climbed 4.4% as it closed at R277.90, while KAP Industrial Holdings [JSE:KAP] added 3.75% to close at R4.70. Rand sensitives tracked higher on the back of the firmer rand. Gains were recorded for Truworths [JSE:TRU] which added 3.66% to close at R52.17, Standard Bank [JSE:SBK] which rose 2.88% to R176.00, and Discovery Limited [JSE:DSY] which gained 2.59% to close at R119.84.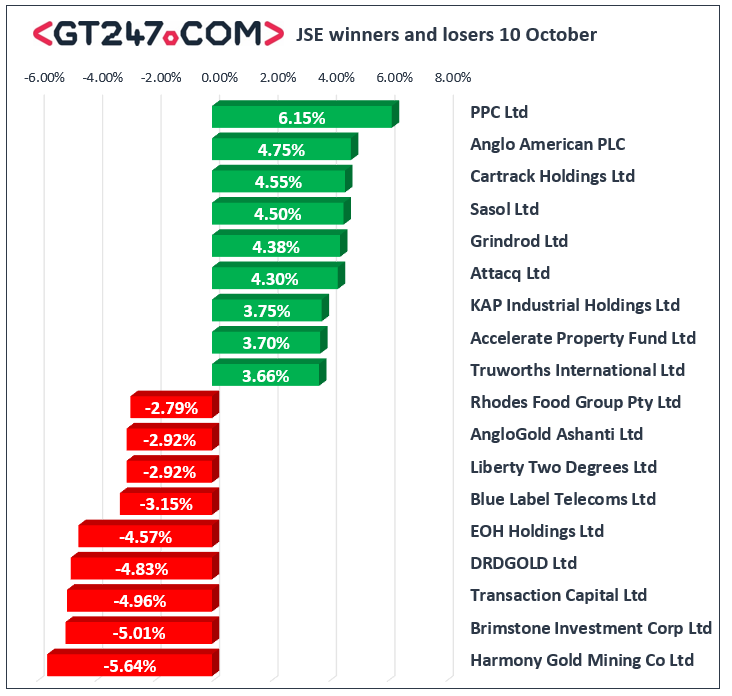 Gold miners retreated on the day with losses being recorded for Harmony Gold [JSE:HAR] which fell 5.64% to close at R46.00, AngloGold Ashanti [JSE:ANG] which slipped 2.92% to R315.00, and Gold Fields [JSE:GFI] which lost 1.69% to close at R84.41. Transaction Capital [JSE:TCP] struggled in today's session as it fell 4.96% to close at R21.29 while telecoms provider Telkom [JSE:TKG] lost 2.1% to close at R70.70. Losses were also recorded for Rhodes Food Group [JSE:RFG] which lost 2.79% to close at R15.00, and NEPI Rockcastle [JSE:NRP] which closed at R129.21 after falling 1.67%.
The blue-chip JSE Top-40 index closed 1.49% higher while the broader JSE All-Share index gained 1.33%. All the major indices advanced in today's session with the biggest gainer being the Resources index which closed 1.97% higher, while the Industrials and Financials indices gained 0.965 and 1.85% respectively.
Brent crude remains volatile swinging between gains and losses, before it was recorded trading 0.89% firmer at $58.84/barrel just after the JSE close.
At 17.00 CAT, Palladium was up 1.04% to trade at $1702.15/Oz, Gold was down 0.79% at $1493.96/Oz, and Platinum was 0.27% weaker at $890.10/Oz.
---
Disclaimer:
Any opinions, news, research, reports, analyses, prices, or other information contained within this research is provided by GT247.com at GT247 (Pty) Ltd t/a GT247.com ("GT247.com") as general market commentary, and does not constitute investment advice for the purposes of the Financial Advisory and Intermediary Services Act, 2002. GT247.com does not warrant the correctness, accuracy, timeliness, reliability or completeness of any information which we receive from third party data providers. You must rely solely upon your own judgment in all aspects of your trading decisions and all trades are made at your own risk. GT247.com and any of its employees will not accept any liability for any direct or indirect loss or damage, including without limitation, any loss of profit, which may arise directly or indirectly from use of or reliance on the market commentary. The content contained within is subject to change at any time without notice.