Recommendation: HOLD/LOOK TO BUY
Current Trend: Up on all main timeframes.
Strategy: Hold (with caution). Otherwise buy a close above line 5, if not in.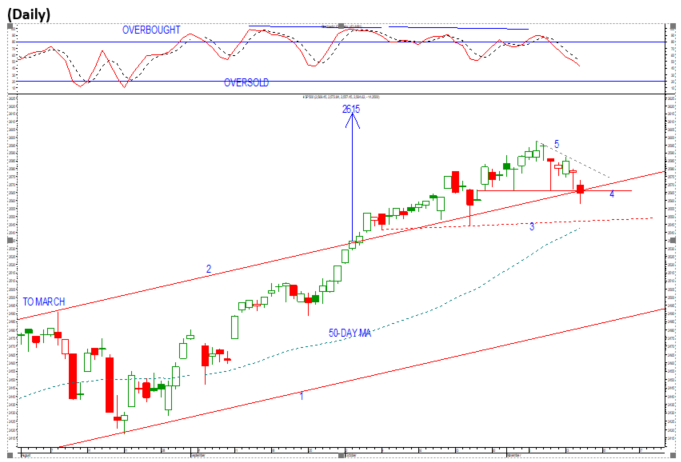 The price has pulled back over the past week with two distinct 'bottoming tails' (bullish reversal candles) occurring (Tuesday night and last Thursday). It does want to go higher, but is in a temporary consolidation phase.

There is support at lines 2 and 4 (2565), which was tested last night. My bias is still up (although it's possible we get a deeper pullback before heading higher). It has a higher target from channel 1-2 (to 2615).
Hold if you've bought the current pullback. If not in, wait for a close above line 5 before buying. (Line 5 is at 2581 for Thurs. night 16th and it's declining by 3.00 pts per day thereafter).
Up to 2615, based on channel 1-2. In the meantime, if the price continues down from here, look for important support at line 3, at 2541.
A close below 2563 (as given in last week's note). From 2600 take partial profits, and raise stop to a prior one-day low on the remainder.
---
To subscribe to more research by Colin please go to his website www.themarket.co.za
COPYRIGHT:
THIS NEWSLETTER IS TO BE READ ONLY BY CLIENTS OF GLOBAL TRADER. UNDER NO CIRCUMSTANCES IS IT TO BE SHOWN (OR GIVEN) IN PHYSICAL OR ELECTRONIC FORM TO ANY OTHER PERSON, WITHOUT THE PRIOR CONSENT OF THEMARKET.CO.ZA. FURTHERMORE, ELECTRONIC TRANSMISSION (EMAIL), REPRODUCING, AND/OR DISSEMINATING THIS DOCUMENT (OR PART THEREOF) IN ANY OTHER MANNER WITHOUT THE WRITTEN CONSENT OF THEMARKET.CO.ZA IS A VIOLATION OF THE COPYRIGHT LAW - AND IS ILLEGAL.
Disclaimer: Any opinions, news, research, analyses, prices, or other information contained within this research is provided as general market commentary, and does not constitute investment advice. GT247.com will not accept liability for any loss or damage, including without limitation to, any loss of profit, which may arise directly or indirectly from use of or reliance on such information. The content contained within is subject to change at any time without notice, and is provided for the sole purpose of assisting traders to make independent investment decisions.
GT247.com: +27 87 940 6101
IT support & help desk: +27 87 940 6107
Client relations (new accounts): +27 87 940 6106
Sales: +27 87 940 6108
---