The South African Reserve Bank (SARB)'s monetary policy committee will announce the interest rate decisions today at 15:00 SAST.
Here is what we can possibly expect...
Interest rates in focus:
The Repurchase rate or (Repo Rate )is the rate at which private banks borrow from the SA Reserve Bank, the outlook is that the current rate will remain unchanged at 6.75%.
The Prime lending rate or (Prime Rate )is our benchmark rate at which the private banks lend out to the public, the market consensus is that the Prime rate will remain unchanged at 10.25% later today.
Inflation numbers: The latest release of the Consumers Price Index (CPI) YoY (Apr) came in slightly lower at 4.4% from the three month high of 4.5% (Mrt). The Inflation rate is still within the SARB's target range of 3-6 percent.
The inflation number is currently watched carefully as a substantial increase in inflation might just trigger the South African Reserve Bank's monetary policy committee to increase interest rates.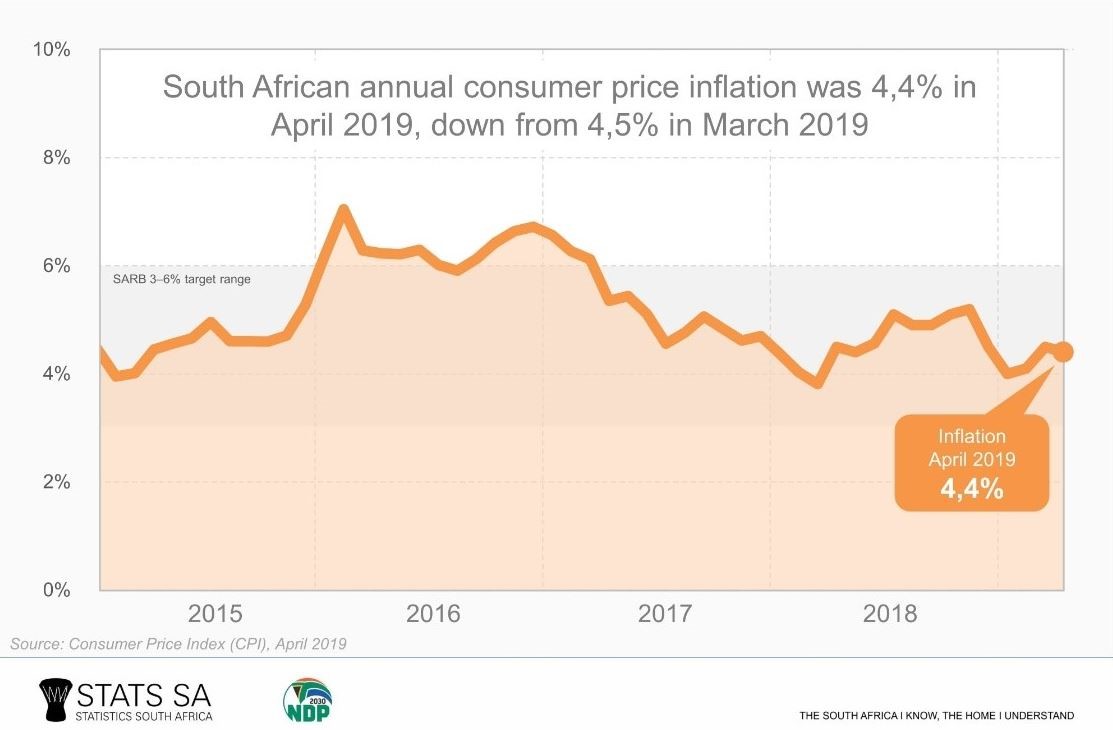 South African Market Outlook:
The 2019 National Elections have come and gone and the "New Dawn" is upon us as the Governing party set the tone for economic growth. This will be no easy task and an uphill battle of note as President Ramaphosa will need to effectively deploy political capital to boost growth.
The reinstatement of the Policy and Research Advisory unit is a step in the right direction as this will give the President clear line of sight over the design and implementation of economic and Investment policies.
Moody's
Moody's said South Africa's credit rating remains at BAA3 with a stable outlook which they will carefully look at. Corruptions at SOE's are also high on the list of items the rating agency will look at as the new cabinet members take their seats. Moody's next outlook is only scheduled for November but might move to an earlier date if needs be.
Favourable ratings will keep government in favour with international investors but a downgrade to sub investment level will see substantial capital outflows from the South African economy.
Eskom
Eskom is still a real concern for ratings agencies as Moody's stated the South African government's debt burden was expected to rise to 65% of GDP by 2023 and more than 70% when including guarantees to the troubled power utility. Debt to GDP will be a massive burden to the growth of the economy moving forward.
Petrol price vs Oil
With Brent Crude Oil has rallied over 40% this year and is set to continue gaining momentum as the OPEC+ nations are set to continue with supply cuts. If Brent Crude Oil prices continue to rise then we might expect our petrol prices to rise coupled with a weaker Rand (ZAR).
Unfortunately for the South African consumer analysts are forecasting that we might see a litre of unleaded 95 reach the R20 mark before the end of 2019. Adding on to the pressure is the new Carbon Tax which takes effect from the 5th of June. The new Carbon Tax will add an additional 9 cents to a litre to petrol and 10 cents to Diesel.
The Rand Outlook:
The South African Rand (ZAR) is reacting as expected and highlighted in our Election Report that we might see the local currency weaken after the elections if history is anything to go by. The Rand has given back all the pre-election gains and might weaken even further as the international Trade environment weakens further.
Deutsche Bank also came out and told its clients on Friday that they should consider selling the Rand (ZAR) as the fundamentals remain weak. Struggling SOE's will come back into focus of the ratings agency Moody's with its next review scheduled for November 2019.
What is expected for the South African Rand (ZAR):
South Africa has strong economic ties with China which has seen the respective currency pairs lose ground against the Dollar (USD). There is a strong correlation between the USDZAR and USDCNH currency pairs that should be considered when trading.
The USDZAR currency pair is still trading at the bottom of the channel formation (green lines) and need to close above 14.55 to support another leg higher.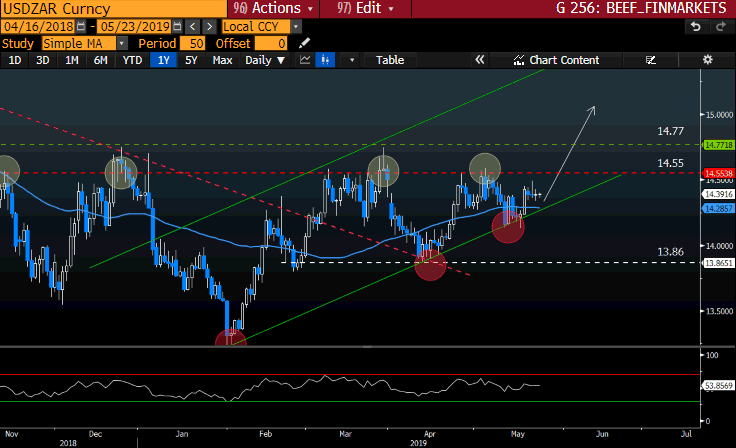 Source - Bloomberg
What can I trade today?
Local index to look at will be the ALSI
Forex pairs will be USD/ZAR, GBP/ZAR and EUR/ZAR
Exchange traded funds (ETFs) to look at SATRIX 40, SATRIX FINI and SATRIX MSCI Emerging
ETN's NewwaveUSD (NEWUSD.JSE)
When and what time is the South African interest rate announced in South Africa?
23rd of May 2019 at 15.00 SAST.
---
Disclaimer:
Any opinions, news, research, reports, analyses, prices, or other information contained within this research is provided by Barry Dumas, Market Analyst at GT247 (Pty) Ltd t/a GT247.com ("GT247.com") as general market commentary, and does not constitute investment advice for the purposes of the Financial Advisory and Intermediary Services Act, 2002. GT247.com does not warrant the correctness, accuracy, timeliness, reliability or completeness of any information which we receive from third party data providers. You must rely solely upon your own judgment in all aspects of your trading decisions and all trades are made at your own risk. GT247.com and any of its employees will not accept any liability for any direct or indirect loss or damage, including without limitation, any loss of profit, which may arise directly or indirectly from use of or reliance on the market commentary. The content contained within is subject to change at any time without notice.