The South African Reserve Bank (SARB)'s monetary policy committee will announce the interest rate decisions today at 15:00 South African time.
Inflation numbers: The Consumers Price Index (CPI) numbers were released yesterday and the CPI (YoY)(Oct) number came in at 5.1%, slightly higher than the previous CPI number. The inflation number is currently watched carefully as a substantial increase in inflation might just trigger the South African Reserve Bank's monetary policy committee to increase interest rates.
Interest rates in focus
The Repurchase rate or (Repo Rate) is the rate at which private banks borrow from the SA Reserve Bank, the outlook is mixed but there is a slight chance that the rate will be increased by 0.25% to 6.75% later today.
The Prime lending rate or (Prime Rate) is our benchmark rate at which the private banks lend out to the public, the outlook is mixed but there is a slight chance that the rate will be increased by 0.25% to 10.25% later today.
Market outlook:
The current market outlook is mixed on whether the interest rates will remain unchanged later today. Looking at the Rand (ZAR), the currency has been stable over the last couple of weeks and trading below R14.00 to the greenback as the market anticipates an increase in interest rates.
If we do not see an interest rate hike today, then it becomes increasingly likely that we will see one after the next MPC meeting. The possibility exists that the U.S Federal Open Market Committee (FOMC) will raise their interest rates by 0.25% in December. If that transpires then SA will need to follow suit by increasing the repurchase rate (Repo Rate) at the next sitting.
The Rand (ZAR)
If we see an increase in our interest rates today, that might just give the Rand (ZAR) a boost to strengthen further against the major currencies like the Dollar (USD), Euro (EUR) and the British Pound (GBP).
Looking at a chart of USD/ZAR
We can see that the currency pair has been consolidating within this triangle formation. If interest rates are increased today, then we might just see a clear move lower. The Rand (ZAR) is trading below R14.00 to the greenback and might move lower still to a target of R13.57 (blue arrow). If there is no rate hike and the FED raises rates in December then we can expect a move higher with R14.49 as a higher target (red arrow).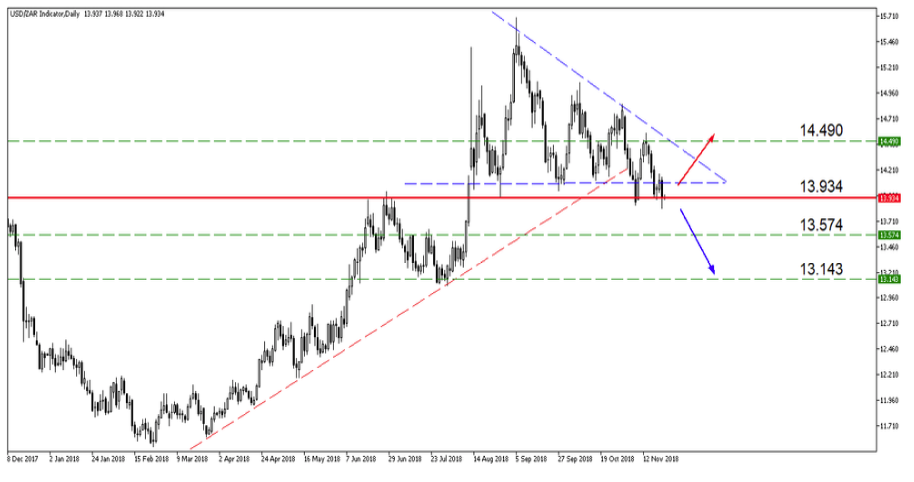 Source: MetaTrader5
What to trade today:
Local indexto look at will be the ALSI
Forex pairswill be USD/ZAR, GBP/ZAR and EUR/ZAR
Exchange traded funds (ETFs) to look at SATRIX 40, SATRIX FINI and SATRIX MSCI Emerging
ETN's NewwaveUSD NEWUSD.JSE
Disclaimer: Any opinions, news, research, analyses, prices, or other information contained within this research is provided as general market commentary, and does not constitute investment advice. GT247.com will not accept liability for any loss or damage, including without limitation to, any loss of profit, which may arise directly or indirectly from use of or reliance on such information. The content contained within is subject to change at any time without notice, and is provided for the sole purpose of assisting traders to make independent investment decisions.