The JSE traded mostly flat to firmer on Wednesday as it attempted to gain traction after consecutive sessions of losses.
The local bourse managed to open firmer and pointed mostly higher although the gains were modest. However, the all-share index started to lose some steam towards the close. The trend was similar to the Nikkei and the Hang Seng which held on to their gains to close 0.28% and 0.15% firmer, while the Shanghai Composite Index shed 0.41%. Stocks in Europe traded mostly firmer as well with gains also being relatively modest. US markets opened at record highs as they were supported by the release of better than expected US GDP data.
In terms of local economic data, the RMB/BER business confidence indicator rose to 26 in the 4th quarter of 2019, rebounding from the twenty-year low of 21 which was recorded in the 3rd quarter. The rand found some momentum as it strengthened against the greenback to peak at a session high of R14.69/$. At 17.00 CAT, the rand was trading 0.44% firmer at R14.73/$.
On the JSE, Arrowhead Properties Limited [JSE:AHB] was buoyed by the release of its full-year results which saw the stock surge 7.04% to close at R3.65. Gains were also recorded for listed property stocks such as Hospitality Property Fund B [JSE:HPB] which gained 8.39% to close at R8.40, and Redefine Properties [JSE:RDF] which rose 2.35% to close at R8.28. British American Tobacco [JSE:BTI] got a lift from the release of a positive trading update which resulted in the stock gaining 2.69% to close at R582.36. Fellow rand hedge Mondi PLC [JSE:MNP] managed to gain 1.78% to close at R323.50, while Sappi [JSE:SAP] added 3.08% to close at R40.46. Other significant gains on the day were recorded for Investec PLC [JSE:INP] which gained 4.27% to close at R84.98, Kumba Iron Ore [JSE:KIO] which added 1.91% to close at R397.88, and Barloworld [JSE:BAW] which closed at R113.00 after gaining 2.15%.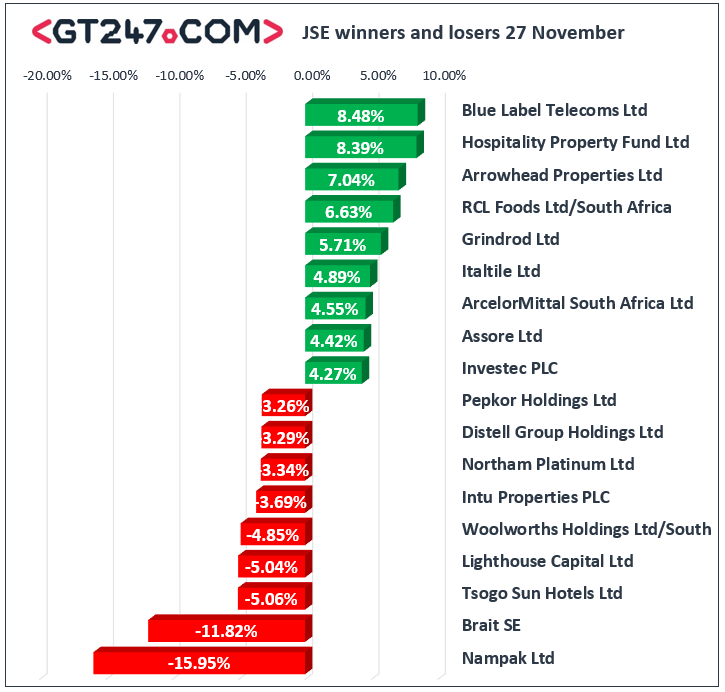 Nampak [JSE:NPK] released its full-year results which highlighted double-digit percentage point decreases in earnings as the trading statement released on Monday had guided. The share plummeted 15.95% to close at R5.27. Brait [JSE:BAT] also came under pressure following the release of its half-year results which showed a significant decrease in its net asset value. The share eventually closed 11.82% lower at R14.55. Woolworths [JSE:WHL] which released a trading update for the 20 weeks ending 17 November 2019 struggled as it fell 4.85% to close at R54.00. Other retailers also recorded declines on the day as declines were recorded for Shoprite [JSE:SHP] which lost 1.22% to close at R127.40, and the Foschini Group [JSE:TFG] which dropped 1.26% to close at R157.00. Losses were also recorded for Naspers [JSE:NPN] which retreated 1.26% to close at R2150.00, and Vodacom [JSE:VOD] which closed at R123.76 after losing 2.55%.
The JSE Top-40 index eventually closed 0.18% firmer while the JSE All-Share index also rose 0.18%. Industrials shed 0.13%, however the Resources and Financials indices rose 0.13% and 0.99% respectively.
Brent crude struggled to build any significant momentum in today's session. The commodity was recorded trading 0.03% firmer at $63.23/barrel just after the JSE close.
At 17.00 CAT, Gold was 0.41% softer at $1455.24/Oz, Palladium was 0.04% firmer at $1455.24/Oz, and Platinum had lost 1.39% to trade at $895.25/Oz.
---
Disclaimer:
Any opinions, news, research, reports, analyses, prices, or other information contained within this research is provided by GT247.com at GT247 (Pty) Ltd t/a GT247.com ("GT247.com") as general market commentary, and does not constitute investment advice for the purposes of the Financial Advisory and Intermediary Services Act, 2002. GT247.com does not warrant the correctness, accuracy, timeliness, reliability or completeness of any information which we receive from third party data providers. You must rely solely upon your own judgment in all aspects of your trading decisions and all trades are made at your own risk. GT247.com and any of its employees will not accept any liability for any direct or indirect loss or damage, including without limitation, any loss of profit, which may arise directly or indirectly from use of or reliance on the market commentary. The content contained within is subject to change at any time without notice.