The JSE closed firmer on Thursday led by retailers and financials which rebounded on the back of the firmer rand.
The rand strengthened along with other emerging market currencies due to the weaker US dollar which began its retreat overnight. The local currency managed to strengthen to a session high of R15.23 against the greenback before retreating to trade 0.44% firmer at R15.36/$.
FirstRand [JSE:FSR] released its full-year results which showed healthy increases in earnings and return on equity. This coupled with a firmer rand saw the stock gain 3.9% to close at R67.35 per share. Nedbank [JSE:NED] rose to R263.33 after adding 3.25%, while Standard Bank [JSE:SBK] ended the day 2.49% firmer at R178.22 per share. The Foschini Group [JSE:TFG] managed to add 3.48% to close at R168.00, while Discovery Limited [JSE:DSY] closed amongst the index's biggest movers after gaining 3.77% to close at R173.87 per share.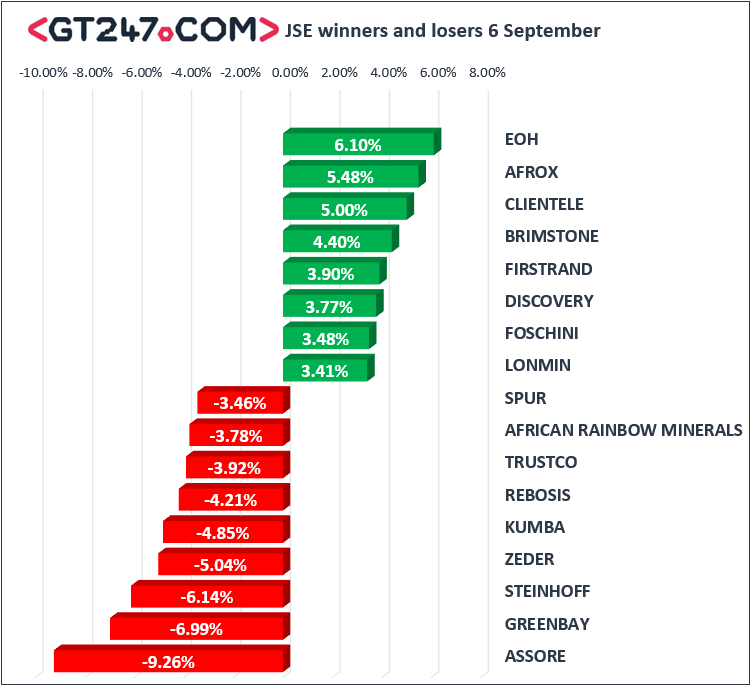 EOH Holdings [JSE:EOH] broke its downward trend as it jumped 6.1% to close at R36.55 per share. This was after the firm issued a trading statement indicating that they are expecting revenue to increase by approximately 8% for the full-year ended 31 July. Platinum miner, Lonmin [JSE:LON] added 3.41% to close at R8.49 per share.
Assore [JSE:ASR] retreated in today's session following the big rally that was recorded yesterday. This was despite an impressive set of full-year results in which the firm reported record attributable earnings and a record annual dividend of R22 per share. The stock eventually closed the day down 9.26% at R310.32 per share. Greenbay Properties [JSE:GRP] weakened to R1.33 after dropping 6.99%, whilst Spur Corporation [JSE:SUR] closed 3.46% weaker at R26.25 per share after reporting a decrease in profit and earnings in its full-year results.
Rand hedge, Sappi [JSE:SAP] was dragged by the firmer rand which saw it weaken by 3.22% to close at R99.82 per share. Bidvest [JSE:BVT] lost 1.94% to close at R200.65, while diversified miners Anglo American PLC [JSE:AGL] and BHP Billiton [JSE:BIL] fell by 1.38% and 1.34%, to close at R304.18 and R311.17 per share respectively.
The JSE All-Share index held on to its gains to close 0.05% firmer, while the blue-chip JSE Top-40 index gained 0.12%. The Financials index broke its recent downward spiral to end the day up 1.69%. The Industrials index was flat barely gaining 0.01% while the Resources lost 1.05%.
Despite opening weaker, brent crude slowly advanced as the market anticipated this week's US crude inventories data. It was trading 0.19% firmer at $77.42/barrel just after the JSE close.
Gold firmed as the US dollar pulled back to reach a session high of $1207.06/Oz, before retracing to trade 0.68% firmer at $1204.00/Oz at 17.00 CAT. Platinum was up 1% to trade at $792.40/Oz and Palladium was 0.68% firmer at $979.11/Oz.
The slump in Bitcoin persisted as the coin dropped 7.88% to trade at $6463.60/coin at 17.00 CAT, while Ethereum had lost 11.71% to trade at $228.94/coin.