The JSE inched higher on Wednesday as a broad-based global equity market rebound ensued.
Technology stocks which have been the primary catalyst for the latest bout of selling managed recover marginally in today's session. Asian equities traded relatively mixed, but the Shanghai Composite Index eventually managed to close 0.25% firmer while the Hang Seng gained 0.51%. It also helped that Tencent Holdings closed firmer in Hong Kong as this resulted in Naspers [JSE:NPN] gaining 3.77% to close at R2716.00 on the JSE.
The US dollar retreated in today's session giving back some of the gains from Tuesday's impressive rally. Dollar weakness was extended following the release of worse than expected US initial jobless claims data. The rand rallied on the back of this dollar weakness to a session high of R13.89/$ before retracing briefly to trade at R13.92/$ at 17.00 CAT.
On the JSE, Lewis Group [JSE:LEW] was one of the day's biggest gainers after the company released its half-year results which highlighted a decrease debtor costs and an increase in earnings. The stock ended the day 9.72% higher at R30.94. Pepkor Holdings [JSE:PPH] rallied to close 7.95% firmer at R18.60, while Tsogo Sun Holdings [JSE:TSH] posted gains of 6.1% to close at R20.34. Retailer, Mr Price [JSE;MRP] managed to add 4.98% to end the day at R236.95, and Truworths [JSE:TRU] gained 4.18% to close at R85.18.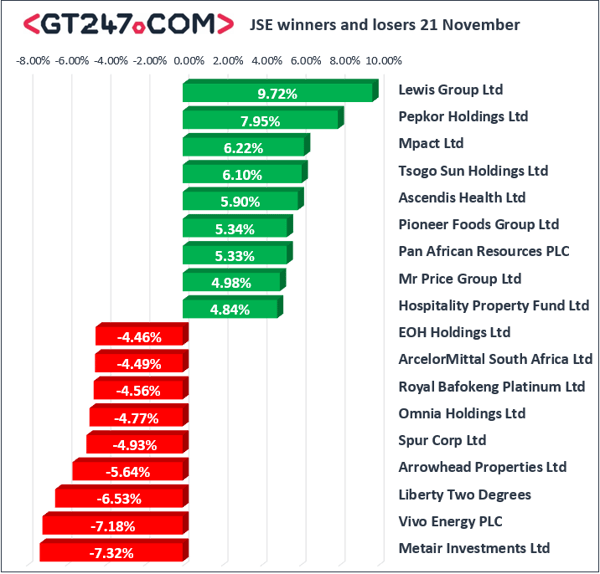 Metair Investments [JSE:MTA] came under significant pressure as it fell to R17.99 after dropping 7.32%. Arrowhead Properties [JSE:AWA] weakened by 5.64% to close at R4.52, while Greenbay Properties [JSE:GRP] lost 4.35% to end the day at R0.88. Exxaro Resources [JSE:EXX] retreated to end the day at R142.00 after shedding 3.04%, and South32 [JSE:S32] lost 2.05% to close at R32.00.
The JSE All-Share index closed the day up 0.49% while the JSE Top-40 index inched up 0.64%. The Industrials index was the biggest gainer of the day after it closed 1.45% higher, however the Resources and Financials indices dropped 0.29% and 0.46% respectively.
At 17.00 CAT, Gold was up 0.4% to trade at $1226.57/Oz, Platinum was 0.66% firmer at $847.66/Oz, and Palladium had gained 0.83% to trade at $1154.95/Oz.
Brent crude staged a rebound which saw it trading 1.84% firmer at $63.68/barrel just after the JSE close.
Bitcoin failed to catch a reprieve as it was trading 5.31% weaker at $4611.00/coin at 17.00 CAT, while Ethereum was down 5.25% at $137.85/coin.