The JSE found some reprieve on Wednesday as global markets rebounded mainly on the back of new Chinese stimulus.
The Chinese central bank surprisingly injected over $31 billion into the Chinese economy as part of its medium-term lending facility. This was after the bank highlighted concerns on the potential for adverse economic impacts and reduced market liquidity due to the trade war with the USA.
Following a weaker close in US indices overnight, Asian markets were buoyed by the news of the stimulus from the People's Bank of China. The Hang Seng and Nikkei recovered from a slow start to end the day 0.77% and 1.24% firmer respectively. This filtered onto European indices as well as the JSE which traded mostly firmer on the day.
There was more positive news for South Africa because of CPI data released by Statistics SA. CPI YoY for the month of May slowed down to 4.4% from 4.5%. MoM CPI decreased to 0.2% from a prior recording of 0.8%. With the recent fuel price hikes, it might be prudent to expect the next CPI recording to be higher than the latest recordings.
The Rand strengthened to a session high of R13.56/$, before it retreated to trade at R13.66 against the greenback at 17.00 CAT.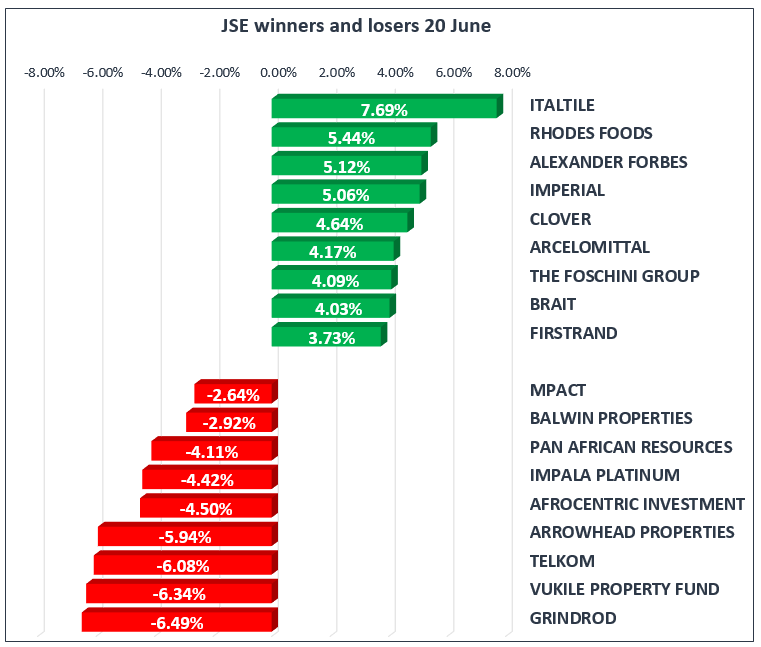 On the JSE, retailers rebounded from their recent slump which saw Truworths [JSE:TRU] add 3.52% to close at R80.23 per share, while The Foschini Group [JSE:TFG] posted gains of 4.09% to close at R184.50 per share. Rand Merchant Holdings [JSE:RMH] closed at R71.89 per share after gaining 3.38%, Remgro [JSE:REM] put up 2.03% to close at R200.87 per share, and FirstRand [JSE:FSR] was 3.73% firmer at R59.00 per share. Imperial Holdings [JSE:IPL] and Rhodes Food Group [JSE:RFG] gained 5.06% and 5.44% respectively.
Of the day's top losers, Telkom [JSE:TKG] was 6.08% weaker to close at R48.81 per share as it traded ex-dividend. Vukile Property Fund was also trading ex-dividend which saw the stock close at R19.20 per share after dropping 6.34%. Dis-Chem [JSE:DCP] lost 2.56% to close at R25.90 per share and Reunert [JSE:RLO] closed at R77.83 per share after shedding 1.66%.
On the blue-chip index, Vodacom [JSE:VOD] which was also trading ex-dividend slipped to close at R127.75 per share after shedding 1.73%. Rand hedges, Richemont [JSE:CFR] and BHP Billiton [JSE:BIL] closed at R120.23 and R295.10 per share, after dropping 0.87% and 0.84% respectively.
The JSE All-Share index eventually closed the day 0.71% firmer and the JSE Top-40 index gained 0.75%. The Resources index shed 0.68% however gains were recorded for the Financials and Industrials indices which closed 1.41% and 1.14% firmer respectively.
Iran said it would reject any deal to increase the current crude output quotas. This puts OPEC's scheduled meeting at risk of not achieving the desired outcome of an increase in output. Brent crude rebounded to a session high of $75.86/barrel before it retraced marginally to trade at $75.20/barrel just after the JSE close.
Gold traded mostly flat on the day and at 17.00 CAT it was trading at $1273.61/Oz, up/down 0.04% on the day. Platinum was 0.61% firmer at $873.64/Oz and Palladium was down 0.04% at $970.09/Oz.
At 17.00 CAT, Bitcoin was trading at $6766.20/coin, up 0.31% on the day whilst Ethereum was trading 0.14% firmer at $538.77/coin.