The local bourse closed weaker on Tuesday following a relatively mixed session where the local index struggled for direction.
The JSE looked poised for a possible rebound in the morning session but that momentum fizzled out as the day progressed. In Asia, Chinese equities closed firmer on the back of optimism on the possibility of a trade deal between the USA and China. The Shanghai Composite Index firmed by 1.01% while the Hang Seng managed to gain 0.62%. However, in Japan the Nikkei struggled as it dropped 2.06%.
Following Monday's rally, the US dollar pulled back from its overnight highs. This supported the rand as it gained over half of a percent against the greenback to peak at a session high of R14.35/$. The rand was trading at R14.46/$ at 17.00 CAT.
On the local index, Ascendis Health [JSE:ASC] came under considerable pressure as it lost 11.49% to end the day at R3.93. Brait [JSE:BTI] fell 9.95% to close at R34.31, while The Foschini Group [JSE:TKG] lost 3.77% to close at R161.50. Telkom Limited [JSE:TKG] closed 5.11% weaker at R52.34 mainly on the back of a decline in HEPS reported in its half-year interim results. Platinum miner, Anglo American Platinum [JSE:AMS] retreated to close at R478.56 after dropping 3.64%, while Northam Platinum [JSE:NHM] lost 3% to end the day at R39.46.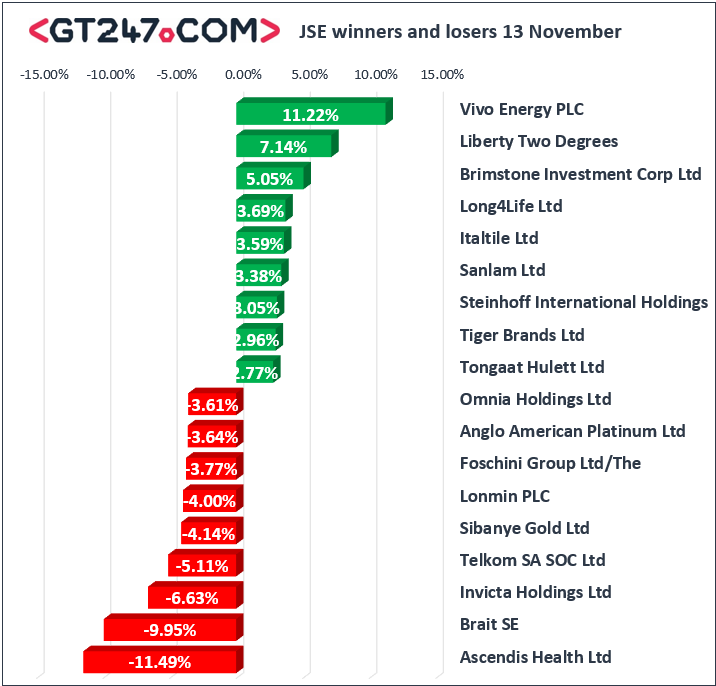 Gains were relatively modest on the All-Share index with gains being mainly recorded amongst financials and retailers. Nedbank [JSE:NED] firmed by 2.57% to close at R261.05, ABSA Group [JSE:ABG] rose 1.39% to R157.00, and FirstRand [JSE:FSR] gained 2.44% to close at R67.78. Tongaat Hulett [JSE:TON] managed to add 2.77% to close at R63.00, and Tiger Brands [JSE:TBS] gained 2.96% to end the day at R278.00. Woolworths [JSE:WHL] added 1.92% to close at R54.67, while Shoprite Holdings [JSE:SHP] closed at R192.31 after gaining 1.85%.
The JSE Top-40 index eventually closed the day 0.21% weaker, while the broader JSE All-Share index lost 0.29%. The Financials index was buoyed by the firmer rand which saw it gain 1.45%. The Industrials and Resources indices lost 0.53% and 1.12% respectively.
Brent crude remained under significant pressure as OPEC flagged a possible decline in demand for its oil as rivals surge. The commodity had lost 2.31% to trade at $68.50/barrel just after the JSE close.
At 17.00 CAT, Bitcoin had lost 0.24% to trade at $6445.00/coin, and Ethereum was down 0.98% at $211.38/coin.
On the metal commodity market, Gold was up 0.06% at $1201.06/Oz at 17.00 CAT, Platinum was up 0.09% at $840.96/Oz and Palladium had gained 0.67% to trade at $1105.09/Oz.