The JSE closed firmer for a second consecutive session as Rand hedge stocks extended their gains on the back of the weaker Rand.
The Rand came under significant pressure in the afternoon session following the release of South African manufacturing production data. Manufacturing production MoM contracted by 0.6% which missed the forecasted growth of 0.3%. YoY manufacturing production expanded by 1.1% which was also worse than the estimated growth 1.7%.
The Rand weakened to a session low of R12.98/$ before it rebounded marginally to trade at R12.91/$ at 17.00 CAT.
Kumba Iron Ore [JSE:KIO] posted a surprise jump of 5.7% to close at R312.89 per share. Other miners also recorded significant gains in today's trading session, namely Royal Bafokeng Platinum [JSE:RBP] which gained 3.78% to close at R23.87 per share, Northam Platinum [JSE:NHM] which gained 4.51% to end the day at R36.39 per share, and Sibanye-Stillwater [JSE:SGL] which closed at R9.16 per share after adding 4.81%.
Rand hedge stocks such as Mondi Ltd [JSE:MND] closed at R365.72 per share after gaining another 2.56%, while Sappi [JSE:SAP] added 2.93% to close at R89.16 per share. Gold miner, Gold Fields [JSE:GFI] gained 2.22% to close at R47.03 per share, retailer Truworths [JSE:TRU] gained 2.15% to end R84.10 per share and oil and gas producer, Sasol [JSE:SOL] closed 2.5% firmer at R492.00 per share.
Stadio Holdings [JSE:SDO] took a breather from its upward trend to end the day 5.09% softer at R4.66 per share. Balwin Properties [JSE:BWN] eased by 0.94% to close at R5.25 per share, whilst its sector peer, Resilient [JSE:RES] lost 1.61% to close at R59.80 per share. Hospitality stocks, Tsogo Sun Holdings [JSE:TSH] and Sun International [JSE:SUI] weakened by 1.99% and 1.68% to close at R22.34 and R62.70 per share respectively.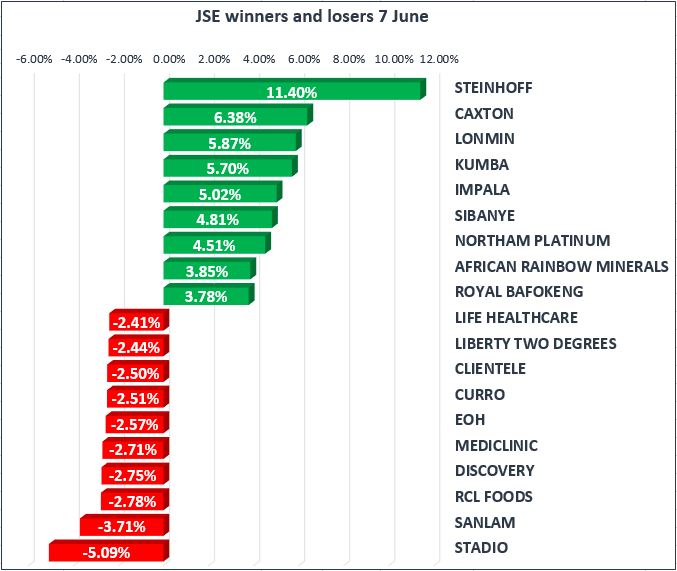 Other significant moves lower on the day were recorded in Mediclinic [JSE:MEI] which lost 2.71% to close at R96.91 per share, as well as Discovery [JSE:DSY] which closed at R148.66 per share after shedding 2.75%.
The JSE All-Share Index eventually closed the day 0.53% firmer, whilst the JSE Top-40 Index managed to gain 0.58%. The weaker Rand weighed on the Financials index which closed 0.76% weaker, however gains were recorded in the Industrials and Resources indices which firmed by 0.5% and 1.88% respectively.
Gold yet again failed to maintain its momentum above $1300/Oz as it quickly retraced to trade just below that price level for the majority of today's session. Gold was trading at $1297.64/Oz at 17.00 CAT, only up 0.1% on the day. Platinum was trading 0.14% softer to 17.00 CAT as it was recorded at $904.17/Oz, however Palladium was trading 0.36% firmer at $1023.00/Oz.
Brent crude rebounded from its overnight slump to reach a session high of $76.63/barrel. It was trading 1.61% firmer at $76.57/barrel just after the JSE close.
Bitcoin was trading relatively flat in today's session and at 17.00 CAT it was trading at $7690.00/coin, up 0.69% for the day. Ethereum was trading 0.6% weaker at $606.06/coin.