The local bourse continued to slide on Thursday as international markets tracked US equities lower after the FED announced a 0.25% increase in the FED Funds rate to 2.25%.
Asian shares opened the day in the red giving up some of the gains made on Wednesday. The Nikki was softer on the day shedding 0.99% to trade at 23796, recording its first loss in 8 trading sessions. The Hang Seng and the Shanghai composite were also weaker on the day shedding 0.36% and 0.54% respectively. Chairman Powell's statement last night indicated that the FED were looking at increasing interest rates at least three times during 2019, the FED anticipates that the US economy could continue to grow. The FOMC is concerned that the US economy will overheat and are prepared to keep the economy in check by increase interest rates.
It was another gloomy day for investors as the JSE continued to retreat, the strong Rand continued to wreak havoc for exporters but gave a big boost to some of the interest sensitive stocks on the local bourse. PPI numbers released this morning showed that prices at the factory gate increased by 0.2% YOY, thus pushing the YOY PPI number to 6.3%.
The new chapter in the South African mining sector is now in effect as the new mining charter takes shape and will begin to reshape the embattled industry. Losses were recorded across the mining counters for a second day this week, significant losses were recorded by Royal Bafokeng [JSE: RBP],Impala Platinum [JSE: IMP], Harmony Gold [JSE: HAR], Pan African Resources [JSE: PAN], and Gold Fields [JSE: GFI], the miners shed 9.92%,9.15%,8.46% 8.18% and 6.5% respectively.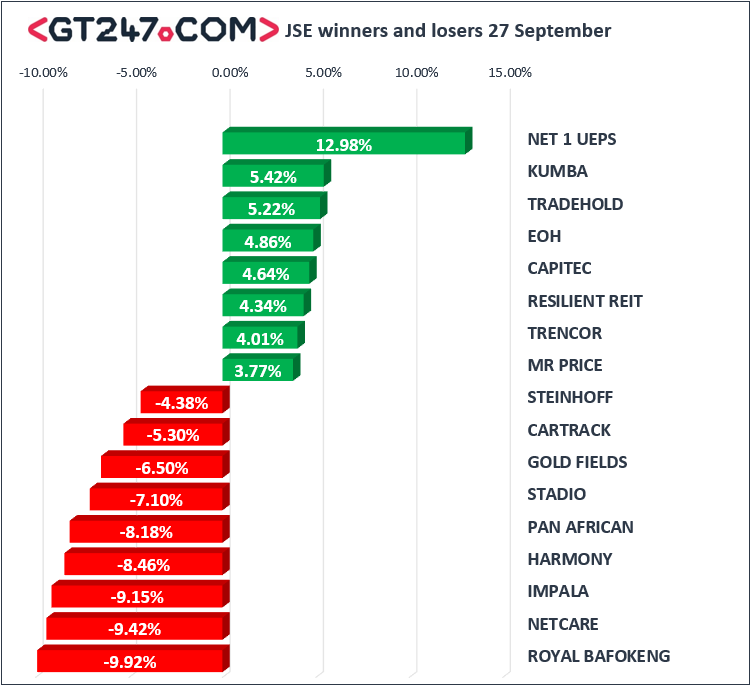 Gains were recorded across most SA Inc shares as retail and banking shares managed to bounce as the Rand appreciated. EOH [JSE: EOH], Capitec [JSE: CPI], Mr Price [JSE: MRP], notched up gains of 4.86%,4.64% and 3.77% respectively.
The JSE All-Share index closed the day 1.03% weaker, whilst the JSE Top-40 index lost 1.11%. The resource index was down 1.48%, whilst the Financial index was up 0.56%.
The local unit advanced against the majors today and was trading at R14.06/ $ at the time of writing. The Rand continued to make gains against the Euro was trading at R16.42 up from R16.48 the previous day. South African 10 Year Bonds (R186), were trading at 8.99% at 17:00 CAT, 8 basis points firmer from yesterday's levels of 9.07%
Commodities remained weak as the dollar advanced, Gold was trading at R1182/ounce. Brent crude continued to ease on Thursday, as we saw a barrel of crude changing hands at $80.80.
Crypto currencies were weaker on the day as Bitcoin and Ethereum eased 0.37% and 0.3% to trade at $6514 and $219 respectively.