The JSE barely managed to close firmer on Thursday as it trended mostly lower along with other emerging market economies.
Emerging market currencies including the Rand traded under pressure following the interest rate hike announcement by the US Federal Reserve. The US Fed indicated a significant shift from post-2009 financial crisis monetary policy, which could spell the end of quantitative easing. The fears for emerging markets arise from the fact that this could result in capital flows out of risky emerging markets and into a less precarious US economy.
The Rand weakened to a session low of R13.34/$ against the greenback as the US dollar was buoyed by the rate hike. The local currency did recover during the day to trade in positive territory, but the gains were short-lived due to positive US economic data. After reaching a session high of R13.10/$ the Rand retraced to trade at R13.31/$ at 17.00 CAT.
Local mining production data also disappointed as it contracted by 4.3% YoY which was worse than the estimated -3.6%. MoM manufacturing production shrunk by 2% which was worse than the forecast of -0.4%.
On the JSE, Stadio Holdings [JSE:SDO] jumped 5.26% to close at the day at R4.40 per share while Pioneer Foods [JSE:PNR] posted gains of 4.41% to end the day at R113.29 per share. Platinum miner, Northam Platinum [JSE:NHM] closed 4.2% firmer at R35.74 per share, whilst its sector peer Impala Platinum [JSE:IMP] gained 4.69% to end the day at R23.00 per share.
On the blue-chip index, Mr Price closed at R245.00 per share after leaping by 3.23%, whilst Shoprite [JSE:SHP] firmed by 3.14% to close at R237.00 per share. Gold Fields [JSE:GFI] and AngloGold Ashanti [JSE:ANG] gained 2% and 1.88% respectively.
Amongst the day's losers, African Rainbow Minerals [JSE:ARM] slipped by 2.33% to end the day at R112.88 per share, whilst Kumba Iron Ore [JSE:KIO] lost 1.44% to close at R299.12 per share. Coal miner, Exxaro [JSE:EXX] eased to R131.20 after dropping 1.5%, whilst healthcare provider, Netcare [JSE:NTC] shed 1.09% to R28.98.
The JSE eventually closed 0.1% firmer after struggling for most of the session, whilst the JSE Top-40 index was 0.04% weaker. The Industrials and Resources indices shed 0.27% and 0.06% respectively, whilst the Financials index managed to gain 0.94%.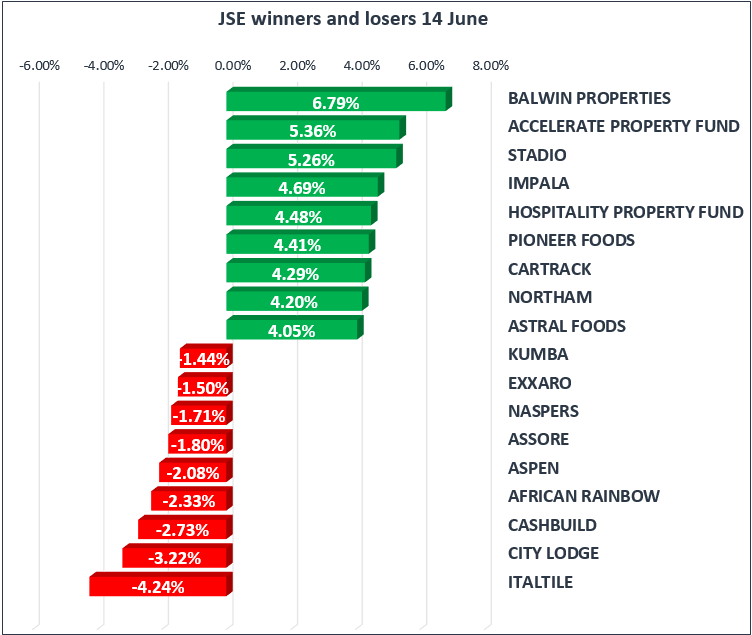 Brent crude slid by more than 1% after Saudi Arabia reiterated that a deal to boost crude output was inevitable. The commodity was trading 1.13% softer at $75.87/barrel just after the JSE close.
Gold was trading within a $10 range as it managed to peak at a session high of $1309.37/Oz. At 17.00 CAT it had retraced to trade at $1305.30/Oz, up 0.46% for the day. Platinum was 0.57% firmer at $908.86, whilst Palladium was trading at $1013.07/Oz, only up 0.1% on the day.
At 17.00 CAT, Bitocoin was trading 0.71% weaker at $6414.00/coin, while Ethereum was only 0.1% firmer at $474.25/coin.