Local
Friday saw all sectors of the markets close higher with the All-Share index up by 0.80%, followed by the blue-chip Top40 up by 0.89%, industrials up by 0.44% and financials recouping some of the losses, up by 0.68%.
Resources continued to be the stand out sector up by 1.99% with gold miners up by 0.48%. BHP Billiton [JSE:BIL] was the best performer up by 2.94% while Anglo American [JSE:AGL] pushed higher, up another 1.47%.
After yesterdays big rally by Aspen Pharmacare Holdings Ltd [JSE:APN] the share eased off a bit, down by 4.80%. Pressure continued to mount on Steinhoff International Holdings [JSE:SNH] as reports that South African-registered shareholders looked to join a Dutch class-action lawsuit, the share closed down by 7.85%.
Elsewhere, Absa Purchasing Managers' Index fell to 44.9 in December from 48.6 in November, this index measures the manufacturing activity in the economy.
The rand weakened against the major currencies, trading at R12.44 against the dollar, R16.99 against the pound and R15.09 to the euro.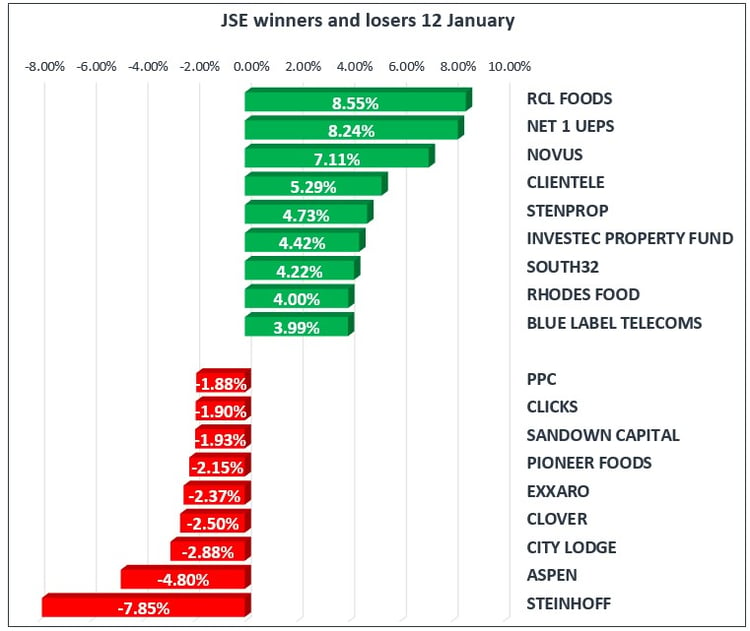 Commodities
Gold trades at four-month high, trading at $1328.47 per ounce as the dollar remained vulnerable.
Elsewhere, it was a good day for metals, Silver was up 0.45% at $17.09 per troy ounce, Platinum, up 1.18% to $994.61 per troy ounce and Palladium up 2.10% to $1,108.53 per troy ounce respectively.
Oil steadies near three-year highs drawing support from tightening supply in the US. WTI is down 0.33%, currently trading at $63.59 per bbl while Brent Crude is down 0.13% currently trading at $69.17 per bbl.
Global Stocks
Most Asian markets clawed back gains on Friday with mixed data for December coming out of China which showed that imports only increased by 4.5% compared to the previous year, missing the forecast of 13%, and exports increased by 10.9%, beating the 9.1% projection.
Hong Kong's Hang Seng Index rallied for a thirteenth straight day, closing at 31,412.54, up by 0.94% edging closer to the all-time high of 31,958.41.
European markets were boosted as investors digest earnings data and positive news that the German coalition party leaders have reached a breakthrough in preliminary talks. The euro extended gains on Friday following hawkish comments by the ECB yesterday while the dollar weakness continued.
Over in U.S. markets we saw the Dow, S&P and Nasdaq reach new record highs as investors anticipated a strong earnings season, after Blackrock, Wells Fargo and J.P. Morgan all reported better-than-expected results.
Elsewhere, the latest U.S. inflation data has increased the probability of a March rate hike, pushing the U.S. two-year bond yield above 2% for the first time since the 2008 market crash.
Cryptocurrencies
Bitcoin and ethereum steady after a tough week, which saw South Korean officials report a bill was being drafted to ban cryptocurrency trading within the country, at the time of writing bitcoin was down 2.85% while ethereum was up 0.24%. Ripple fell after yesterday's rally following the news that Moneygram will partner with the firm to test the token for international payments, down 10.73% on the day.