Old Mutual has not been a favoured choice for me in insurance, with Discovery my top pick, followed by Sanlam. Old Mutual's Belville headquartered competitor has taken some strategically astute decisions and kept within its competencies. Meantime, Old Mutual, is well along the track of "managed separation" with the process completed by the end of calendar 2018. In due course, Old Mutual will resemble what it used to be, before the trek to London and its listing on the LSE on the 12th of July 1999. My estimates indicate value in the stock at R50 per share, for all the Group component pieces. Old Mutual commands a lower rating than Sanlam at the current share price of R40 with the implied PE ratio for the stand-alone future business half that of Sanlam, but that could change with future delivery. The fall in the price of Sanlam, to around R80, has brought it closer to my fair value level of R70.
"

Ready for London exit

"
Old Mutual
Sector: Life Insurance
Share price: R40,35
Diluted shares in issue: 4,93 billion
Market cap: R199,0 billion
Rolling exit PE: 9,2x
Forward PE year one: 8,3x
Trailing dividend yield: 3,0%
Price to book: 0,97x
Separation fair value: R50
Trading Buy and Portfolio Buy
What you need to know:
Old Mutual's "managed separation" for a cleaner, focused structure has already begun to unlock value. There is potentially more value to unlock.
Net asset value is currently reflected at £12 billion or £2,43 per share. But that includes pieces that won't be around for South African shareholders in future. That means Old Mutual is at a slight discount to net asset value, whereas Sanlam trades at a 30% premium.
Within that £12 billion, with the pound soon to be discontinued as the reporting currency, approximately £5 billion or 42% is represented by the Old Mutual Emerging Markets (OMEM) business, with South Africa the mainstay, and a further £1,5 billion the future 19,9% share of Nedbank.
Outside of that core £6,5 billion is a further £2,5 billion associated with the unbundling of 34% of Nedbank, £2,2 billion in value on the demerger and listing of 87% of fund manager Quilter, a 10% residual stake in Quilter worth £250 million, and the other PLC residual assets worth £500 million.
I estimate that the market is pricing OMEM at a forward price earnings multiple of 7x, assuming the market is pricing Nedbank correctly at a forward PE of 11x, which is questionable. That being the case, OMEM is worth R15 per share, the 19,9% share of Nedbank R6 per share, with the residual assets, including Quilter, at R3 per share. This gives a "new" Old Mutual at R23 per share. The demerger of Quilter is R8 per share and the Nedbank unbundling R10 per share. This gives a total of R40 per share, which is where the share price is at time of writing.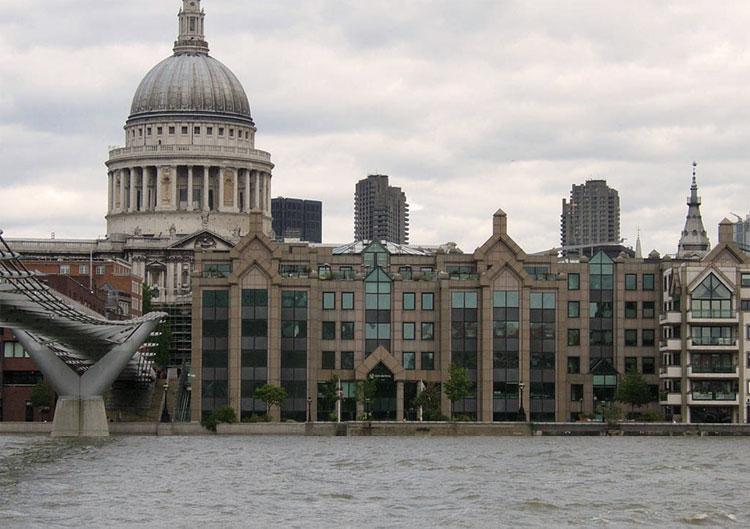 Caption: Old Mutual Place, London.
Quilter, assuming a 100% valuation of £2,6 billion, I estimate to be valued at a 15x earnings multiple in the London market. Sanlam, assuming earnings of 540 cents next year, is on a forward PE of almost 15x too. This means that Sanlam is being valued at twice what a newly independent Old Mutual is being priced at.
I have typically used a 12x multiple for my "new" Old Mutual valuation and on that basis my valuation for the Group as a whole, as constituted currently, is R51 per share. My fair value for Nedbank is R270 rather than the current price of R295 and so applying that valuation gets me to R50 per share for Old Mutual as currently constituted.
Old Mutual has flagged an intention to have a future dividend cover of 2x at the mid-point. Applying that to the Group as it is now gives me a forward yield of 6%, well above Sanlam on 4%.
Recommendation:
My estimates indicate that, whilst the valuation discount has narrowed from calculations I have done previously, in fact quite considerably, Old Mutual remains underrated. The gap between the current share price of R40 and the suggested valuation of up to R50 per share is thus 25%. Given a leaner and focused structure, adding in a share of Nedbank, suggests scope for future share price upside once the separation process has completed.
Trading Buy and Portfolio Buy.
Old Mutual and Sanlam share prices in cents
Wishing you profitable investing, until next time.
Mark N Ingham

Trade idea on Old Mutual PLC (OML) by Barry Dumas
A trade set up has presented itself on Old Mutual PLC (OML) and I am looking to buy at 4097c. The price action seems to have broken out of a descending channel and is starting to move higher.
ALSO READ MORE ABOUT CHANNEL PATTERNS

HERE
Trade: Old Mutual PLC (OML)
Entry (buy): 4097c
Stop loss: 3961c
Target price: 4267c
Disclaimer: Any opinions, news, research, analyses, prices, or other information contained within this research is provided as general market commentary, and does not constitute investment advice. GT247.com will not accept liability for any loss or damage, including without limitation to, any loss of profit, which may arise directly or indirectly from use of or reliance on such information. The content contained within is subject to change at any time without notice, and is provided for the sole purpose of assisting traders to make independent investment decisions.