The JSE closed weaker on Monday as the trade war induced bearish sentiment persisted across emerging markets.
Donald Trump threatened to impose additional tariffs on all Chinese imports last Friday and this has worsened the bearish sentiment currently prevailing as a result of the trade war. Asian markets got off to a weaker start on Monday with the Hang Seng pulling back 1.33%, while the Shanghai Composite Index lost 1.45%. The Japanese Nikkei shrugged off the trade war concerns after its GDP numbers improved for the last quarter and narrowing its Current Account deficit.
On the JSE, blue-chips struggled as they tracked mostly lower dragging the All-Share index with them. Netcare [JSE:NTC] retreated to R27.66 after the stock shed 3.19%, while industry peer, Life Healthcare [JSE:LHC] also traded weaker to close the day 1.84% lower at R25.65 per share. Retailer, The Foschini Group [JSE:TFG] lost 3.47% despite the rand firming against the US dollar to close at R164.55 per share.
Ascendis Health [JSE:ASC] traded under considerable pressure which saw the stock dropping 10.59% to close at R10.55 per share. Spur Corporation [JSE:SUR] weakened sharply to end the day down 7.35% at R26.27 per share, while platinum miner, Impala Platinum [JSE:IMP] lost 6.68% to close at R17.75 per share. Famous Brands [JSE:FBR] shed 5% to close at R95.00, and Rhodes Food Group [JSE:RFG] closed at R18.70 after dropping 5.08%.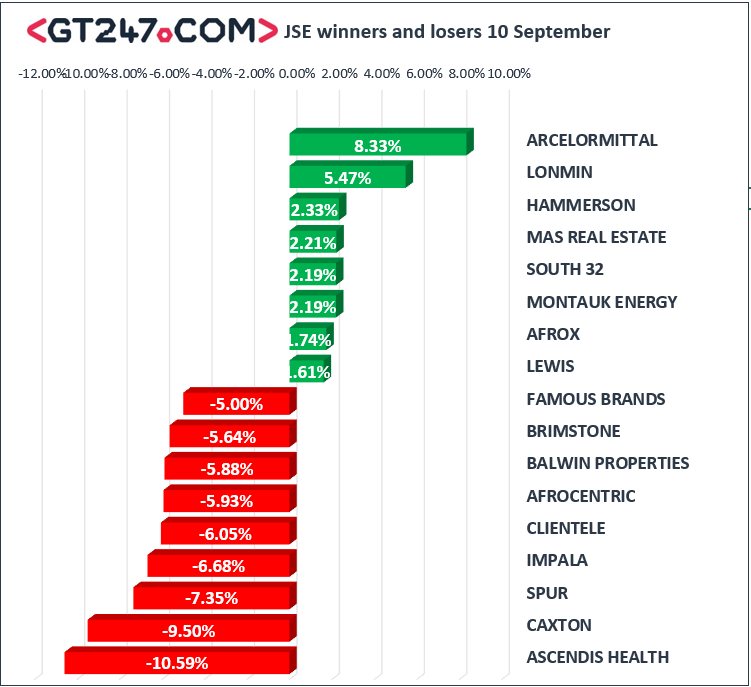 Gains were limited for the blue-chip stocks were a limited number of stocks managed to trade in the green. Rand hedges surprisingly traded firmer with Mondi PLC [JSE:MNP] inching up 0.86% to close at R411.00, while Richemont's [JSE:CFR] rise was also supported by the release of its five months sales update which saw the stock close 0.68% firmer at R129.40 per share. British American Tobacco [JSE:BTI] ticked up to R720.19 after only adding 0.06% while Sappi [JSE:SAP] rose to R97.67 after gaining 0.87%.
ArcelorMittal [JSE:ACL] recorded on of the day's biggest jumps after the stock rose to R3.51 after adding 8.33%. Lonmin [JSE:LON] gained 5.47% to close at R8.49, while African Oxygen [JSE:AFX] was buoyed by the release of its half-year results which indicated healthy increases in earnings and revenue. The stock climbed 1.74% to close at R29.30 per share. South32 [JSE:S32] managed to gain 2.19% to close at R38.78, while RCL Foods [JSE:RCL] closed 1.18% higher at R17.10 per share.
The JSE All-Share index closed the day 0.57% weaker, while the blue-chip JSE Top-40 index lost 0.57%. The Resources index managed to gain 0.11% however, the Financials and Industrials indices fell by 0.98% and 0.79% respectively.
The rand gained against the US dollar to peak at a session high of R15.11/$. This was mainly as a result of the US dollar weakening against a basket of major currencies. At 17.00 CAT, the rand was trading at R15.18 against the US dollar.
Brent crude traded mostly higher on the day which saw it trading 0.77% firmer at $77.42/barrel just after the JSE close.
At 17.00 CAT, Gold was flat to trade at $1197.17/Oz, Platinum was up 1.68% to fetch $795.38/Oz and Palladium was trading 0.96% firmer at $989.70/Oz.
Bitcoin was 1.12% weaker at $6308.20/coin and Ethereum had lost 3.51% to trade at $195.82/coin.