The JSE slipped on Wednesday after Naspers slumped following the release of Tencent Holdings' 2nd quarter earnings results.
Tencent Holdings' earnings were forecasted to come in weaker than previously reported periods, however they missed most analysts' estimates which triggered the sell-off. Net income for the 2nd quarter was recorded at 17.9 billion yuan, which fell short of the estimated 19.3 billion yuan. These latest earnings compound Tencent's weakness in this week of trading following a ban on one of its games by Chinese regulators.
In earlier trading, Tencent Holdings lost 3.61% to close at $HK336.00 per share, however this was before the earnings release. On the JSE, Naspers [JSE:NPN] slumped over 10% at one point during today's trading session to reach a session low of R3000.00 per share. The share rebounded marginally eventually closing 8.22% lower at R3060.88 per share.
The rout on JSE listed miners persisted mainly due to weaker metal commodity prices. Gold Fields [JSE:GFI] declined by another 10.85% to end the day at R37.30, and Sibanye Stillwater [JSE:SGL] slipped 8.52% to close at R7.52 per share. Kumba Iron Ore [JSE:KIO] closed at R263.31 per share after the stock lost 9.67%. Discovery Limited [JSE:DSY] pulled back by 3.96% to end the day at R161.23, while Vodacom [JSE:VOD] lost 3.51% to close at R123.57 per share.
Gains were limited on the blue-chip index were Sappi [JSE:SAP] firmed to R94.15 after adding 1.49%, while British American Tobacco [JSE:BTI] inched up 0.25% to close at R756.46 per share. On the broader index, Hudaco [JSE:HDC] rose 3.75% to close at R144.82 per share, while newly renamed Pepkor Holdings [JSE:PPH] closed at R16.84 per share after gaining 1.94%.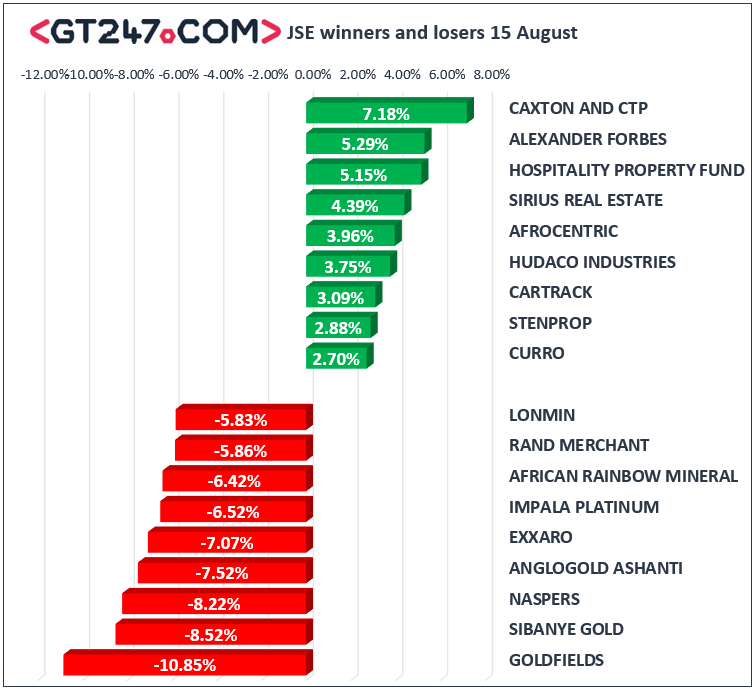 It was a tough session for the JSE All-Share index as it ended the day 3.41% weaker, while the JSE Top-40 index lost 3.76%. All the major indices closed weaker, the Resources index lost 3.67%, the Industrials index 3.8% and Financials closed 2.78% lower.
The rand briefly traded firmer earlier on, but it lost ground in the afternoon session following the release of a report by Moody's Investors Services. The report highlighted that South Africa's fiscal consolidation will be slower than government estimates because of weak economic growth and a high public-sector wage bill.
As a result of the report, the rand slipped to a session low of R14.74 against the greenback after having managed to peak at a session high of R14.16/$ earlier. At 17.00 CAT the rand was trading 2.86% weaker at $14.64 against the US dollar.
The US dollar extended its gains against major currencies which resulted in Gold sliding to a session low of $1180.21/Oz. At 17.00 CAT, the precious metal was trading 1.24% weaker at $1178.35/Oz. Platinum had slumped 5.01% to trade at $761.42/Oz, while Palladium was down 6.91% to trade at $837.25/Oz.
Cryptocurrencies staged a minor recovery following Tuesday's fall. At 17.00 CAT, Bitcoin was up 6.33% to trade at $6426.81/coin while Ethereum had jumped 13.66% to trade at $290.13/coin.
READ LATEST TECHNICALS ON CRYPTO HERE