Mark Ingham's Fun-damental analysis
"Naspers discount widens"
Take note of the fact that the Naspers share price discount to the value of its stake in Tencent has widened again – to 22,5%. This is at a NPN share price of R2543 and a 700:HK share price today of HL$272. This discount is one of the larger percentage discounts for some time. The exchange rate is R12,76/$ with the Chinese yuan at CN¥6,80/$ and the Hong Kong dollar at HK$7,80/$.
In my recent note dated 24 May the discount was 18%. This was when Naspers was R2800 with Tencent at HK$275.
The value of the Tencent stake today is R3282, 29% higher than the actual Naspers share price. This gap is the equivalent of roughly R320 billion.
Since reaching a recent high of HK$283, Tencent is down less than 4% whereas Naspers is down 11% from its recent all-time high of R2847.
The note entitled "Marked down Tencent proxy" charted, quantified and analysed Naspers steadily descending from a substantial premium to the see-through-value of the Tencent stake to a substantial discount. It went consistently negative through much of 2015 and this has deepened through 2016 and 2017. Naspers has gone from a 30% premium to a roughly 20% discount over five years as the performance disparity between the two has diverged.
The money illusion of rand weakness has boosted Naspers on the JSE but hidden the real underperformance in USD.

I've just updated my SOTP. In summary, Naspers trades at 22,5% below its share of Tencent. The other assets I value, net of debt and corporate centre drag, at 476 cents per share. I apply a 20% fair value discount to the total, for conservatism, which takes the SOTP to R3006 per share.
If the 20% discount wasn't applied, then the value of Naspers – applying Tencent at full proportionate value and adding in the other assets at fair value – is R3758. In other words, 48% higher than the current share price or a difference of over R500 billion.
A narrowing discount is typically a good time to sell and a widening discount a time to buy again. Unless the cash absorbing "developmental assets" shows promise and accelerating returns, this relationship is unlikely to change anytime soon.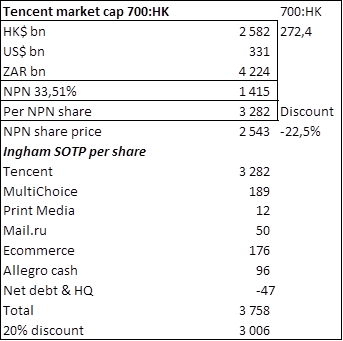 Wishing you profitable investing, until next time.
Mark N Ingham


---
Want to trade CFD Equities on the most affordable online South African trading platform?