UPDATE 2:
Another Update on MR Price Limited (MRP) and still in the money
The price on MR Price Limited (MRP) is still moving higher and I am still in the trade and managing my stop loss into profit. I have moved my stop to 27522c and this is where my first target price was on MR Price (MRP).
Hopefully the price will continue in this uptrend and I can move my stop even higher locking in profit.
Also, just be aware at this stage the fundamentals are indicating that the stock is overpriced and may start to move lower. Technically there can be a move higher due to the Rand strengthening.
READ FUNDAMENTAL ANALYSIS ON MR PRICE BY MARK INGHAM HERE...
---
UPDATE 1:
In the Money and Update on MR Price Limited (MRP)
My MR Price Limited trade has finally reached my first target price of 27522c as seen in the chart above and we are off to a good start in the local equity market. In this update I will show where I will be moving my stop loss to.
Update on MR Price Limited (MRP)
I will be moving my stop loss into profit to the 26619c level. In an effort to manage my trades better and letting my winners run I do not have a set second target price and instead will only move my stop upwards as the price moves higher.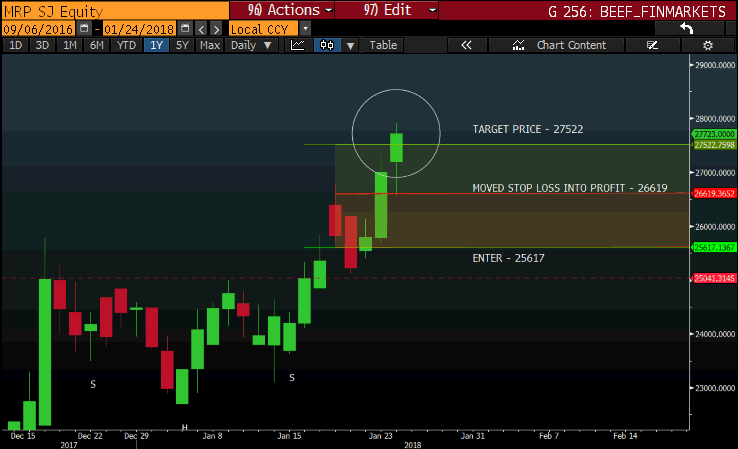 Source Bloomberg
---
INITIAL TECHNICAL NOTE:
Trade note on Mr Price Group Limited (MRP)
An opportunity has presented itself on one of my favourite shares and I am taking the trade on Mr Price Group Limited (MRP).
The price action was trying to break through the 25041c resistance level on a few occasions and has finally broken through this level yesterday.
There was also a favourable SENS announcement that came out yesterday after the market close that might support the move higher.
SENS link: https://senspdf.jse.co.za/documents/SENS_20180117_S394397.pdf
Trade: Mr Price Group Limited (MRP)
Entry (Buy): at market or 25617c
Stop loss: 24106c
Target price: 27522c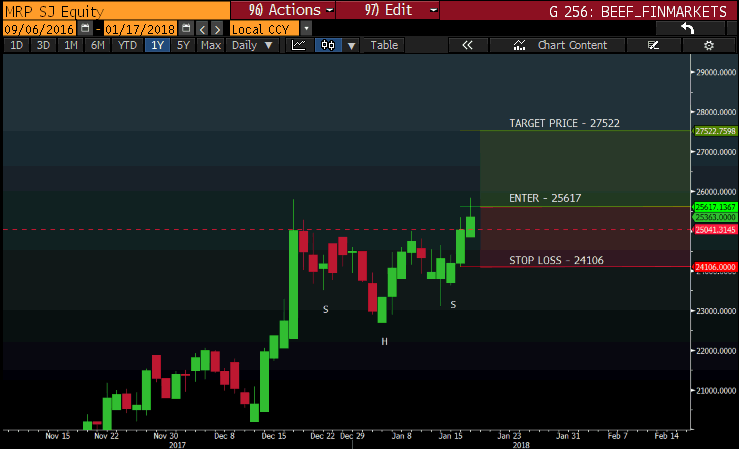 Disclaimer: Any opinions, news, research, analyses, prices, or other information contained within this research is provided as general market commentary, and does not constitute investment advice. GT247.com will not accept liability for any loss or damage, including without limitation to, any loss of profit, which may arise directly or indirectly from use of or reliance on such information. The content contained within is subject to change at any time without notice, and is provided for the sole purpose of assisting traders to make independent investment decisions.
---
GT247.com: +27 87 940 6101
IT support & help desk: +27 87 940 6107
Client relations (new accounts): +27 87 940 6106
Sales: +27 87 940 6108
---