The JSE closed firmer on Tuesday on the back of a mild rebound on global stocks as news broke out about the possibility of a tariff cut on US goods from China.
As negotiations between US and Chinese officials continue, the market is buoyant on the possibility of deals being concluded which will bring much needed certainty in the financial markets. The US president commented via the social media that China had agreed to cut tariffs on certain US goods, and this could be the turning point in this trade spat.
On the currency market, the US dollar remained bullish as it extended its gains against a basket of major currencies. The rand remained under pressure as a result as it slumped to a session low of R14.46 against the greenback. This weakness in the rand was also compounded by weaker South African manufacturing and mining production data which was released on Tuesday morning. At 17.00 CAT, the rand was down 0.21% to trade at R14.35/$.
On the JSE, rand hedges were buoyed by the softer rand which saw a number of them close amongst the day's biggest gainers. Reinet Investments [JSE:RNI] rallied 4.89% to close at R226.14, while Sappi [JSE:SAP] rose 2.45% to end the day at R79.55. Index giant, Naspers [JSE:NPN] climbed 3.68% to R2851.11, while Anglo American PLC [JSE:AGL] closed 3.34% firmer at R297.53 following the release of an operational update which gave guidance of a higher output than forecasted. South32 [JSE:S32] managed to add 3.96% to close at R33.07, and Richemont [JSE:CFR] gained 2.46% to close at R93.20.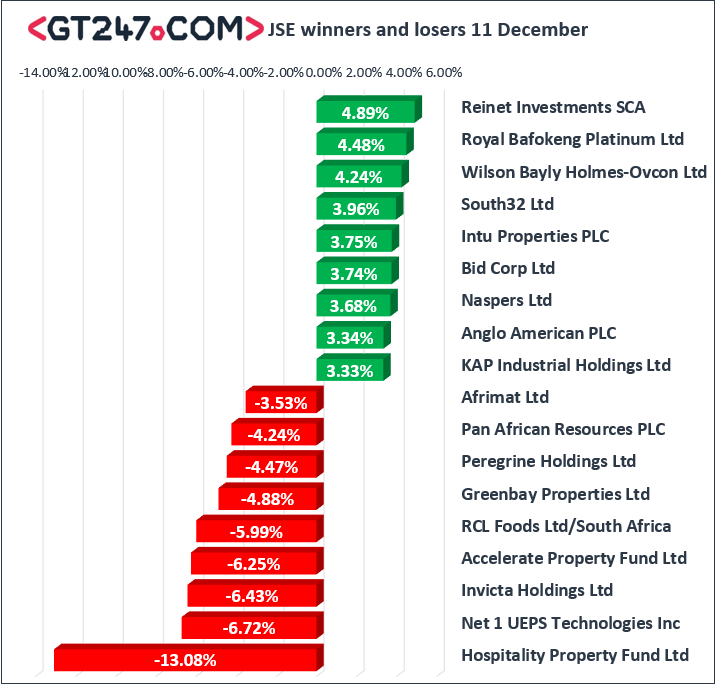 Listed property stocks came under significant pressure in today's session. Hospitality Property Fund [JSE:HPB] fell 13.08% to close at R9.04, Greenbay Properties [JSE:GRP] dropped 4.88% to R0.39, and Accelerate Property Fund [JSE:APF] lost 6.25% to end the day at R3.60. RCL Foods [JSE:RCL] closed 5.99% weaker at R15.84, while Clover Industries [JSE:CLR] closed 3.2% softer at R16.94. Gold miner, Harmony Gold [JSE:HAR] pulled back to close 3.26% weaker at R22.85, while platinum miner, Impala Platinum [JSE:IMP] closed 2.82% weaker at R36.23. Massmart [JSE:MSM] dropped 1.87% to close at R101.98.
The JSE All-Share index closed 1.49% higher, while the JSE Top-40 index gained 1.84%. All the major indices managed to close firmer. The Industrials and Resources indices rose 2.02% and 1.66% respectively, while the Financials index added 0.79%.
At 17.00 CAT, Gold was flat at $1244.72/Oz, Platinum was also flat to trade at $784.58/Oz while Palladium had gained 2.31% to trade at $1257.20/Oz.
Brent crude recouped some of the previous session's losses which saw the commodity trading at $60.81/barrel just after the JSE close.
At 17.00 CAT, Bitcoin was down 3.41% at $3430.10/coin, while Ethereum had lost 2.87% to trade at $88.82/coin.