The JSE traded mostly flat on Thursday as market participants awaited the South African Reserve Bank's interest rate decision which was announced after 3pm.
The SARB left the repurchase rate unchanged at 6.75% as the MPC indicated that there was little evidence of demand side pressures to the economy. However, concerns about slowing global economic growth, declines in business confidence and potential supply side disruptions due to load shedding have seen the central bank revising its 2019 GDP growth forecast downwards to an average of 1.3% from 1.7%.
The rand's weakness was exacerbated in today's session by the US dollar which clocked a third consecutive session of significant gains against a basket of major currencies. The weakness in the Turkish lira has been the primary catalyst for the pullback in the rand however in today's session the lira held its own, while the rand fell. Concerns over the upcoming ratings review from Moody's on Friday are also fueling concerns of extended weakness should the sovereign rating be cut to junk. The rand was trading 0.5% weaker at R14.67/$ at 17.00 CAT, after having slipped to a session low of R14.74/$ earlier.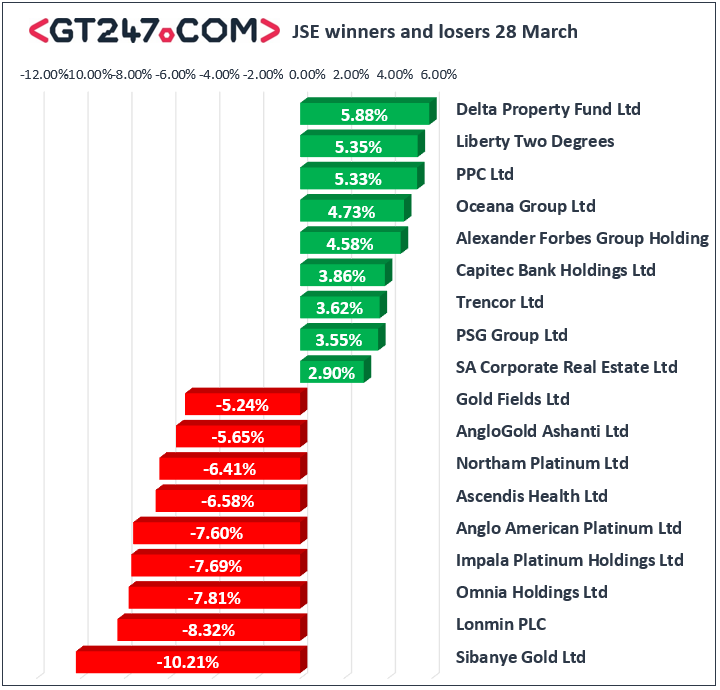 On the JSE, the resources index struggled mainly on the back of weaker metal commodity prices. Sibanye Stillwater [JSE:SGL] plummeted 10.21% as it closed at R15.57, while Lonmin [JSE:LON] fell 8.32% to close at R14.10. Impala Platinum [JSE:IMP] lost 7.69% to close at R60.01, Gold Fields [JSE:GFI] dropped 5.24% to R54.39, and Harmony Gold [JSE:HAR] closed 4.51% lower at R27.98. Life Healthcare [JSE:LHC] also struggled on the day as it shed 2.68% to close at R26.13, while Ascendis Health [JSE:ASC] closed at R3.55 after dropping 6.58%. Telecoms provider Vodacom [JSE:VOD] lost 2.98% to end the day at R110.36, while Bidvest [JSE:BVT] eased by 2.61% to close at R188.23.
Capitec Bank Holdings [JSE:CPI] advanced on the day following the release of its full-year financial results which indicated healthy increases in earnings and dividends per share. The stock closed 3.86% firmer at R1340.00. Alexander Forbes [JSE:AFH] found some momentum as it climbed 4.58% to close at R5.02, while cement maker PPC Limited [JSE:PPC] added 5.33% to close at R4.74. Aspen Pharmacare [JSE:APN] gained 2.69% to close at R92.42, while rand hedge British American Tobacco [JSE:BTI] closed at R603.15 after it added 1.89%.
The JSE All-Share index eventually closed 0.05% weaker, while the JSE Top-40 index gained 0.15%. The Industrials index managed to gain 0.15%, however Resources closed 0.07% weaker and Financials closed 0.15% softer.
Brent crude came under pressure after Donald Trump made comments encouraging OPEC to boost production in order to cap oil prices. The commodity was trading 0.6% weaker at $67.42/barrel just after the JSE close.
Carnage ensued on the metal commodity market as prices fell due to the strengthening US dollar. At 17.00 CAT, Gold was down 1.16% to trade at $1294.38/Oz, Platinum had lost 1.13% to trade at $843.90/Oz, and Palladium had plummeted 6.14% to trade at $1364.22/Oz.