The JSE advanced on Friday mainly on the back of miners which rebounded following consecutive sessions of losses.
Sentiment was also positive across most of the world's major indices as the US earnings reporting season kicked off with the release of earnings from JP Morgan. US index futures traded mostly firmer earlier which saw the US spot markets open firmer on Friday, with the S&P500 index closing in within 1% of a new all-time high. In mainland China, the Shanghai Composite Index dropped 0.22% while in Hong Kong the Hang Seng managed to gain 0.24%. In Japan, the Nikkei rose 0.73%. In Europe all the major indices advanced on the day.

The US dollar retreated as US treasuries advanced on the day. This saw the US dollar retreat as low as 96.75 index points on the US dollar index. The rand subsequently managed to reach a session high of R13.92/$ before it was recorded trading 0.4% firmer at R13.93/$ at 17.00 CAT.
On the JSE, Telkom [JSE:TKG] found some traction as it advanced 4.22% to close at R78.49 as it finished as one of the day's biggest movers. Retailers Shoprite [JSE:SHP] and The Spar Group closed at R175.99 and R201.73, after gaining 3.24% and 1.69% respectively. Glencore [JSE:GLN] added 2.05% to close at R60.36, Kumba Iron Ore [JSE:KIO] gained 1.57% to close at R427.06, and Exxaro Resources [JSE:EXX] closed 2.09% firmer at R174.98. Diversified miner and index giant Anglo American PLC [JSE:AGL] climbed 0.49% as it closed at R402.32, while BHP Group [JSE:BHP] gained 0.33% to close at R351.79. Rand hedge Mondi PLC [JSE:MNP] added 1.17% to close at R326.40, while Bid Corporation [JSE:BID] closed at R293.00 after gaining 1.74%.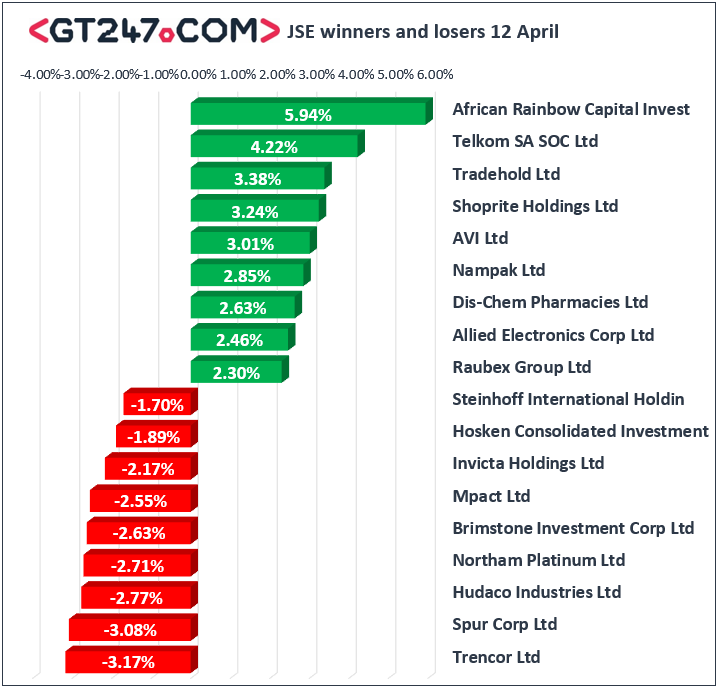 Platinum miners remained subdued on the day despite some gains being recorded by diversified miners. Northam Platinum [JSE:NHM] fell 2.71% to close at R61.75, while Anglo American Platinum [JSE:AMS] dropped 0.21% to close at R774.00. Truworths [JSE:TRU] weakened by 1.38% to close at R70.91, while Woolworths [JSE:WHL] lost 0.63% to close at R47.23. Listed property stock Redefine Properties [JSE:RDF] shed 0.81% to end the day at R1.59, while Investec Property Fund [JSE:IAP] closed at R15.38 after dropping 1.41%.
The blue-chip JSE Top-40 index eventually closed 0.38% firmer while the JSE All-Share index also added 0.38%. The Financials closed mildly weaker as it dropped 0.18% however, the Industrials and Resources indices gained 0.61% and 0.45% respectively.
Brent crude recovered after recording a minor slump in earlier trading. The commodity was trading 0.83% firmer at 71.42/barrel just after the JSE close.
At 17.00 CAT, Platinum was up 0.07% to trade at $893.70/Oz, Palladium was 0.52% firmer at $1376.70/Oz, and Gold was flat as it had only lost 0.02% weaker at $1292.42/Oz.