Some form of pricing stability returned to the all-share index on Wednesday as the index closed reasonably softer on the day.
Sentiment remained subdued across most global markets even with key economic policy makers pledging to shore up liquidity in the financial markets. The Bank of England announced a 50 basis points cut to its main reference rate, matching the cut that was done by the US Fed to its interest rates. The European Central Bank indicated that it may act as soon as this week, while other key individuals such as the German chancellor reiterated that they will do whatever is necessary to shore up the economy. Stocks indices continue to trade firmly in the red and investors will be closely watching out for stimulus package announcements from the USA.
Locally, there was some disappointment recorded in the RMB/BER business confidence index which fell to a 20-year low of 18, from a prior recorded level of 26. The rand breached R16/$ as weakness amongst emerging market currencies remained. The rand was trading 1.21% weaker at R16.11/$ at 17.00 CAT.
On the JSE, Sasol [JSE:SOL] could not catch a breather as it tumbled in the afternoon session to reach a session low of R50.26. The stock eventually closed 26.44% lower at R52.72. Famous Brands [JSE:FBR] also traded under considerable pressure as it plummeted 10.16% to close at R47.49, while industry peer Rhodes Food Group [JSE:RFG] dropped 3.88% to close at R12.87. General miners struggled on the day with declines being recorded for Anglo American PLC [JSE:AGL] which retreated 3.33% to close at R311.97, while BHP Group [JSE:BHP] lost 1.66% to close at R236.20. Kumba Iron Ore [JSE:KIO] slipped 7.45% to close at R257.96, while Sibanye Stillwater [JSE:SSW] closed at R30.62 after losing 4.31%. Losses were also recorded for Truworths [JSE:TRU] which lost 3.52% to close at R42.16, as well as Sappi [JSE:SAP] which weakened by 4.32% to close at R27.00.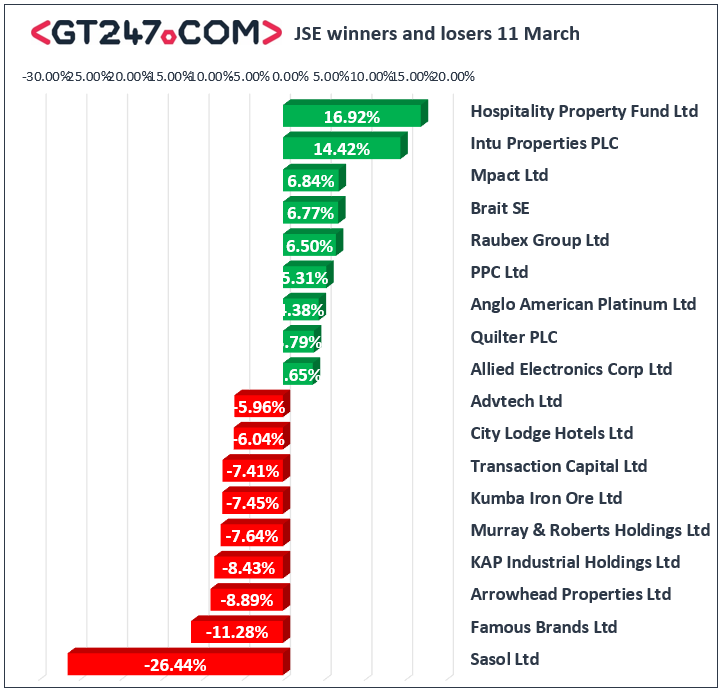 Hospitality Property Fund B [JSE:HPB] rocketed 16.92% to close at R6.15, while Intu Properties [JSE:ITU] surged 14.42% to close at R1.19. Brait [JSE:BAT] found some momentum as it advanced 6.77% to close at R6.62, while Long4Life [JSE:L4L] added 3.53% to close at R3.23. Quilter [JSE:QLT] was buoyed by the release of its preliminary full-year results which saw the stock close 3.79% higher at R29.03. Anglo American Platinum [JSE:AMS] advanced 4.38% to close at R901.56, while Gold Fields [JSE:GFI] closed at R105.55 after adding 2.88%. Gains were also recorded for Aspen Pharmacare [JSE:APN] which climbed 2.92% to close at R109.19, while Discovery [JSE:DSY] gained 1.68% to close at R102.00.
The JSE All-Share index closed 0.79% weaker while the blue-chip JSE Top-40 index lost 0.82%. The Resources index fell by the biggest margin as it lost 1.92%, while the Financials and Industrials indices shed 0.2% and 0.42% respectively.
Brent crude resumed its slide in today's session as it was recorded trading 2.69% weaker at $36.22/barrel just after the JSE close.
At 17.00 CAT, Palladium was down 3.56% to trade at $2332.82/Oz, Gold was up 0.27% at $1653.79/Oz, while Platinum had inched up 0.24% to trade at $876.09/Oz.
---
Disclaimer:
Any opinions, news, research, reports, analyses, prices, or other information contained within this research is provided by GT247.com at GT247 (Pty) Ltd t/a GT247.com ("GT247.com") as general market commentary, and does not constitute investment advice for the purposes of the Financial Advisory and Intermediary Services Act, 2002. GT247.com does not warrant the correctness, accuracy, timeliness, reliability or completeness of any information which we receive from third party data providers. You must rely solely upon your own judgment in all aspects of your trading decisions and all trades are made at your own risk. GT247.com and any of its employees will not accept any liability for any direct or indirect loss or damage, including without limitation, any loss of profit, which may arise directly or indirectly from use of or reliance on the market commentary. The content contained within is subject to change at any time without notice.