Global equities started the week on the backfoot as China retaliated to the USA's tariffs.
China has threatened to impose tariffs on US oil products and as a result we have seen brent crude retracing from its recent highs. On the New York Stock Exchange, oil producers ExxonMobil and Chevron closed weaker on Friday.
There is broad-based weakness across global equity markets including the JSE, as investors try to gauge the impact of the tariffs. The US dollar is marginally softer from its recent highs however it is still significantly strong compared to where it opened last week.
Investors continued to sell-off South African bonds which saw the 10-year benchmark Treasury yields rise as high as 9.080% in today's session. As a result, the Rand continued to trade under pressure to reach a session low of R13.69/$. At 17.00 CAT it was trading at R13.67/$.
On the JSE, Grindrod [JSE:GND] came under pressure to end the day 6.8% weaker at R9.18 per share. Liberty Holdings [JSE:LIB] lost 4.03% to end the day at R119.00 per share following the news of a data breach on their database. Raubex [JSE:RBX] released a trading statement which indicated that they expecting significant decreases in earnings for the six months ending 31 August 2018. The stock closed at R21.75 per share after dropping 4.98%.
Retailer, The Foschini Group [JSE:TFG] lost 3.91% to close at R181.39 per share, while Mr Price [JSE:MRP] was 5.06% weaker to close at R230.52 per share. Redefine Properties [JSE:RDF] closed at R10.43 per share after shedding 2.71%, whilst Discovery [JSE:DSY] was 1.82% softer at R141.08 per share.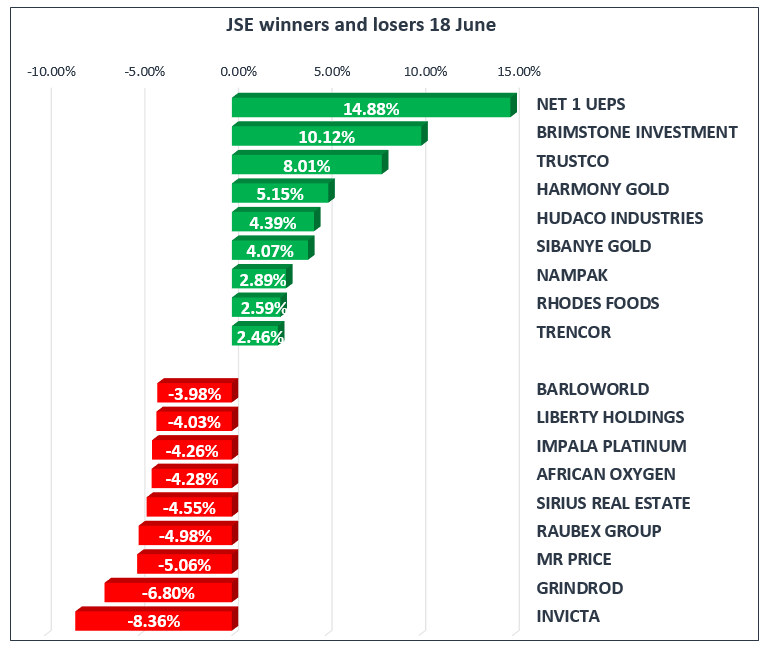 Gains were relatively modest especially amongst the blue-chip counters. AngloGold Ashanti [JSE:ANG] added 1.57% to close at R111.00 per share, whilst its sector peer Harmony Gold [JSE:HAR] posted gains of 5.15% to end the day at R20.82 per share. Anglo American PLC [JSE:AGL] firmed by 1.17% to close at R310.86 per share while Sappi [JSE:SAP] closed at R94.30 per share after inching up 0.58%.
Platinum miner, Royal Bafokeng Platinum [JSE:RBP] was 1.12% firmer to end the day at R22.50 per share, and Lonmin [JSE:LON] added 1.54% to close at R7.92 per share. Rhodes Food Group [JSE:RFG] and Ascendis Health [JSE:ASC] jumped by 1.04% and 2.59% respectively.
The JSE All-Share Index closed 0.73% weaker and the blue-chip JSE Top-40 index lost 0.63%. The Resources index was the only major index to end the day in the green after adding 0.34%. The Financials and industrials indices lost 2.23% and 0.59% respectively.
Gold lost significant ground on Friday as the US dollar extended its gains. In today's session it slipped to a session low of $1277.94/Oz but trading was less volatile compared to Friday's session. At 17.00 CAT, the precious metal was trading at $1278.61/Oz.
Platinum eased by 0.43% to trade at $884.38/Oz, and Palladium was only 0.21% firmer at $993.14/oz.
Brent crude traded weaker initially because of the current trade jitters. However, it recovered to trade 1.59% firmer at $74.61/barrel, just after the JSE close.
Ethereum traded relatively flat and at 17.00 CAT it was trading at $497.50/coin, down 0.35% for the day. Bitcoin was 0.47% softer at $6455.00/coin.