The JSE retreated on Wednesday as it tracked other global markets lower ahead of the US Fed's rate decision.
The US Fed is scheduled to announce its interest rate decision at 20.00 CAT on Wednesday, in which the Fed is widely forecasted to leave rates unchanged at 2.50%. More attention will be on the press conference which follows at 20.30 CAT as investors look for clues on the Fed's intention to continue shrinking its balance sheet.
Locally, Statistics SA released South Africa's inflation numbers for the month of February. CPI YoY was recorded at 4.1% which was a slight uptick from the prior recording of 4%. CPI MoM was recorded at 0.8% which was an increase from the prior recording of -0.2%. An improvement was recorded in the Retail Sales data for January which was also released today by Statistics SA. Retail Sales MoM was recorded at 1.5% which was better than the forecasted 0.6%, while YoY it came in at 1.2% which was better than the forecast of 0.7%.
On the JSE, losses were recorded for EOH Holdings [JSE:EOH] which lost 8.08% to end the day at R14.34 to end amongst the day's biggest losers. Ascendis Health [JSE:ASC] weakened by 3.27% to close at R3.85, while Omnia Holdings [JSE:OMN] fell 4.83% to close at R55.20 following the release of a trading statement for its full financial year. The weaker rand saw rand sensitives retreat on the day which saw stocks such as Massmart Holdings [JSE:MSM] drop 4.99% to close at R78.00, while Truworths International [JSE:TRU] closed 2.79% weaker at R67.85. Investec Ltd [JSE:INL] lost 5.21% to close at R87.36, Remgro [JSE:REM] dropped 4.11% to R189.54, and Kumba Iron Ore [JSE:KIO] closed at R381.73 after losing 3.34%.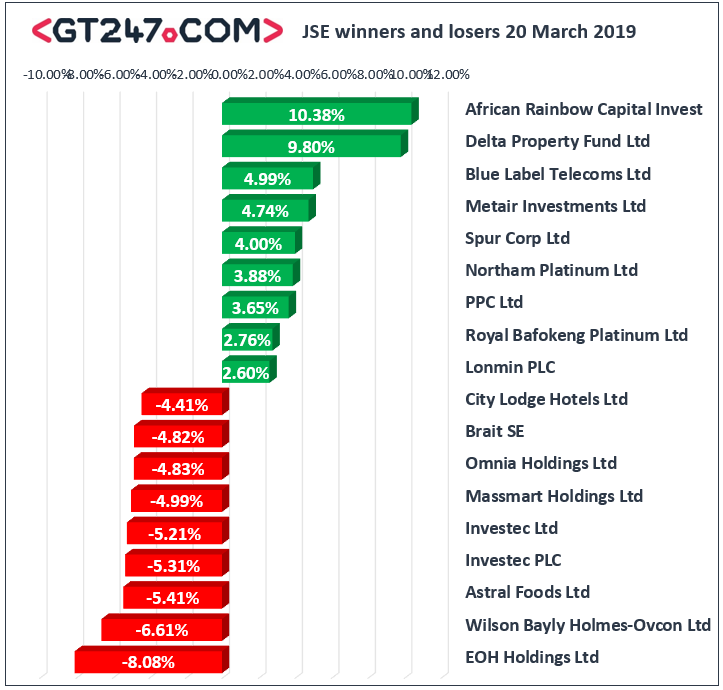 Delta Property Fund [JSE:DLT] had a stellar run as it closed 9.8% higher at R1.68, while African Rainbow Minerals [JSE:AIL] surged further to close 10.38% firmer at R5.85. Northam Platinum [JSE:NHM] advanced 3.88% to close at R67.00, Harmony Gold [JSE:HAR] gained 1.89% to end the day at R28.02, and Anglo American Platinum [JSE:AMS] closed 0.56% firmer at R814.50. Blue Label Telecoms [JSE:BLU] gained 4.99% which saw the stock close at R3.58, while MTN Group [JSE:MTN] managed to post gains of 1.17% to close at R93.51. Bid Corporation [JSE:BID] rallied 2.13% to close at R301.78, and Old Mutual [JSE:OMU] closed at R22.12 after it managed gains of 1.7%.
The JSE All-Share index eventually closed 1.24% lower while the blue-chip JSE Top-40 index lost 1.28%. A tough trading session ensued for all the major indices as they all closed weaker. Industrials fell 1.37%, Financials lost 1.41% and the Resources index closed 0.95% weaker.
The rand was mostly flat in today's session, but it gained some momentum towards the JSE close as the US dollar retreated. The rand had briefly peaked at R14.36 before it was recorded trading 0.92% firmer at R14.37 at 17.00 CAT.
At 17.00 CAT, Palladium was 0.39% firmer at $1597.29/Oz, Platinum was up 0.76% at $858.89/Oz, and Gold was 0.22% weaker at $1303.64/Oz.