The JSE closed flat on Monday after a relatively muted trading session.
The local bourse struggled to find impetus for significant momentum in either direction, as global markets were digesting Donald Trump's comments over the G7 summit. Markets seem to have taken a tentative approach ahead of the historic meeting between the US president and the North Korean leader on Tuesday.
Gains were fairly limited particularly for the blue-chip index where Reinet [JSE:RNI] gained 2.14% to close at R244.17 per share. Retailer, The Foschini Group [JSE:TFG] added 1.9% to close at R188.54 per share, whilst Truworths [JSE:TRU] inched up by 1.43% to end the day at R84.95 per share. Anglo American PLC [JSE:AGL] gained 0.79% to close at R328.39 per share.
More pronounced gains were recorded on the broader index were Net 1 UEPS [JSE:NT1] jumped by 5.39% to close at R127.00 per share. Assore [JSE:ASR] and Astral Foods [JSE:ARL] gained 2.7% and 2.68% to close at R291.03 and R268.00 per share respectively.
Steel producer, ArcelorMittal [JSE:ACL] closed the day 12% weaker at R2.20 per share, whilst education services provider, Stadio Holdings [JSE:SDO], closed at R4.12 per share after dropping 8.44%. Alexander Forbes [JSEAFH] shed 5.76% to close at R5.73 per share after flagging a decrease in earnings in its FY18 earnings results released today.
Other significant moves lower were recorded in Vodacom [JSE:VOD] which lost 2.87 to close at R140.31 per share, as well as Fortress B [JSE:FFB] which was 2.92% weaker to close at R15.98 per share. Bidvest [JSE:BVT] and Sappi [JSE:SAP] lost 1.85% and 1.1% respectively.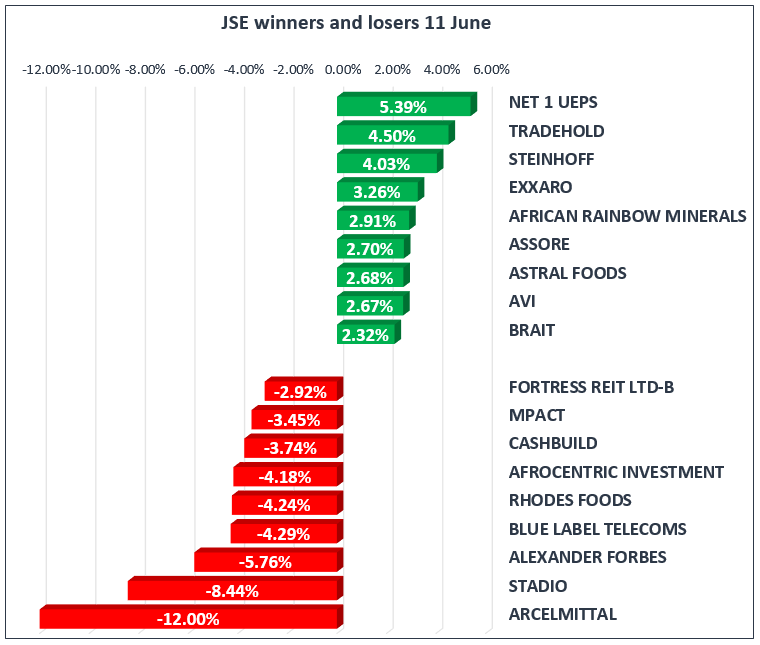 The JSE All-Share Index eventually closed 0.13% weaker and the JSE Top-40 lost 0.09%. The Financials index came under pressure to eventually close 0.5% weaker, whilst the Industrials index lost 0.15%. Moderate gains were recorded in the Resources index which gained 0.36%.
Despite recording significant gains against the greenback, the Rand failed to break below R13/$ and subsequently weakened to a session low of R13.17/$. Emerging market currencies continue to trade under pressure as the US Fed is expected to hike interest rates on Wednesday. At 17.00 CAT the Rand was trading at R13.10/$.
Brent crude slipped to a session low of $75.52/barrel following news that Russia might have boosted its crude output. The commodity rebounded to trade at $76.20/barrel just after the close.
Gold traded softer earlier on to reach a session low of $1294.18/Oz, however the precious metal rebounded to trade at $1301.23/Oz at 17.00 CAT. Palladium was trading 0.77% firmer at $1021.59/Oz, while Platinum was trading flat at $905.98/Oz.
Bitcoin slumped over the weekend following news that a South Korean cryptocurrency exchange had been hacked. At 17.00 CAT Bitcoin was trading at $6710.50/coin, down 7.17% on the day while Ethereum had slipped by 8.09% to trade at $520.85/coin.