The JSE trended lower along with other global equity markets as trade concerns continued to dominate market sentiment.
Donald Trump threatened to impose additional tariffs of $200 billion on China in response to its retaliation of US tariffs. Fears of the broader impact of these tariffs as well as the recent hike in US interest rates have resulted in capital outflows out of emerging markets. This is particularly visible for South Africa where the benchmark 10-year Treasury yield rose to a session high of 9.24%.
The Rand stumbled lower along with other emerging market currencies to reach a session low of R13.91 against the greenback. This was on the back of US dollar strength which saw the US dollar index peak at session high 95.29 index points. The Rand retraced to trade at R13.76/$ at 17.00 CAT.
Stocks with significant revenues stemming out of China such as Richemont [JSE:CFR] shed 2.58% to close at R121.29 per share, while Naspers [JSE:NPN] closed 3.01% weaker to end the day at R3210.00 per share. Aspen [JSE:APN] lost 3.41% to close at R255.36 per share, and EOH Holdings [JSE:EOH] closed at R31.00 per share after dropping 2.64%.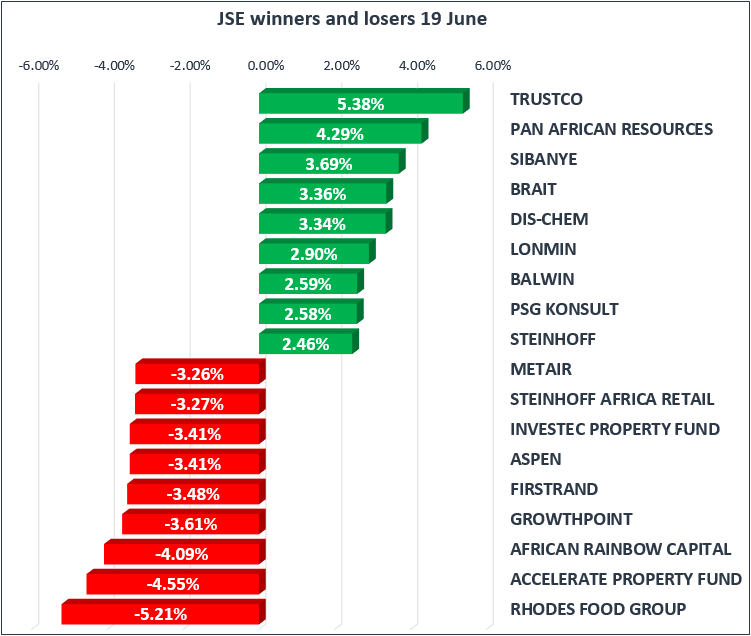 Rand sensitives traded mostly weaker due to the softer Rand. Retailer, Steinhoff Africa Retail [JSE:SRR] lost 3.27% to close at R17.46 per share, while Shoprite [JSE:SHP] was 2.32% softer at R220.63 per share. Vodacom [JSE:VOD] closed at R130.00 per share after dropping 2.8%, and BHP Billiton eased to R297.65 per share after shedding 1.45%.
Miners recorded most of the gains on the JSE as they were buoyed by higher Rand-denominated metal prices. Sibanye Gold [JSE:ACL] added 3.69% to close at R9.28 per share, while Lonmin [JSE:LON] gained 2.9% to close at R8.15 per share. On the blue-chip index British American Tobacco [JSE:BTI] and Gold Fields [JSE:GFI] were among the index's top gainers after adding 1.59% and 0.82% respectively.
The JSE All-Share Index slipped by another 1.72% whilst the JSE Top-40 Index closed 1.93% weaker. All the major indices closed in the red with the Industrials index taking the biggest knock of 2.1%. The Resources and Financials indices lost 1.22%and 1.64% respectively.
Gold briefly broke out above $1280/Oz but that was short lived as it quickly retraced below that level. At 17.00 CAT it was trading $1274.28/Oz, down 0.3% for the day. Platinum was 1.8% weaker at $867.75/Oz, and Palladium was down 1.27% at $978.48/Oz.
Brent crude slipped ahead of OPEC's meeting which is scheduled to start on Thursday. The commodity was trading 0.9% softer at $74.61/barrel just after the JSE close.
Bitcoin bucked its recent downtrend to trade 4.4% firmer at $6739.80/coin at 17.00 CAT. Ethereum was trading at $534.91/coin, up 7.75% on the day.