Local
Resources and gold miners continue to trade higher up 0.75% and 0.79% respectively with Anglo American [JSE:AGL] continuing to rally, up another 2.10%.
The All-Share index moved lower, down by 0.62%, followed by the blue-chip Top40 down by 0.65% and industrials down by 0.98%. Financials were the worst performing sector down on the day by 1.48% with the major banks all closing in the red.
Thursday saw local real-estate investment trusts (Reits) fall the most in more than two years on rumours that Viceroy will be releasing a report on a South African property stock. As a result, we saw several property companies down on the day with Resilient [JSE:RES] and Fortress B [JSE:FFB] issuing voluntary trading updates to reassure investors as the SA Listed Property Index reached an intraday low of 596.75 before recovering.
Elsewhere, Finance Minister Malusi Gigaba made a bold statement saying the South African economy could grow by 2% or more this year if the government makes the right policy decisions.
At the close of our market the local currency was slightly weaker against major currencies, trading at R12.43 against the dollar, R16.82 against the pound and R14.97 to the euro.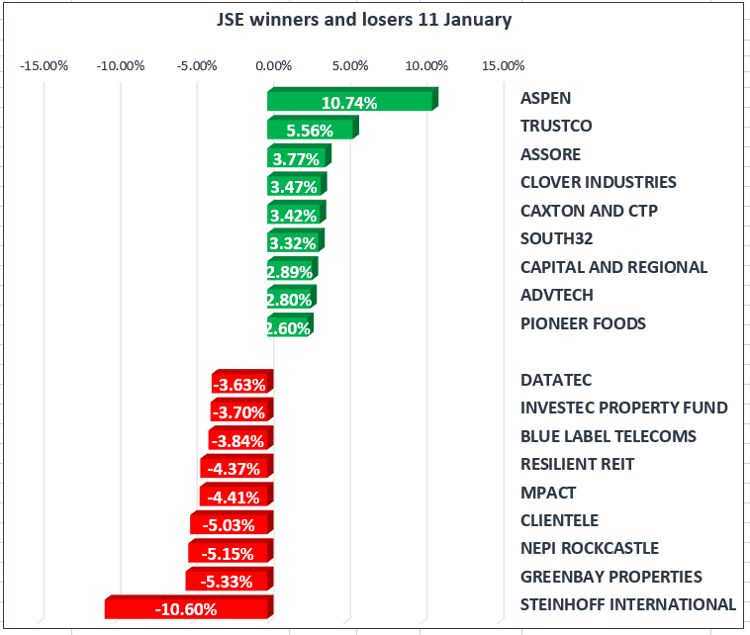 Commodities
Gold prices bounce back, trading at $1322.50 per ounce recouping earlier losses against the dollar after lower than expected US Producer Price Index numbers were released, raising questions on the strength of the US economy. Investors look at this data as a leading indicator of consumer price inflation, which accounts for most of the overall inflation in the US and how this will impact the Fed's decision to hike rates.
On the day Silver was up 0.41% at $17.01 per troy ounce, Platinum continued to close the gap to Palladium, up 1.21% to $981.78 per troy ounce and down 0.39% to $1,082.08 per troy ounce respectively.
Oil prices held near three-year highs, drawing support from yesterday's Crude Oil Inventories stockpiles declined for an eighth week. WTI is up 1.20%, currently trading at $64.33 per bbl while Brent Crude is up 0.55% currently trading at $69.62 per bbl.
Global Stocks
Asian indexes closed lower on Thursday following the softer lead from the US. Hong Kong's Hang Seng Index managed to hold above the 31,000 level, up 0.15%, at 31,120.39, moving closer to the all-time high of 31,958.41.
Most of the European markets traded lower amid disappointing earnings data. While the Euro strengthened after the ECB hinted that policymakers are getting ready to reduce the monetary stimulus programme. The U.K.'s biggest retailer, Tesco, fell 3.4% after the supermarket's Christmas sales fell short of market forecasts.
U.S. equities opened higher boosted by better-then-expected earnings and reports from China's foreign exchange regulator stating that the initial reports that China could potentially slow or halt its purchases of US bonds could be inaccurate and based on erroneous information.
Cryptocurrencies
Prices of major cryptocurrencies fell sharply as South Korea looks to preparing a bill to ban the trade of the digital currency. This is a major announcement as Seoul remains one of the biggest markets for major coins like bitcoin and ethereum. Bitcoin is currently trading at $14,157, up 1.87%, while ethereum, the world's second largest cryptocurrency was down by 7.39%, trading at $1,227.