The local bourse plunged along with other global stocks as the sell-ff in stocks intensified over worsening fears over the spread of the coronavirus.
US equity futures traded under considerable pressure as they hit the 5% circuit breaker early on Monday morning which a brought a halt to trading. These limits adjust to 7% and 13% respectively when the spot market opens, of which the 13% circuit breaker was hit which resulted in trading being halted on US stock markets for 15 minutes after the open. Turbulence has become the norm across most global markets as investors dump riskier assets in droves.
The US Fed cut its interest rates by 100 basis points to 0.25% as it steps up efforts to keep the US economy afloat. The Fed also pledged another $700 billion to quantitative easing as it seeks to ease liquidity in the markets. Most central banks will look to take bigger monetary easing policies and locally, we do expect to the SARB to loosen monetary policy on Thursday if they do not do it earlier.
The US dollar has remained buoyant as investors continue pumping into the safe haven currency. Emerging market currencies including the rand continue to record outflows. The local unit tumbled as low as R16.74/$ before it was recorded trading 1.92% lower at R16.58/$ at 17.00 CAT.
Deep losses were recorded for the majority of stocks on the JSE in today's session. Listed property stocks seemed worse off as losses were recorded for Hospitality Property Fund B [JSE:HPB] which tumbled 28.57% to close at R4.00, RDI REIT [JSE:RPL] which fell 25.47% to close at R13.17, and Sirius Real Estate [JSE:SRE] which lost 17.54% to close at R11.61. Northam Platinum [JSE:NHM] plummeted 18.73% to close at R72.36, while Impala Platinum [JSE:IMP] lost 18.71% to close at R80.70. Old Mutual [JSE:OMU] highlighted lower earnings in its annual financial results as the stock tumbled 16.14% to close at R12.05, while Discovery Ltd [JSE:DSY] weakened by 14.43% to close at R83.30. Losses were also recorded for Sasol [JSE:SOL] which lost 11.89% to close at R44.74, MTN Group [JSE:MTN] which fell 12.32% to close at R47.69, and Naspers [JSE:NPN] which closed at R2030.59 after falling 8.61%.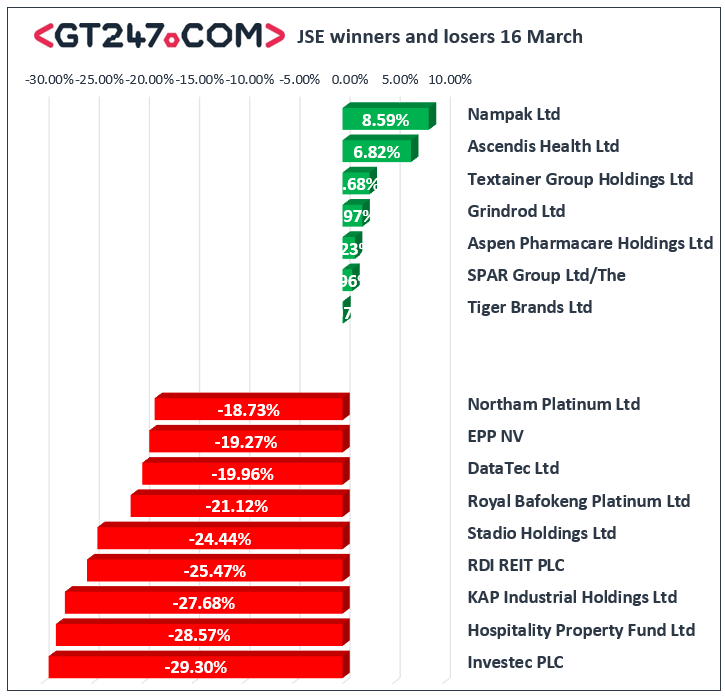 The only gains significant gains recorded on the day were for Nampak [JSE:NPK] which advanced 8.59% to close at R2.78, and Ascendis Health [JSE:ASC] which surged 6.82% to close at R0.47. Grindrod [JSE:GND] added 1.97% to close at R4.41, while Aspen Pharmacare [JSE:APN] closed at R88.07 after adding 1.23%.
The JSE Top-40 index trimmed some of the losses as it closed 7.25% lower, while the JSE All-Share index fell 7.6%. The Financials index was the biggest casualty of the day as it lost 10.09%, while the Industrials and Resources indices fell 6.61% and 7.3% respectively.
Losses also deepened for brent crude which was trading 9.84% lower at $30.55/barrel just after the JSE close.
At 17.00 CAT, Platinum was down 15.08% to trade at $647.84/Oz, Palladium had lost 12.36% to trade at $1578.39/Oz, and Gold was 2.43% lower at $1492.79/Oz.
---
Disclaimer:
Any opinions, news, research, reports, analyses, prices, or other information contained within this research is provided by GT247.com at GT247 (Pty) Ltd t/a GT247.com ("GT247.com") as general market commentary, and does not constitute investment advice for the purposes of the Financial Advisory and Intermediary Services Act, 2002. GT247.com does not warrant the correctness, accuracy, timeliness, reliability or completeness of any information which we receive from third party data providers. You must rely solely upon your own judgment in all aspects of your trading decisions and all trades are made at your own risk. GT247.com and any of its employees will not accept any liability for any direct or indirect loss or damage, including without limitation, any loss of profit, which may arise directly or indirectly from use of or reliance on the market commentary. The content contained within is subject to change at any time without notice.