Long Nymex & Short Brent - Technical Take
"The calm after the storm..."
TRADE INSTRUMENT: Nymex and Brent
ENTRY :Market
STOP: $6.40
TARGET PRICE: $2.8
Hurricane season is upon us; we have seen some of the worst hurricanes in living memory as Harvey and Irma wreaked havoc across Texas and Florida. These two hurricanes have left untold damage to these two American states, sending prices of petroleum based products through the roof. Supply of oil to these two states have been literally cut off as some of the infrastructure has been destroyed or has been contaminated.
The current spread between Brent crude and Nymex (WTI), has got me thinking. Overtime the spread between the two has been tight with a $2 spread being the average under "normal" circumstances. Historically the spread had been necessitated by several factors such as the US ban on oil exports (lifted in 2015), supply chain inefficiencies and the ability to process the crude.
WTI is mainly produced in the US and Brent comes from sources out of the US. The current spread(difference) between Brent Crude and Nymex Light Crude is currently sitting at $5.80 ($55.01- $49.21). I anticipate that the spread will revert to the average of $2.61, I have placed my target price at $2.80.
To achieve this outcome, one can go Long Nymex and Short Brent Crude, in a cash neutral position (so if you use R100 for the long Nymex use R100 on the short Brent)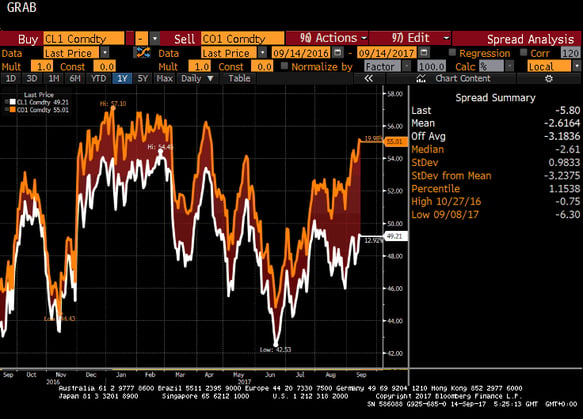 Source: Bloomberg 2017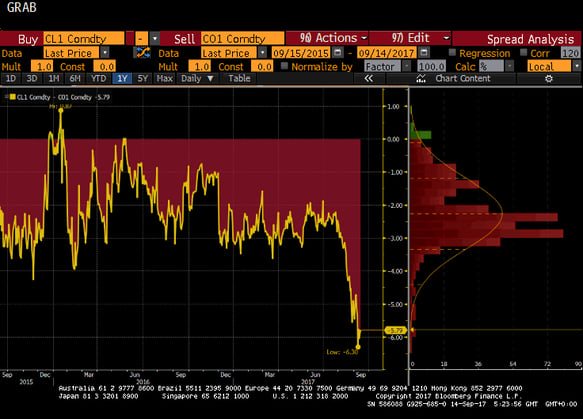 Fell free to contact our desk if you want to discuss the trade or require assistance: +27 87 940 6108
Wishing you profitable trading.

Paul Chakaduka |
Trading Specialist at
GT247.com
Disclaimer: Any opinions, news, research, analyses, prices, or other information contained within this research is provided as general market commentary, and does not constitute investment advice. GT247.com will not accept liability for any loss or damage, including without limitation to, any loss of profit, which may arise directly or indirectly from use of or reliance on such information. The content contained within is subject to change at any time without notice, and is provided for the sole purpose of assisting traders to make independent investment decisions.
---
Want to trade CFD Equities, Forex, Indices & Commodities on the most affordable online South African trading platform?