The JSE was dragged lower on Tuesday as South African GDP data released by StatsSA missed most analysts' expectations.
The South African economy contracted by 2.2% annualized QoQ, which missed the market consensus of a 0.5% contraction. According to StatsSA this is the largest QoQ decline since the first quarter of 2009. This latest contraction in GDP succeeds growth of 3.1% recorded for the fourth quarter of 2017.
The Rand came under pressure as a result of the GDP data to reach a session low of R12.79 against the greenback. The local currency was looking set to weaken even further towards the JSE close as the US dollar rebounded from its session lows. At 17.00 CAT the Rand was trading at R12.77/$.
Gains were mainly attributable to Rand hedges such as Richemont [JSE:CFR] which closed at R118.64 per share after gaining 1.93%, as well as Mondi Ltd [JSE:MND] and Mondi PLC [JSE:MNP] which gained 2.39% and 2.18%, to close at R358.87 and R358.85 per share respectively. Anglo American PLC [JSE:AGL] added 2.71% to close at R312.87 per share, whilst its sector peer, BHP Billiton [JSE:BIL] gained 2.2% to close at R295.68 per share.
Rand sensitive stocks such as banks and retailers traded under pressure. Capitec Holdings [JSE:CPI] shed 3.6% to end the day at R894.10 per share, Standard Bank closed 3.91% weaker at R210.92 per share and Nedbank [JSE:NED] closed at R277.27 per share after losing 3.39%. Truworths [JSE:TRU] and Woolworths [JSE:WHL] lost 2.12% and 2.53%, eventually closing R82.71 and R56.67 per share respectively.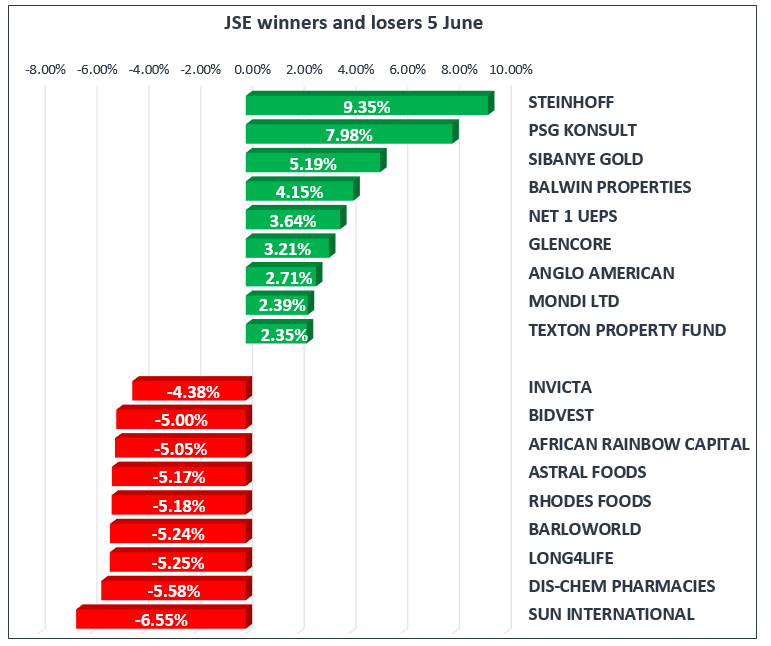 Other stocks which came under significant pressure include Sun International [JSE:SUI] which closed 6.55% weaker at R62.61 per share, Bidvest [JSE:BVT] lost 5% to close at R199.02 per share and Barloworld [JSE:BAW] closed at R134.00 per share after dropping 5.24%.
The JSE All-Share Index closed 0.16 weaker, and the JSE Top-40 index was flat after only adding 0.02%. Gold stocks propelled the Resources index higher which saw it gain 1.92% on the day. The Financials and Industrials indices traded weaker to end the day 2.14% and 0.14% lower respectively.
Gold traded mostly flat as it struggled to find a major catalyst for direction. At 17.00 CAT it was trading at $1293.55/Oz, after having reached a session low of $1289.88/Oz. Platinum was trading 0.71% weaker at $895.25/Oz, and Palladium was recorded at $985.50/Oz after losing 1.2%.
Brent crude slipped below $74/barrel to reach a session low of $73.81/barrel, after news came out that the US government had asked Saudi Arabia and other OPEC members to increase oil supply. The commodity was trading at $74.11/barrel just after the JSE close.
The price action in Bitcoin was relatively muted after the coin lost 1.29% to trade at $7411.80/coin at 17.00 CAT. Ethereum was trading 0.66% weaker at $586.27/coin.