The JSE fell along with European counters on Tuesday as global investors exercised caution ahead of the mid-term elections in the USA.
With memories of the volatility which ensued in the aftermath of the US presidential election in November 2016 still fresh in investors' minds, risk-aversion was high today's session. Hong Kong stocks closed firmer as Chinese government officials reiterated that they would push for larger tax cuts in order to help small firms which were facing funding challenges. The Shanghai Composite Index dropped 0.6% however the Hang Seng managed to end the day 0.72% firmer.
On the currency market, the US dollar was relatively weaker ahead of the US mid-term elections. Emerging market currencies including the rand, were trading relatively flat in cautious trade. The rand did weaken to a session low of R14.28/$ but it rebounded to trade at R14.20/$ just at 17.00 CAT.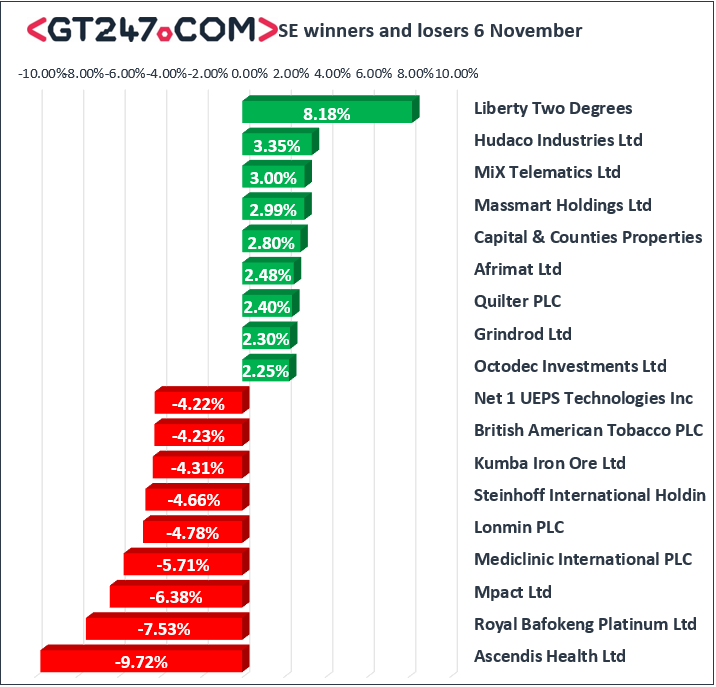 In Johannesburg, blue-chip stocks dragged the All-Share index as they traded mostly in the red. Mediclinic [JSE:MEI] fell by 5.71% to close at R69.57, while British American Tobacco [JSE:BTI] closed 4.23% weaker at R611.00. BHP Billiton [JSE:BIL] lost 1.65% to end the day at R298.20, and retailer, The Foschini Group [JSE:TFG] dropped 2.48% to close at R165.78.
Platinum miner, Royal Bafokeng Platinum [JSE:RBP] struggled despite higher platinum metal prices as the stock lost 7.53% to close at R27.00. Lonmin [JSE:LON] closed 4.78% weaker at R8.36, and Kumba Iron Ore [JSE:KIO] retreated to close at R282.28 after losing 4.31%.
Massmart Holdings [JSE:MSM] was amongst the day's biggest gainers after the stock managed to gain 2.99% to close at R105.00. Quilter [JSE:QLT] rose 2.4% to R23.05, and Capital & Counties Properties [JSE:CCO] firmed by 2.8% to close at R51.04. Sugar producer, Tongaat Hulett [JSE:TON] managed to post gains of 2.06% to end the day at R63.00.
The JSE All-Share index fell by 1.01% while the blue-chip JSE Top-40 index lost 0.85%. All the major indices fell on Tuesday. The Industrials index dropped 0.99%, while the Resources and Financials indices lost 0.94% and 0.48% respectively.
Brent crude fell to a session low of $72.34/barrel before rebounding to trade at $72.93/barrel just after the JSE close.
At 17.00 CAT, Gold was down 0.07% to trade at $1230.64/Oz, Palladium had lost 2.35% to trade at $1109.87/Oz, and Platinum was 0.96% firmer at $873.07/Oz.
Ethereum was up 1.84% to trade at $216.20/coin, and Bitcoin had firmed 1.8% to trade at $6484.10/coin.