The JSE bucked the trend in other global markets to close firmer on Tuesday, mainly on the back broad-based gains across the bourse's major indices.
Asian equities struggled as the US-China trade talk infused bull run seemed to take a breather. The Japanese Nikkei retreated 0.37% while in Hong Kong, the Hang Seng pulled back by 0.65%. The Shanghai Composite Index fell 1.2%. In Europe, the trend was also mostly lower as the major bourses tracked Asian equities.
On the JSE gains were broad however Steinhoff International [JSE:SNH] managed to finish amongst the day's biggest gainers as it climbed 9.14% to close at R2.15. Platinum miner, Northam Platinum [JSE:NHM] gained 5.51% to end the day at R56.32, while Impala Platinum added 3.59% to close at R52.85. Motus Holdings [JSE:MTH] was buoyant on the back of the release of its half-year results which saw the stock gaining 4.05% to close at R85.27. Imperial Logistics [JSE:IPL] rose by 4.38% to close at R71.00. WBHO [JSE:WHL] reported a small profit despite challenging operating conditions in its half-year results. The stock gained 3.2% to end the day at R116.00. Retailers traded mostly firmer on the day which saw Woolworths [JSE:WHL] add 2.66% to close at R46.23, while Shoprite [JSE:SHP] gained 4.82% to close at R169.64 despite reporting lower profit margins in its half-year results.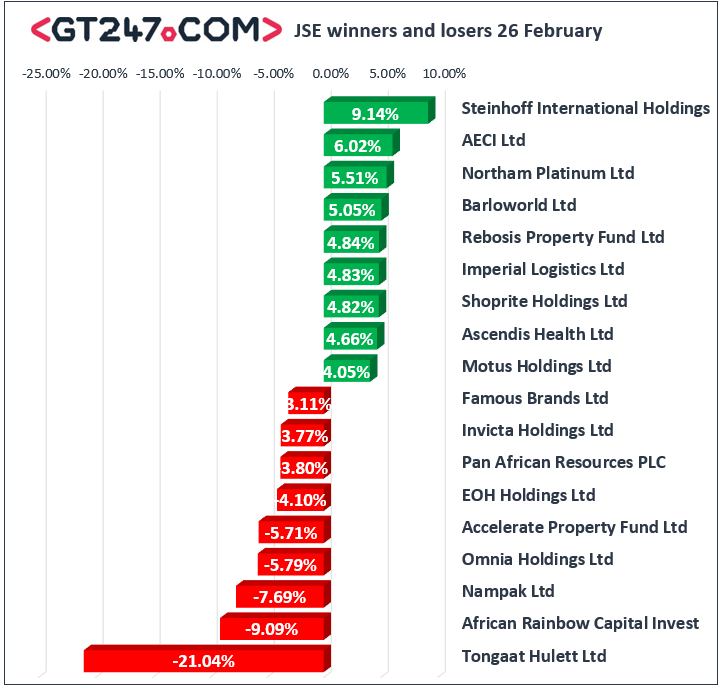 Of the day's losers, Tongaat Hulett [JSE:TON] stood out as the plummeted 21.04% to close at R28.30. The stock has come under considerable pressure since the release of trading statement last week. African Rainbow Capital Investments [JSE:AIL] also struggled significantly as it fell 9.09% to close at R4.00, while Nampak [JSE:NPK] lost 7.69% to close at R11.29. EOH Holdings [JSE:EOH] dropped 4.1% to close at R17.06, while Clicks [JSE:CLS] weakened by 1.45% to R185.65. Rand hedge, British American Tobacco [JSE:BTI] dropped 1.36% to close at R517.31, while telecoms provider, Vodacom [JSE:VOD] lost 1.34% to close at R116.20.
The blue-chip JSE Top-40 index closed 0.66% firmer, while the broader JSE All-Share index added 0.65%. All the major indices recorded gains on the day. The Industrials index added 0.58%, while the Resources and Financials indices gained 0.79% and 0.67% respectively.
The rand retreated marginally against the US dollar and bottomed out at a session low of R13.89/$. At 17.00 CAT, it was trading 0.2% weaker at R13.85/$.
Brent crude was mildly firmer to trade 0.66% firmer at $65.19/barrel just after the JSE close.
At 17.00 CAT, Gold was down 0.16% at $1325.46/Oz, Platinum was up 0.17% at $855.08/Oz, and Palladium was flat at $1543.71/Oz.