The JSE retreated on Monday as global equity markets slowed down due to increasing trade war concerns.
The local bourse started the 3rd quarter on the backfoot despite the strong rally recorded on Friday. Asian counters opened and traded weaker earlier on which saw the Nikkei and Shanghai Composite Index closing 2.21% and 2.93% weaker respectively. There was no trading on Hang Seng as it was closed for a holiday.
Donald Trump made headlines after commenting via social media that Saudi Arabia had agreed to produce more oil to offset the impact caused by the sanctions on Iran. The imposition of tariffs on Chinese goods, and the retaliations which have been promised by the US's trade partners continue to weigh down on overall sentiment across global markets.
The JSE All-Share index traded mostly softer with the blue chips taking a significantly bigger knock earlier on before they rebounded from their day's lows. Pan African Resources [JSE:PAN] lost 2.22% to close at R1.32 per share, while Glencore [JSE:GLN] lost 2.91% to close at R64.03. Diversified miner BHP Billiton [JSE:BIL] eased to R302.37 per share after dropping 2.62%.
Growthpoint Properties [JSE:GRT] lost 2.25% to close at R26.05 and index heavyweight Naspers [JSE:NPN], closed 2.22% weaker at R3407.73 per share. Sasol [JSE:SOL]slid below R500 per share to end the day at R495.88 after shedding 1.36%. Bidvest [JSE:BVT] and Old Mutual [JSE:OMU] lost 1.74% and 1.04% respectively.
The All-Share Index recovered significantly from the day's lows but it still closed weaker nonetheless. Steinhoff International [JSE:SNH] jumped 6.2% to close at R1.37 as investors responded positively to the group's interim results released on Friday. Harmony Gold [JSE:HAR] closed at R22.14 per share after adding 4.34% and RCL Foods [JSE:RCL] gained 1.68% to close at R17.57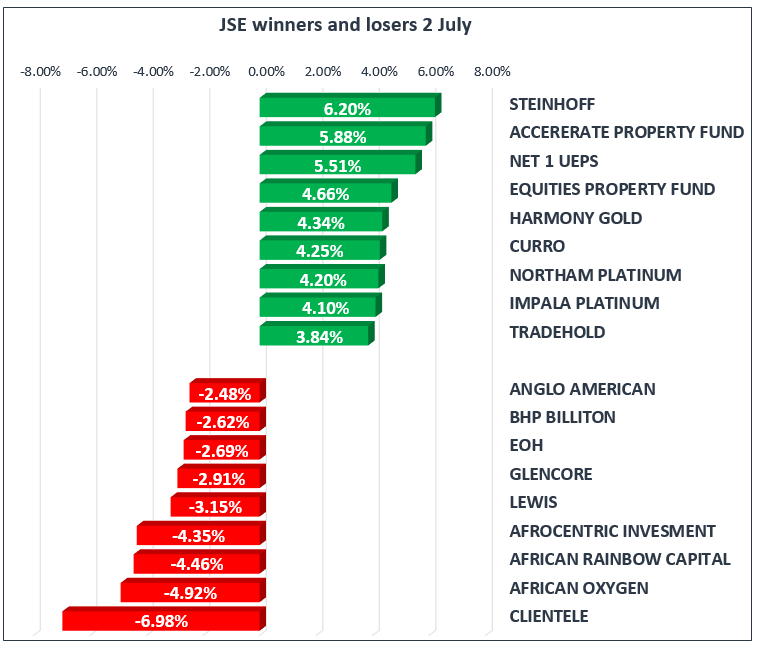 The JSE All-Share Index eventually closed the day down 0.78% while the JSE Top-40 index lost 1.04%. The Financials index close 0.09% firmer however the Industrials and Resources indices lost 0.86% and 1.84% respectively.
The Rand lost over 1% to reach a session low of R13.90 against the greenback. At 17.00 CAT it was trading at R13.86/$.
Trading in brent crude was volatile following Donald Trump's comments about Saudi Arabia. The commodity reached a session high of $78.95/barrel before retracing to trade at $77.78/barrel just after the JSE close.
At 17.00 CAT Gold was 0.42% weaker at $1247.30/Oz, Platinum was 2.06% weaker at $835.72/Oz and Palladium was down 1.11% at $944.83/oz.
After trading mostly flat, Bitcoin jumped 5.01% to trade at $6618.95/coin at 17.00 CAT, while Ethereum was 5.86% firmer at $472.98/coin.