The JSE barely closed firmer on Wednesday mainly on the back of gains in recorded in the financials and resources indices.
On the economic data front, Statistics SA released inflation numbers for August which came in better than forecasted. CPI YoY slowed down to 4.9% from a prior recording of 5.1%, while CPI MoM was recorded at -0.1% from a prior recording of 0.8%.
The rand found its footing as it continued to edge higher due to a relatively weaker US dollar and better than forecasted inflation numbers. The rand climbed to a session high of R14.62/$ as it gained over a percent against the greenback. At 17.00 CAT, the rand was up 1.68% to trade at R14.64 against the US dollar.
On the JSE, Aspen [JSE:APN] fell to a new 5-year low of R168.66 after the company issued a voluntary statement to provide supplementary information with respect to its 2018 financial results. The stock ultimately lost 7.98% to close at R173.23 per share.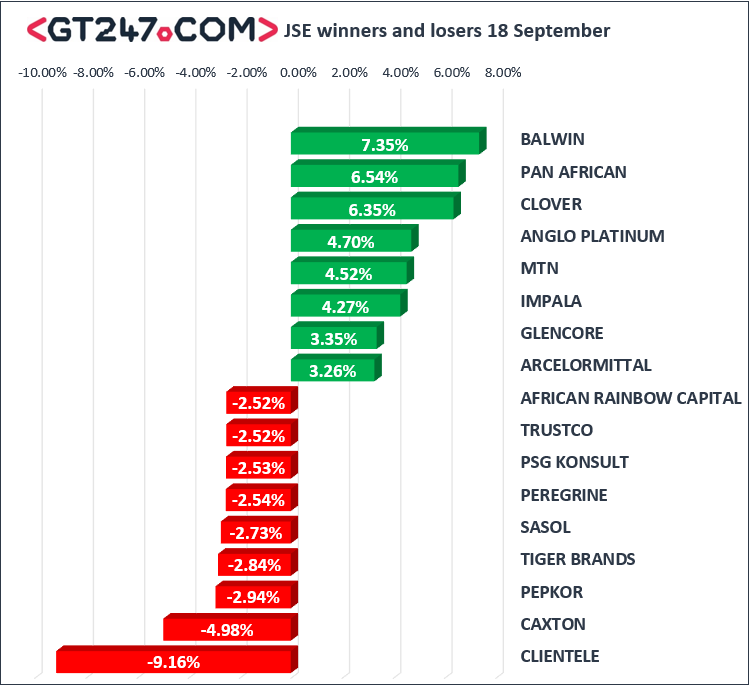 A couple of blue-chip stocks were trading ex-dividend today and subsequently some of them retreated to close weaker on the day. Richemont [JSE:CFR] lost 4.36% to close at R119.81, Old Mutual [JSE:OMU] closed at R28.90 after dropping 0.89%, and Growthpoint Properties [JSE:GRP] closed 3.53% weaker at R23.20 per share.
On the broader index, Blue Label Telecoms [JSE:BLU] fell by 6.13% to close at R5.51, and its sector peer, Telkom [JSE:TKG] lost 5.19% to close at R47.50 per share. Platinum miner, Lonmin [JSE:LON] lost 4.49% to end the day at R8.09, while Brait [JSE:BAT] came under pressure as it dropped 2.72% to close at R36.46 per share.
Life Healthcare [JSE:LHC] recorded the biggest jump of the day as it climbed to close at R26.72 per share after gaining 7.7%. Diversified miner, Anglo American PLC [JSE:AGL] added 4.11% which saw the stock close at R320.01, while BHP Billiton [JSE:BIL] gained 1.72% to close at R305.99 per share.
The Foschini Group [JSE:TFG[] was also trading ex-dividend however, it was buoyed by the firmer rand which resulted in the stock gaining 2.05% to close at R171.84 per share. Capitec Holdings [JSE:CPI], also trading ex-dividend followed the trend in other financials stocks as it gained 1.23% to close at R957.44 per share. ABSA Group [JSE:ABG] rose to R151.07 after adding 2.77%, while Standard Bank [JSE:SBK] firmed by 3.21% to close at R180.21 per share.
The JSE All-Share index closed 0.11% firmer, while the JSE Top-40 index gained 0.1%. The Resources and Financials indices rallied to close 0.95% and 1.41% higher respectively, however the Industrials index came under pressure to shed 0.95%.
Gold traded marginally firmer on the day and at 17.00 CAT, it was up 0.55% to trade at $1203.62/Oz. Platinum was up 1.26% to trade at $824.08/Oz, while Palladium up 2.63% to trade at $1039.50/Oz.
Brent crude traded relatively mixed as market participants reacted to Saudi Arabia's contentment with crude prices north of $80/barrel, as well as the potential impact on supply from the trade war. Brent crude was flat to trade at $78.92/barrel just after the JSE close.
At 17.00, Bitcoin was down 0.47% to trade at $6325.60/coin, while Ethereum had lost 1.55% to trade at $209.41/coin.